Calcium-Activated Potassium Channels at Nodes of Ranvier Secure Axonal Spike Propagation.
Bottom Line: Functional connectivity between brain regions relies on long-range signaling by myelinated axons.This is secured by saltatory action potential propagation that depends fundamentally on sodium channel availability at nodes of Ranvier.We show that the recruitment of calcium-activated potassium channels (IK, K(Ca)3.1) by local, activity-dependent calcium (Ca(2+)) influx at nodes of Ranvier via a T-type voltage-gated Ca(2+) current provides a powerful mechanism that likely opposes depolarizing block at the nodes and is thus pivotal to securing continuous axonal spike propagation in spontaneously firing Purkinje cells.
Affiliation: Wolfson Institute for Biomedical Research, University College London, Gower Street, London WC1E 6BT, UK.
No MeSH data available.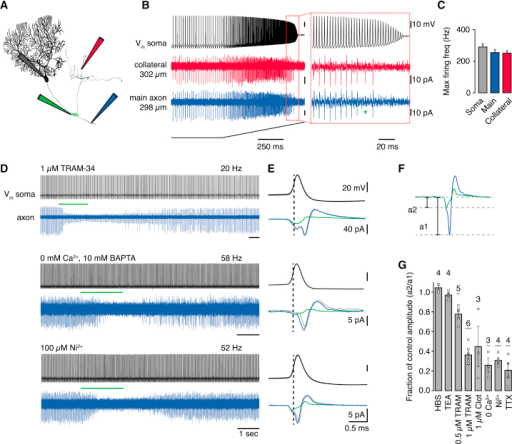 © Copyright Policy - CC BY-NC-ND
License
getmorefigures.php?uid=PMC4590545&req=5
Mentions: Using simultaneous somatic and axonal patch-clamp recordings, local pharmacology, and two-photon Ca2+ imaging of cerebellar PC axons, we directly investigated which ion channels are engaged at NoRs during AP propagation. We visualized PC axons in cerebellar slices by dye filling via the somatic recording pipette and recorded axonal APs downstream of NORs (see the Experimental Procedures; Figure 1A) identified by virtue of their presence at axonal branchpoints (Clark et al., 2005). APs are securely transmitted by PC axons at high firing rates, with failures occurring above ≈250 Hz (Khaliq and Raman, 2005; Monsivais et al., 2005). This propagation reliability is retained across axonal branchpoints, with equal limiting frequency in both the main projection axon (257 ± 17 Hz; also Monsivais et al., 2005) and in recurrent axon collaterals (Figures 1B and 1C, 253 ± 14 Hz, 0.05% differentially propagated spikes, n = 6 cells, see also Foust et al., 2010). We used local application (Figure S2A) of various ion channel antagonists to test their impact on AP propagation at NoRs in spontaneously firing PCs (firing rates 20–80 Hz). TTX (10 μM) completely blocked AP propagation, confirming the presence of a NoR at branchpoints (Figure S1D; see also Khaliq and Raman, 2005). In contrast, application of TEA at a concentration (10 mM) that should block a wide variety of K+ channels including Kv1, Kv3, and Kv7 types (Grissmer et al., 1994; Hadley et al., 2000) did not affect AP propagation, having no impact on axonal capacitive current amplitude, firing rate, or conduction velocity (Figures S1B and S1C). This lack of effect was similar at high firing rates, and the limiting frequency for spike propagation was unchanged (Figure S1D). These results are unexpected given that TEA-sensitive K+-channels are thought to contribute to axonal AP repolarization (Devaux et al., 2003; Hille, 1967; Röper and Schwarz, 1989), to stabilize nodal Vm as well as preventing antidromic spike reflection (Goldstein and Rall, 1974), and Kv3.3 subunits have been localized to PC axons (Chang et al., 2007). Potential explanations for these results might be that first, TEA-sensitive K+ channels are absent from PC axons and/or their NoRs and repolarization is mediated by an alternative mechanism. Second, they may be present but at insufficient density to be primary regulators of node excitability. Third, TEA-sensitive K+ channels might be located behind tight myelin junctions in the juxtaparanodes (JPs) (Wang et al., 1993) and contribute to repolarization of the axonal membrane while being inaccessible to TEA, as observed in peripheral nerve (Chiu and Ritchie 1980; Kocsis and Waxman 1980) (however, see Mierzwa et al., 2010). Fourth, these channels may be present in the JPs but weakly activated by the limited Vm changes that are calculated to occur in healthy myelinated axon segments (Arancibia-Carcamo and Attwell, 2014).