Tubulin perturbation leads to unexpected cell wall modifications and affects stomatal behaviour in Populus.
Bottom Line: The results suggest that pectin and xylan polysaccharides deposited early during cell wall biogenesis are more sensitive to subtle tubulin perturbation than cellulose and matrix polysaccharides deposited later.Pectins have been shown to confer cell wall flexibility critical for reversible stomatal movement, and results presented here are consistent with microtubule involvement in this process.Taken together, the data show the value of growth-compatible tubulin perturbations for discerning microtubule functions, and add to the growing body of evidence for microtubule involvement in non-cellulosic polysaccharide assembly during cell wall biogenesis.
Affiliation: School of Forestry and Natural Resources, University of Georgia, Athens, GA 30602, USA.
No MeSH data available.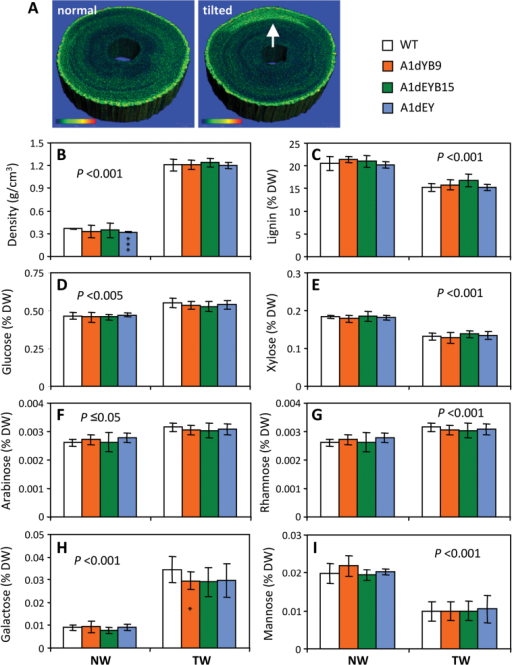 © Copyright Policy - creative-commons
License 1 - License 2


getmorefigures.php?uid=PMC4588895&req=5

Mentions: Vegetatively propagated plants were subjected to TW induction, a treatment known to increase both MT and MF abundance (Pilate et al., 2004). X-ray µCT imaging analysis confirmed TW formation on the upper side of the inclined stem (Fig. 4A), which exhibited significantly higher density than the normal wood (NW; Fig. 4B). The expected lignocellulosic compositional shifts in TW were observed (Foston et al., 2011), including significantly increased levels of glucose, arabinose, rhamnose, and galactose, and decreased xylose, mannose, and lignin (Fig. 4C-I), but there were no genotypic differences in either NW or TW. In agreement with the wood trait response, RNA-Seq analysis revealed large TW effects, but small genotypic differences in either NW or TW (Fig. 5). The small number of genes significantly up-regulated by tubulin perturbation overlapped substantially with those induced by TW (Fig. 5A-C), and, in effect, their response to TW was attenuated in the transgenics compared to WT (Fig. 5B,D). Many of these genes encode cell wall-modifying enzymes, such as pectin lyases (e.g. Biswal et al., 2014), pectin acetylesterase (Gou et al., 2012), cellulase (Lewis et al., 2013), β-xylosidases (Goujon et al., 2003), and α-expansins (Gray-Mitsumune et al., 2008) (Fig. 5D, Supplementary Table S4). In fact, overexpression of pectin lyase Potri.003G175900 in transgenic Populus has been shown to alter cell wall pectin and xylan extractability without affecting the wood composition, similar to what was observed in this study. The RNA-Seq data thus provide molecular support for cell wall remodelling in the transgenics due to tubulin perturbation.