Candidate gene selection and detailed morphological evaluations of fs8.1, a quantitative trait locus controlling tomato fruit shape.
Bottom Line: Of the 122 annotated genes found in the fs8.1 region, 51 were expressed during floral development and six were differentially expressed in anthesis-stage ovaries in fs8.1 and wild-type (WT) lines.This led to the identification of 158 single-nucleotide polymorphisms (SNPs) and five small indels in the fs8.1 interval, including 31 that could be associated with changes in gene expression or function.Fruit weight was also increased in fs8.1 compared with WT, which was predominantly attributed to the increased fruit length.
Affiliation: Department of Horticulture and Crop Science, The Ohio State University/OARDC, Wooster, OH 44691, USA.
No MeSH data available.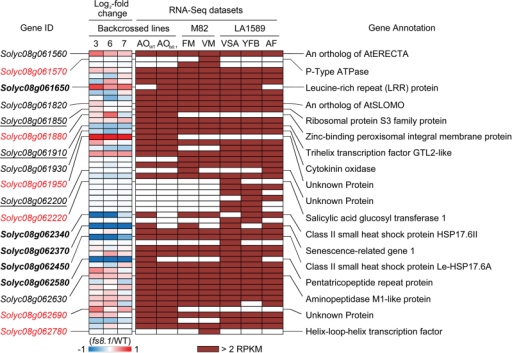 © Copyright Policy - creative-commons
License 1 - License 2


getmorefigures.php?uid=PMC4588892&req=5

Mentions: The gene(s) underlying fs8.1 may be differentially expressed, thereby causing the fruit shape phenotype. Furthermore, not all annotated genes in this region may be expressed. Therefore, we sought to evaluate gene expression of those that were located in the 3.03Mb region in three RNA-Seq datasets including our own. Of the 122 annotated genes in the introgression region, 51 were expressed at more than 2 RPKM in at least one of the three different datasets (Fig. 3 and Supplementary Table S5, available at JXB online). Among the expressed genes, 29 were expressed in all three datasets. Eight genes (Solyc08g062250, Solyc08g062280, Solyc08g062310, Solyc08g062330, Solyc08g062360, Solyc08g062220, Solyc08g062490, and Solyc08g062290) were only found in the dataset representing tissues from the wild relative, LA1589 (Huang et al., 2013); three genes (Solyc08g061570, Solyc08g06158, and Solyc08g062780) were only found in the dataset representing cultivated tomato M82 meristems (Park et al., 2012); and three genes (Solyc08g061880, Solyc08g061950, and Solyc08g062690) were only expressed in the dataset representing our own RNA-Seq results (Fig. 3, Supplementary Table S5). Four expressed genes (Solyc08g062340, Solyc08g062450, Solyc08g062370, and Solyc08g062580) were consistently downregulated (log2-fold change <–0.5) in anthesis-stage ovaries carrying fs8.1, whereas two genes (Solyc08g061650 and Solyc08g061950) were upregulated (log2-fold change >0.5) (Fig. 3, Supplementary Table S5). These genes encoded members of the class II small heat-shock protein, a senescence-related protein, and a pentatricopeptide repeat-containing protein and leucine-rich repeat (LRR) protein, respectively. In addition to differentially expressed genes, several of the non-differentially expressed genes were related to auxin homeostasis (Solyc08g061820), polar auxin transport (Solyc08g062630), cytokinin degradation (Solyc08g061930), and an ERECTA-like receptor kinase involved in organ shape regulation (Solyc08g061560) (Fig. 3, Supplementary Table S5).