Plasma Kallikrein-Kinin System as a VEGF-Independent Mediator of Diabetic Macular Edema
ABSTRACT
---
This study characterizes the kallikrein-kinin system in vitreous from individuals with diabetic macular edema (DME) and examines mechanisms contributing to retinal thickening and retinal vascular permeability (RVP). Plasma prekallikrein (PPK) and plasma kallikrein (PKal) were increased twofold and 11.0-fold (both P < 0.0001), respectively, in vitreous from subjects with DME compared with those with a macular hole (MH). While the vascular endothelial growth factor (VEGF) level was also increased in DME vitreous, PKal and VEGF concentrations do not correlate (r = 0.266, P = 0.112). Using mass spectrometry–based proteomics, we identified 167 vitreous proteins, including 30 that were increased in DME (fourfold or more, P < 0.001 vs. MH). The majority of proteins associated with DME displayed a higher correlation with PPK than with VEGF concentrations. DME vitreous containing relatively high levels of PKal and low VEGF induced RVP when injected into the vitreous of diabetic rats, a response blocked by bradykinin receptor antagonism but not by bevacizumab. Bradykinin-induced retinal thickening in mice was not affected by blockade of VEGF receptor 2. Diabetes-induced RVP was decreased by up to 78% (P < 0.001) in Klkb1 (PPK)-deficient mice compared with wild-type controls. B2- and B1 receptor–induced RVP in diabetic mice was blocked by endothelial nitric oxide synthase (NOS) and inducible NOS deficiency, respectively. These findings implicate the PKal pathway as a VEGF-independent mediator of DME.
No MeSH data available.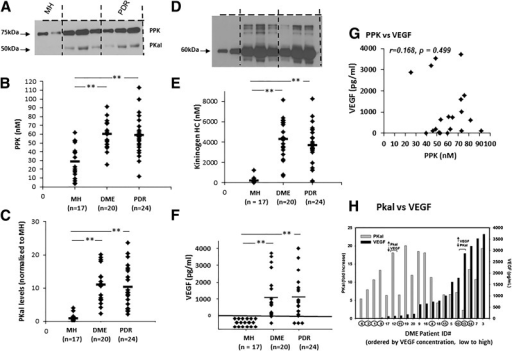 © Copyright Policy
getmorefigures.php?uid=PMC4587649&req=5
Mentions: Concentrations of KKS components and VEGF were measured in vitreous samples obtained by pars plana vitrectomy from patients with NPDR and DME (NPDR/DME), PDR, and MH (Supplementary Table 1). Within the PDR group, patients with combined PDR and DME versus those with PDR alone were not examined separately. Levels of PPK, FXII, and HK in undiluted vitreous samples were quantified by Western blotting and comparison of band intensities for corresponding purified protein standards (Fig. 1A–E and Supplementary Fig. 1A and B). Western blots of PPK and FXII revealed bands at ∼75 and 50 kDa, which are consistent with the zymogens and HCs of the activated enzymes, respectively (Supplementary Fig. 1A and B). PPK levels were significantly elevated in the vitreous from eyes with DME and PDR by approximately twofold compared with MH (P < 0.001) (Fig. 1B). Activated PKal, measured by HC levels, was increased by 11.0- and 10.4-fold, respectively, in the DME and PDR samples, relative to the average MH level (Fig. 1C). Comparable increases in FXII and HK HC were observed in NPDR/DME and PDR compared with MH vitreous (Fig. 1D and E and Supplementary Fig. 1B). In addition, increased levels of carboxypeptidase N were detected in vitreous from patients with NPDR/DME and PDR compared with MH, and hemoglobin was increased in PDR vitreous (Supplementary Fig. 1C). Concentrations of VEGF in vitreous with NPDR/DME (1,063.1 ± 285.3 pg/mL, P < 0.0001, n = 20) and PDR (1,107.8 ± 260.7 pg/mL, P < 0.0001, n = 24) were elevated compared with VEGF in vitreous from MH, which was below the detection limit for the assay (Fig. 1F).