The wound inflammatory response exacerbates growth of pre-neoplastic cells and progression to cancer.
Bottom Line: In an adult model of chronic wounding in zebrafish, we show that repeated wounding with subsequent inflammation leads to a greater incidence of local melanoma formation.Our zebrafish studies led us to investigate the innate immune cell associations in ulcerated melanomas in human patients.We find a strong correlation between neutrophil presence at sites of melanoma ulceration and cell proliferation at these sites, which is associated with poor prognostic outcome.
Affiliation: School of Biochemistry, University of Bristol, Bristol, UK.
Show MeSH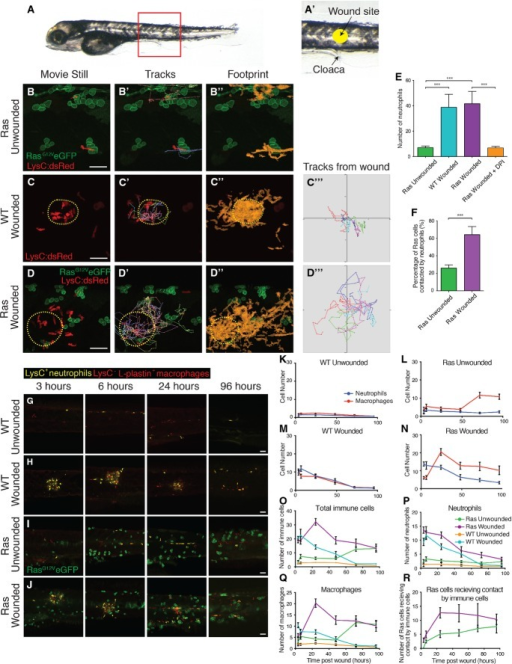 © Copyright Policy - open-access
License
getmorefigures.php?uid=PMC4585460&req=5
Mentions: To gain a more dynamic impression of how wounding may influence the behaviour of innate immune cells in the vicinity of cancer cells, we made a series of laser wounds adjacent to clones of pre-neoplastic cells on the flanks of zebrafish larvae (Fig2A and A') which are amenable to live imaging because of their translucency. Our previous studies have shown how fluorescently labelled neutrophils and macrophages are recruited to pre-neoplastic goblet cells expressing mutant RasG12V and GFP (Feng et al, 2010). These innate immune cells are recruited by stochastic pulses of hydrogen peroxide (Feng et al, 2010), the same signal that has been shown to draw neutrophils to wounds (Niethammer et al, 2009), and they remain at one pre-neoplastic clone for brief periods before moving on to visit adjacent clones (Fig2B, Supplementary Movie S1). Tissue wounding triggers an acute, rapid recruitment of large numbers of neutrophils to the wound, but rather than remaining predominately within the wound site for up to 3 or 4 h, as in control wounded fish with no burden of pre-neoplastic cells (Fig2C, Supplementary Movie S2), many of these immune cells are distracted from the wound and "visit" the nearby pre-neoplastic cells (Fig2D, Supplementary Movie S3); this is most clearly visualised by "footprints" of neutrophil tracks from 90 min to three hours post-wounding which extend well beyond the wound site in fish carrying a pre-neoplastic cell burden, whereas they remain in the vicinity of the wound in fish without pre-neoplastic cells (Fig2C'' and D''). If wound-triggered hydrogen peroxide release is blocked by treatment with DPI, then few, if any, neutrophils are drawn to the wound (Fig2E), and consequently, many fewer visits to nearby pre-neoplastic cells are seen (Supplementary Movie S4). Because wounding standardly draws many more neutrophils to the flank than are normally present (Fig2E), this leads to considerably more opportunity for contacts with pre-neoplastic cells. Indeed, in this period following wounding, we observe 64.2% of Ras+ cells adjacent to a wound receive neutrophil contacts compared to only 26% of pre-neoplastic cells in a comparable region of an unwounded larvae (Fig2F). Contacts ranged from less than one minute to more than 90 min, and we have used them as a proxy for neutrophil/pre-neoplastic cell interactions although we have no evidence that physical contacts between these two lineages are necessary for one cell to influence the other. To follow neutrophil and macrophage recruitment over a substantially longer period, we fixed Ras+ larvae and their WT siblings at various time points up to 5 days post-wounding (Fig2G–J). To distinguish macrophages, we immunostained larvae with L-plastin, which is known to be a pan-leucocyte marker in zebrafish larvae, and considered cells which were L-plastin+ but LysC− to be macrophages (Feng et al, 2010; Jones et al, 2013). Over the 5 days post-wounding, the number of neutrophils recruited to flank pre-neoplastic cells in wounded Ras+ larvae was significantly higher (P = 0.007) than in unwounded Ras+ larvae (Fig2P). In contrast, despite the large numbers of macrophages recruited to the wound by 24 h post-wounding, there appears to be no significant increase in macrophage recruitment to nearby pre-neoplastic cells when comparing Ras+ unwounded and Ras+ wounded larvae over the total time course (Fig2Q; P = 0.1019). However, we do observe increased recruitment of macrophages to wounds in Ras+ larvae compared to their WT siblings (Fig2Q; P = 0.0493), and once recruited, they appear to persist in the area around the wound for longer than in WT siblings due to the presence of the pre-neoplastic cells (Fig2M and N). From the earliest time points examined in fixed larvae—3 h after wounding—we observe a significant increase in the number of pre-neoplastic cells receiving contacts from immune cells (P = 0.0052 for 5 days post-wound); the number of these contacts peaks by 24 h post-injury and is maintained for at least 3 days post-wounding (Fig2R).