High-resolution quantification of root dynamics in split-nutrient rhizoslides reveals rapid and strong proliferation of maize roots in response to local high nitrogen.
Bottom Line: This may be a desirable trait in breeding programmes, since it decreases NO3(-) leaching and N2O emission.By contrast, laterals on the side without N did not show any detectable elongation beyond the first day after their emergence.We conclude that split-nutrient rhizoslides have great potential to improve our knowledge about nitrogen responsiveness and selection for contrasting genotypes.
Affiliation: Department of Experimental Plant Ecology, Radboud University Nijmegen, Heijendaalseweg 135, 6525 AJ Nijmegen, The Netherlands Crop Science, Swiss Federal Institute of Technology Zurich, Universitätsstrasse 2, 8092 Zurich, Switzerland.
No MeSH data available.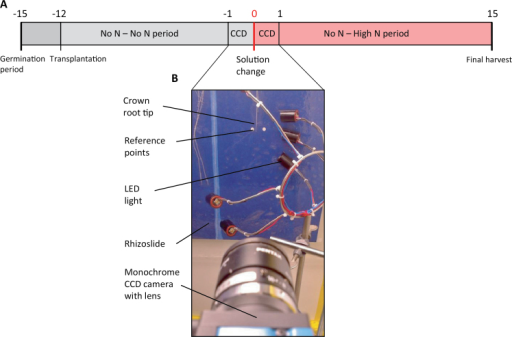 © Copyright Policy - creative-commons
License 1 - License 2


getmorefigures.php?uid=PMC4585423&req=5

Mentions: Maize seeds (Zea mays L., genotype B73×UH007, supplied by Delley Seeds and Plants Ltd, Delley, Switzerland) were sterilized in bleach (1.5% in water; v:v) for 15min and incubated in Petri dishes lined with filter paper soaked with a soil bacteria mixture (0.0001% RhizoPlus 42, Andermatt Biocontrol AG, Grossdietwil, Switzerland and 0.01% FZB24, Bayer AG CropScience, Zollikofen, Switzerland) to promote the development of a healthy rhizosphere and protect against seed-borne infections. During germination, seeds were kept in the dark at 26°C. After 70h, seedlings were transferred into the rhizoslides and placed in a climate chamber at 26°C during the 14h light and 20°C during the 8h dark period. Air humidity was 60% and light intensity 720−760 µmol m-2 s-1 photosynthetic photon flux density (PPFD) at plant canopy level supplied by 2/3 cool daylight tubes (Philips Master TL 5 HO 54W/840; Philips, Amsterdam, The Netherlands) supplemented with 1/3 Grolux tubes (Sylvania Grolux FHO 36W/T5/GRO; Havells India Ltd, Noida, India). Plants received nutrient solution without N containing 5mM KCl, 5mM CaCl2, 2mM MgSO4, 0.5mM KH2PO4, 0.04mM FeEDTA and micronutrients (9 µM MnCl2, 0.2 µM CuSO4, 46 µM H3BO3, 0.58 µM Na2MoO4 and 0.77 µM ZnSO4) in both compartments for 12 d after transplantation. The first 7 d after transplantation, plants also received nutrient solution without N twice a day at the shoot (40ml) to prevent the young roots from drying. The 12 d period without N was meant to minimize the influence of seed reserves and to create N deficient repression of selective root placement due to a high N content of the shoot. Twelve days after transplantation (set as time point 0; Fig. 1A), the nutrient solution in one compartment was changed to high N containing 5mM KNO3, 5mM Ca(NO3)2, 2mM MgSO4, 1mM NH4NO3, 0.5mM KH2PO4, 0.04mM FeEDTA and micronutrients (same as for the nutrient solution without N). Ion strength and free ion activity for both the solution with and without N were estimated using the chemical speciation programme GEOCHEM-EZ (Schaff et al., 2010), and the solutions were adjusted accordingly to keep them as similar as possible with exception of the N concentration. The high N solution was used as a basis, and the nutrient concentrations in the high N solution were adjusted for which KNO3 and Ca(NO3)2 were replaced by KCl and CaCl2 (final concentration of Cl- 15mM, which is considered non-toxic for maize; Ashraf, 1994) and NH4NO3 completely removed.