The 'island effect' in terrestrial global change experiments: a problem with no solution?
Bottom Line: Here, we discuss its implications in various global change experiments with plants.We also suggest ways to complement experiments using modelling approaches and observational studies.Ultimately, there is no obvious solution to deal with the island effect in field experiments and only models can provide an estimate of modification of responses by these feedbacks.
Affiliation: Institute for Applied Ecology New Zealand, School of Applied Sciences, Auckland University of Technology, Private Bag 92006, Auckland 1142, New Zealand sleuzing@aut.ac.nz.
No MeSH data available.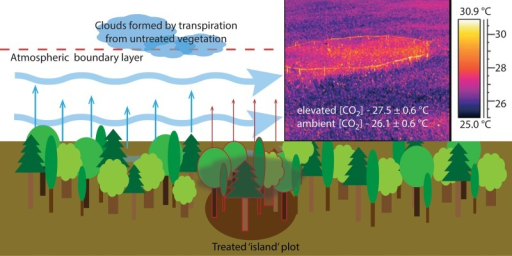 © Copyright Policy - creative-commons
License
getmorefigures.php?uid=PMC4584962&req=5
Mentions: A manipulative field experiment can treat only a small subset of the area or population in question. This inevitably poses the question 'what would the results look like if we were able to subject the whole area, or the whole population to our treatment?' The answer to this question will generally be 'we don't know'. We term this caveat of being able to treat only small 'islands' the 'island effect' in its broadest sense (sensu lato). Examples probably exist even outside biological disciplines, but within ecology, they are omnipresent: if we treat a patch of grass with fertilizer, food quality may increase and attract herbivores. However, if the whole landscape was exposed to the fertilizer treatment, no particular attraction of herbivores to our small experimental plots would occur. Generally speaking, by treating small subsets of a larger entity we wish to study, we are missing certain processes or mechanisms. Here, we focus on a problem where the island effect is likely very significant, i.e. manipulative experiments that are used to simulate environmental conditions that vegetation is expected to experience in the future. Most commonly, atmospheric CO2 concentration, temperature, precipitation amount and patterns, and nutrient input are altered according to certain global change scenarios, and plant responses (e.g. transpiration or biomass accumulation) are recorded. Although the physiological mechanisms of the responses to some of these drivers are generally well understood at the smallest scale (e.g. the leaf-level response to varying CO2 concentrations has been successfully modelled since the early 1980s, see Farquhar et al. 1980; Jarvis et al. 1999), it is difficult to scale leaf-level or single tree responses to stand or regional levels. Still to date, physiological processes in response to global change drivers are often implicitly scaled from the leaf to the stand, catchment or region, ignoring the multitude of potential atmospheric, soil and community feedback processes (Körner 2000; Leuzinger and Hättenschwiler 2013). Generally, feedback processes that occur at a smaller scale than the treated plot can be captured experimentally, but not those occurring at scales exceeding the plot size. Thus, the interpretation of experiments that treat small 'islands' of vegetation (e.g. Shaw et al. 2002; Morgan et al. 2004; Norby et al. 2005; Kongstad et al. 2012; Bader et al. 2013) are necessarily based on the assumption that feedback processes acting beyond the plot size are not important. Belowground, this assumption is generally met because soil conditions induced by treatments are likely less influenced by the surrounding, untreated conditions. One exception may be changes in the ground water table, which we would only observe if a larger region was treated. However, unlike air, soil from ambient plots is not transported to the treatment plots (Fig. 1). An example for this is a change in fine root biomass in free-air CO2 enrichment (FACE) experiments (Iversen et al. 2008; Bader et al. 2009; Ellsworth et al. 2012): for instance, changed soil conditions due to increased fine root turnover in an elevated CO2 plot will directly affect the experimental plot, as no soil from the surrounding ambient vegetation is transported to the treatment plot. In contrast, the constantly moving air over experimental plots will likely be influenced by vegetation growing in ambient conditions outside the experimental plot (Fig. 1). For example, a cloud that was formed due to transpiration over one region will shade and cause stomatal closure in leaves of distant plants (Fig. 1) (van der Ent et al. 2010; Gimeno et al. 2012). Thus, if a global change driver (e.g. temperature or elevated CO2) leads to changes in transpiration in a given experimental plot, the feedback effects arising from this change cannot be 'sensed' by the vegetation in the plot.Figure 1.