Interpersonal trust: an event-based account.
Affiliation: Cognitive Psychology Unit and Leiden Institute for Brain and Cognition, Leiden University Leiden, Netherlands.
As this similarity/congruency depends on the amount of situationally relevant features that one shares with the other and the exclusivity/inclusivity of one's current processing mode, we can thus predict that the degree of trust between trustor and trustee should increase with the situationally relevant interpersonal similarity in the inclusivity of the trustor's processing mode... Our approach suggests basically three ways to improve (or reduce) interpersonal trust... For another, mood and processing modes seem to share neural mechanisms and may thus not constitute separable causal factors: Relative increases in striatal dopamine seem to constitute central components of both positive mood (Akbari Chermahini and Hommel, ) and more integrative control states (Cools, ), and not only does positive-going mood make processing modes more integrative but engaging in integrative processing also improves mood (Akbari Chermahini and Hommel, )... Previous studies have shown that engaging in convergent thinking promotes a focused, exclusive processing mode while engaging in divergent thinking promotes a distributed, inclusive processing mode (e.g., Fischer and Hommel, )... As predicted, trustors transferred significantly more money to trustees after engaging in divergent thinking as compared to convergent thinking, which confirms our prediction that an inclusive processing mode promotes trust... Another study used the food supplement L-tryptophan, a precursor of serotonin, to promote interpersonal trust... Tryptophan depletion was found to improve performance in tasks that require focusing on relevant and ignoring irrelevant information, such as the Stroop task, in healthy and depressed participants (Rowley et al., ; Schmitt et al., ; Booij et al., )... Accordingly, Sellaro et al. had participants play a Trust Game while being exposed to the scent of peppermint or lavender... As predicted, trustors transferred significantly more money to trustees in the lavender as compared to the peppermint and a control condition... We suggest that interpersonal trust is a function of the perceived similarity between trustor and trustee, and have suggested a concrete functional mechanism how this similarity is represented in the cognitive system... The available evidence provides support for three key predictions of our approach: that trust increases with positive emotions and the degree of functional trustor-trustee feature overlap, and with a more integrative processing mode of the trustor... Nevertheless, we consider it interesting that social behavior can be predicted based on a model that was originally developed to account for entirely nonsocial agent-environment interactions... Also of interest, we have successfully applied the same approach to account for phenomena of social conformity (Kim and Hommel, ), which provides converging evidence that important kinds of social behavior may be generated by not dedicatedly social, domain-general cognitive mechanisms.
No MeSH data available.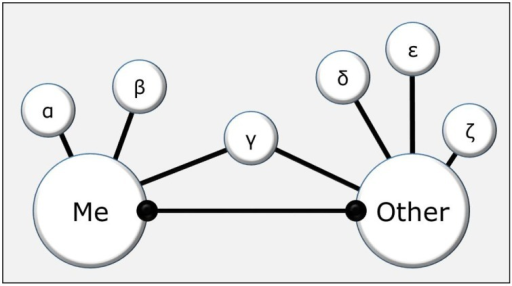 © Copyright Policy
License
getmorefigures.php?uid=PMC4584930&req=5
Mentions: Originally, TEC has been developed to represent relatively simple stimuli and actions but more recently we have begun to explore whether and how the theory can be extended to represent social events. Interestingly, Greenwald et al. (2002) have suggested a theoretical account of self-representation that seems perfectly compatible with such a social extension of TEC. It is true that representing people and social events would necessarily require a greater complexity of the representational dimensions than was necessary for TECs original focus on colors, shapes, and other simple features, but TECs basic architecture and computational principles allow for that. In particular, TEC provides the mechanisms needed to represent oneself in terms of one's perceptual and action-contingent features and the same is true for other individuals (Hommel et al., 2009; Hommel, 2013). The basic idea is sketched in Figure 1: In the example, an agent is assumed to represent herself (Me node) with respect to 3 features (α, β, γ—e.g., being female, tall, and a student) and another person (Other) with respect to 4 features (γ, δ, ε, ζ—e.g., being a student, male, short, and a father).