The evolution of the dystroglycan complex, a major mediator of muscle integrity.
Bottom Line: This comprises the non-covalently-associated extracellular α-DG, that interacts with laminin in the BM, and the transmembrane β-DG, that interacts principally with dystrophin to connect to the actin cytoskeleton.Phylogenetic analysis based on the C-terminal IG2_MAT_NU region identified three distinct clades corresponding to deuterostomes, arthropods, and mollusks/early-diverging metazoans.Whereas the glycosyltransferases that modify α-DG are also present in choanoflagellates, the DG-binding proteins dystrophin and laminin originated at the base of the metazoa, and DG-associated sarcoglycan is restricted to cnidarians and bilaterians.
Affiliation: School of Biochemistry, University of Bristol, Biomedical Sciences Building, University Walk, Bristol BS8 1TD, UK.
No MeSH data available.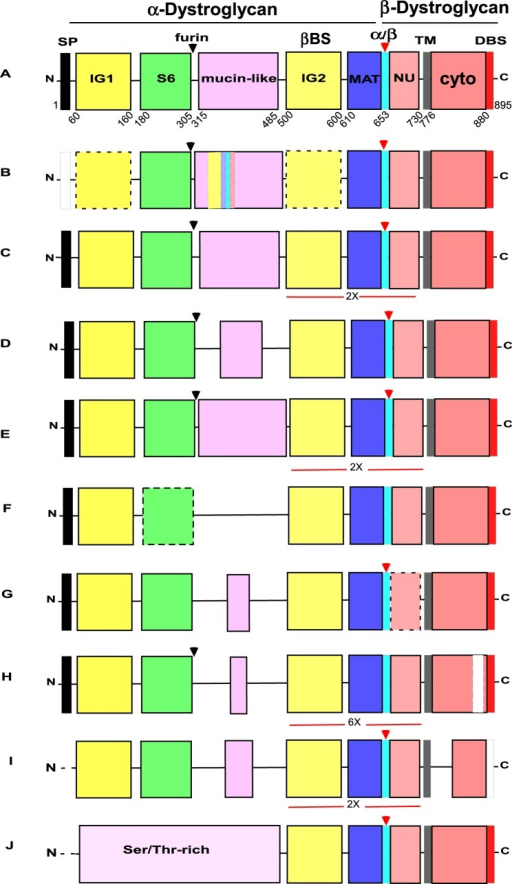 © Copyright Policy - open-access
License
getmorefigures.php?uid=PMC4582122&req=5
Mentions: The mature form of DG is a type I transmembrane protein composed of two non-covalently interacting subunits: α-DG, which is extracellular and highly glycosylated, and β-DG, which contains the transmembrane and cytoplasmic domains (Ibraghimov-Beskrovnaya et al., 1992) (Fig. 1A). The two subunits are produced from a single transcript, with α-DG liberated in the endoplasmic reticulum by an unknown enzyme. During trafficking through the Golgi apparatus, crucial glycosyltransferases, SGK196, an O-mannose kinase (Yoshida-Moriguchi et al., 2013), and B4GAT1, a glucuronyltransferase (Praissman et al., 2014; Willer et al., 2014), act in a concerted and chronologically regulated fashion to modify the α-DG core protein. These modifications are essential for the downstream enzymatic action of like-acetylglucosaminyltransferase (LARGE), which adds a repeating disaccharide unit [-α3-GlcA-β3-Xyl-] to a mucin-like, central region of α-DG. These carbohydrate decorations of α-DG are important for the calcium-dependent, high-affinity binding of α-DG to the LG4 and LG5 domains of laminin α-subunits (Barresi and Campbell, 2006; Hara et al., 2011a; Tisi et al., 2000; Harrison et al., 2007) as well as to a number of other LG domain-containing extracellular ligands of α-DG, including agrin, perlecan and neurexin (see Sciandra et al., 2013 and references therein). Intracellularly, the extreme C-terminus of β-DG binds to the cysteine-rich, C-terminal domain of the actin-binding protein, dystrophin, ensuring a connection to the F-actin cytoskeleton (Jung et al., 1995). The C-terminus also interacts with the dystrophin-related protein, utrophin, which is predominantly expressed at neuro-muscular junctions (Ishikawa-Sakurai et al., 2004).