Enhancer of zeste acts as a major developmental regulator of Ciona intestinalis embryogenesis.
Bottom Line: These major phenotypic defects are specifically rescued by injection of a morpholino-resistant Ci-E(z) mRNA, which restores expression of Ci-E(z) protein and re-deposition of the H3K27me3 mark.As observed by qPCR analyses, Ci-E(z) invalidation leads to the early derepression of tissue-specific developmental genes, whereas late-acting developmental genes are generally down-regulated.Altogether, our results suggest that Ci-E(z) plays a major role during embryonic development in Ciona intestinalis by silencing early-acting developmental genes in a Hox-independent manner.
Affiliation: Université Montpellier, Place Eugène Bataillon, Montpellier 34095, Cedex 5, France Institut des Sciences de l'Evolution (ISEM), UMR5554, CNRS, Montpellier 34095, France.
No MeSH data available.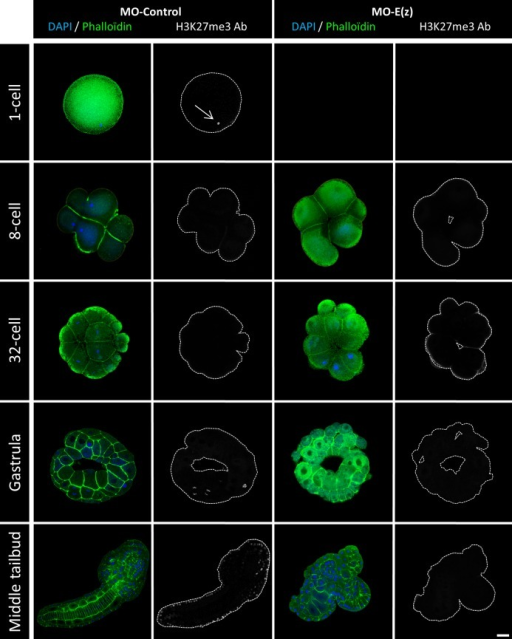 © Copyright Policy - open-access
License
getmorefigures.php?uid=PMC4582116&req=5
Mentions: Within the PRC2 complex, Ci-E(z) bears the catalytic activity responsible for the deposition of the H3K27me3 mark (Ferrari et al., 2014). It was therefore expected that the invalidation of Ci-E(z) should result in the lack of H3K27 trimethylation. We verified the status of the H3K27me3 mark with a specific antibody in control and Ci-E(z) morphants during embryonic development (Fig. 4 and data not shown). Interestingly, using immunofluorescence staining, the H3K27me3 antibody labeled the egg pronucleus at meiosis 1 stage (Fig. 4, left panels) whereas the Ci-E(z) protein was undetectable. From 2-cell up to 64-cell stage, the staining for the mark was negative in control embryos, although Ci-E(z) was detected as described above (Fig. 2, left panels). In gastrula, the H3K27me3 mark reappeared and the labeling was maintained in neurula. In the initial tailbud stage, only epidermal cells of the nascent tail were H3K27me3 positive. A strong labeling was then observed at middle tailbud stage by immunofluorescence staining (Fig. 4, left panels), and correlated with the strongest detection of Ci-E(z) protein (Fig. 2, left panels), in some endodermal cells of the head and in some cells from epidermal origin and of the tail extremity. A similar pattern of labeling was maintained in later stages. In the hatching larva, the cells of papillae were H3K27me3 positive, as was previously observed for Ci-E(z) (supplementary material Fig. S1). In summary, the H3K27me3 mark appeared after a lag phase during early embryogenesis, in which Ci-E(z) was detected without apparent H3K27me3, and then matched Ci-E(z) distribution throughout development. Of note H3K27me3 was maintained during mitosis (supplementary material Fig. S3), consistent with a relatively slow histone turnover and demethylation rate. Importantly, no detection of the H3K27me3 mark was observed in Ci-e(z) morphants (Fig. 4 right panels), demonstrating that Ci-E(z) is the only histone K27-specific methyltransferase, as already observed in humans (Ferrari et al., 2014). For clarity, Table 1 recapitulates the immunofluorescence detections of respectively Ci-E(z) and H3K27me3 mark throughout all stages of embryogenesis. As in control kinetics, the mark was only revealed at gastrula stage although the nuclear presence of Ci-E(z) was detected as soon as the 8-cell stage, and preceded by an earliest cytoplasmic form. Immunofluorescence results were controlled with western blotting analyses (Fig. 5A). In control embryos, the H3K27me3 mark was faintly detected at the 1-cell stage, then dropped at 4-cell stage and became weakly detectable at 8-cell stage (suggesting that, although not seen in immunofluorescence, initial H3K27 trimethylation may be occurring at this stage) and significantly stronger in middle tailbud. In sharp contrast to the wild type condition, the lack of H3K27me3 mark in the morphant context was clearly confirmed (Fig. 5B). Therefore, all results converge to show that Ci-E(z) is responsible for all H3K27me3 trimethylation during Ciona intestinalis embryogenesis.Fig. 4.