Zebrafish adult-derived hypothalamic neurospheres generate gonadotropin-releasing hormone (GnRH) neurons.
Bottom Line: Using this system, we show that neurospheres derived from the adult hypothalamus can be maintained in culture and subsequently differentiate glia and neurons.Finally, we show in vivo that a neurogenic niche in the hypothalamus contains GnRH positive neurons.Thus, we demonstrated for the first time that neurospheres can be derived from the hypothalamus of the adult zebrafish and that these neural progenitors are capable of producing GnRH containing neurons.
Affiliation: Centro Interdisciplinario de Neurociencia de Valparaíso (CINV), Facultad de Ciencias, Universidad de Valparaíso, Pasaje Harrington 269, Valparaíso 2340000, Chile Whitehead Institute for Biomedical Research (WIBR), 9 Cambridge Center, Cambridge, MA 02142, USA.
No MeSH data available.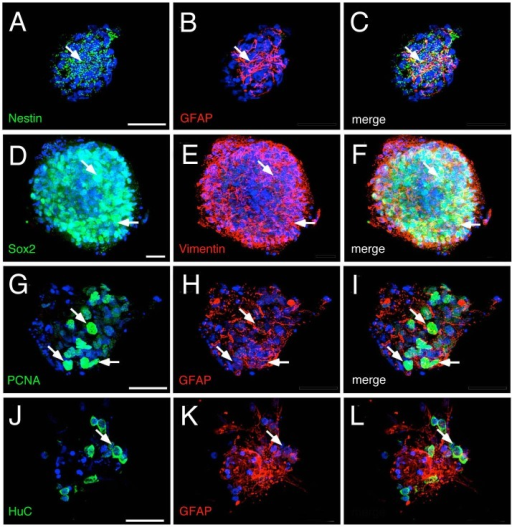 © Copyright Policy - open-access
License
getmorefigures.php?uid=PMC4582115&req=5
Mentions: To characterize the cell types present in the undifferentiated secondary neurospheres (Fig. 2A, time=0), they were seeded (see Materials and Methods) on a L-poly-l-lysine/laminin coated substrate for 6 h and fixed at room temperature for 30 min (Fig. 2A4-5, upper panel). Cultured cells were then processed for standard markers of stem cells: nestin, GFAP, Sox2 and vimentin (García-Verdugo et al., 1998; Remboutsika et al., 2011; Scheffler et al., 2005). Nestin, a type VI intermediate filament (IF) protein is expressed in undifferentiated precursors (Fig. 3A,C, green, arrows). GFAP, a type II IF protein with various splice products where the GFAP-delta form is associated with neurogenic astrocytes (Kamphuis et al., 2012) is expressed in undifferentiated neurospheres (Fig. 3B,C,H,I,K,L, red), as is the type II IF protein vimentin (Fig. 3E,F, red). These neurospheres show high levels of Sox2 expression (Fig. 3D,F, green, arrows) and PCNA (proliferating cell nuclear antigen) expression (Fig. 3G,I, green, arrows), supporting an undifferentiated state. HuC, a developing neural specific RNA-binding protein, (Fig. 3J,L green, arrows) is expressed in very few cells (0.22±0.05 HuC+/total cells). These undifferentiated secondary neurospheres do not express GnRH (supplementary material Fig. S1).Fig. 3.