Auditory hair cell defects as potential cause for sensorineural deafness in Wolf-Hirschhorn syndrome.
Bottom Line: Although auditory hair cells are specified normally, their stereocilia hair bundles required for sound perception fail to develop the appropriate morphology.Furthermore, the orientation and cellular organisation of cochlear hair cells and their innervation are defective.These findings identify, for the first time, the likely cause of sensorineural hearing loss in individuals with WHS.
Affiliation: Department of Craniofacial Development and Stem Cell Biology, King's College London, London, SE1 9RT, UK.
No MeSH data available.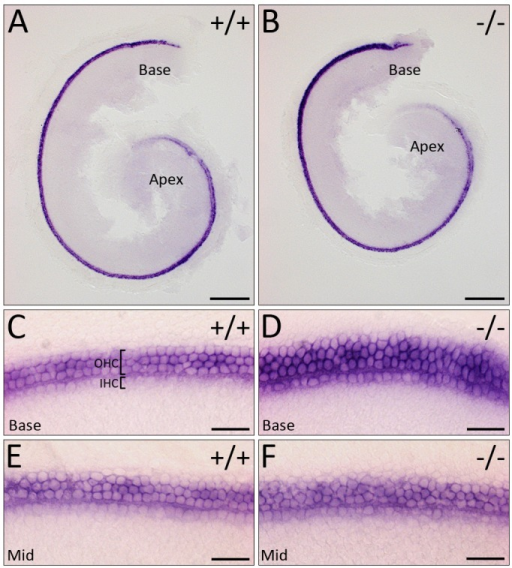 © Copyright Policy - open-access
License
getmorefigures.php?uid=PMC4582100&req=5
Mentions: Although ATOH1 is expressed normally and hair cells differentiate along the length of the cochlea, we noticed a stronger and wider expression domain of ATOH1 at the basal and middle turns of the cochlea in mutants (Fig. 3A,B), prompting us to investigate the hair cell arrangement in more detail. Normally, cochlear hair cells are arranged in organised rows, with one row of inner hair cells (IHCs) and three rows of outer hair cells (OHCs) (Fig. 3C). At E16.5, this organisation is already observed in the basal and mid-basal turns of the cochlea, whereas mid-apical and apical (except the apical tip) hair cells become organised by E18.5, because these are the last to mature, albeit the first to exit the cell cycle (Chen and Segil, 1999; Matei et al., 2005). Instead of four discernible rows, the mutant cochlea showed multiple (and somewhat ambiguous) hair cell rows (Fig. 3C-F; n=4/5). Although it is possible that this arrangement is due to a developmental delay, this is unlikely because we observe the same phenotype at E18.5 (Fig. 4A-D; n=14/14): there are extra IHC and/or OHC rows, ranging from the normal 4 rows to an abnormal 6 rows in the basal and middle regions of WHSC1−/− cochlea (Fig. 4C,D; n=14/14). A small proportion of heterozygous WHSC1+/− cochlea (20%) show the same hair cell phenotype (n=8/40; supplementary material Fig. S3G,I, arrowheads). In the mutant cochlea, the total number of hair cells did not significantly differ compared to wild-type controls (3382±5 vs 3385±2; n=3) or heterozygous littermates (3385±6 vs 3385±2; n=3; Fig. 4E), suggesting that it is the failure of hair cell arrangement along the length of the cochlear duct that ultimately results in their inappropriate accumulation in some regions. In support of this notion, the last set of differentiating hair cells in the apical turn appeared more sparsely distributed, probably due to reduced numbers in this region (Fig. 3A,B). This observation was confirmed at E18.5, where MYO7A+ hair cells were strongly reduced in the apical tip of the mutant cochlea when compared to controls (supplementary material Fig. S4C,D). In particular, the number of OHCs were significantly reduced in the mutant apex (62±2 vs 91±3; n=5, P=0.001), with a corresponding increase in the base (94±4 μm vs 78±2 μm; n=5, P≤0.001; Fig. 4F). The number of IHCs was less affected, with a slight but significant increase in the middle of the cochlea (27±0.7 vs 26±0.6; n=5, P=0.03; Fig. 4F). WHSC1+/− cochleae do not show any statistically significant changes because the phenotype is more subtle, but there are visibly more OHCs in the base (80±3 vs 78±2; n=5, P=0.2) and middle (89±3 vs 85±5; n=5, P=0.3) turns of the cochlea (Fig. 4F, supplementary material Fig. S3G,I, arrowheads). Thus, WHSC1 function is required as hair cells begin to align and arrange themselves into distinct rows along the length of the cochlea.Fig. 3.