Auditory hair cell defects as potential cause for sensorineural deafness in Wolf-Hirschhorn syndrome.
Bottom Line: Although auditory hair cells are specified normally, their stereocilia hair bundles required for sound perception fail to develop the appropriate morphology.Furthermore, the orientation and cellular organisation of cochlear hair cells and their innervation are defective.These findings identify, for the first time, the likely cause of sensorineural hearing loss in individuals with WHS.
Affiliation: Department of Craniofacial Development and Stem Cell Biology, King's College London, London, SE1 9RT, UK.
No MeSH data available.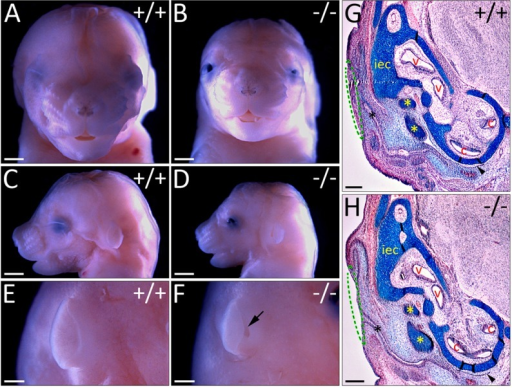 © Copyright Policy - open-access
License
getmorefigures.php?uid=PMC4582100&req=5
Mentions: The characteristic craniofacial dysmorphism of individuals with WHS is associated with haploinsufficiency of the WHSC1 gene (Bergemann et al., 2005; Van Buggenhout et al., 2004) and is replicated in WHSC1 mutant mice (Nimura et al., 2009). Here, we confirm the published phenotypes. WHSC1−/− mutants are developmentally delayed and are smaller in size compared to control or heterozygous littermates (Nimura et al., 2009). Close examination of the craniofacial structures reveals a decrease in the size of WHSC1−/− mutant heads by 22% (1230±9 μm, n=3 vs 1577±4 μm, n=3; P=4×107, Fig. 1A-D) and a temporal protrusion of the skull (supplementary material Fig. S1B,C,E,F, arrowheads) that also characterises individuals with WHS. Furthermore, WHSC1−/− mice have open eyelids, with widely spaced protruding eyes compared to WHSC1+/+ or WHSC1+/− littermates (Fig. 1A,B; not shown). The protruding-eye phenotype is also observed in some individuals with WHS with hypertelorism (Bergemann et al., 2005; Van Buggenhout et al., 2004). About 15% of individuals with WHS exhibit sensorineural hearing loss (Toriello and Smith, 2013), although the cause remains unknown. To determine whether sensorineural hearing loss is associated with WHSC1 deletion, we analysed inner ear development in WHSC1 mutant mice. These mutants do not survive to postnatal day 10 (P10) and the number of viable WHSC1−/− embryos are greatly reduced from late embryonic stages (Nimura et al., 2009). We therefore focused on E16.5 and E18.5, when the inner ear is fully formed and sensory hair cells are at different stages of differentiation and maturation (Chen and Segil, 1999). WHSC1 mutants form pits in the outer ear (Fig. 1E,F, arrow), similar to phenotypes observed in individuals with WHS presenting with preauricular cysts/pits and/or epicanthal folds (Bergemann et al., 2005; Van Buggenhout et al., 2004). Sections reveal the loss or underdevelopment (i.e. microtia) of the pinnae that results in pit formation (Fig. 1G,H, green dashed line; supplementary material Fig. S2). The middle ear bones and the inner ear are largely normal, as is the eustachian tube and ear canal, even though they appear slightly constricted (Fig. 1G,H; supplementary material Fig. S2, dotted lines). Collectively, our observations confirm that WHSC1 mutants phenocopy WHS characteristics attributed to the deletion of WHSC1, including craniofacial abnormalities, and external ear and eye anomalies.Fig. 1.