Huntington disease iPSCs show early molecular changes in intracellular signaling, the expression of oxidative stress proteins and the p53 pathway.
Bottom Line: Several molecular and developmental effects of HD have been identified using neural stem cells (NSCs) and differentiated cells, such as neurons and astrocytes.Surprisingly, we found that a number of changes affecting cellular processes in HD were also present in undifferentiated pluripotent HD iPSCs, including the dysregulation of the MAPK and Wnt signaling pathways and the dysregulation of the expression of genes related to oxidative stress, such as Sod1.Interestingly, a common protein interactor of the huntingtin protein and the proteins in the above pathways is p53, and the expression of p53 was dysregulated in HD YAC128 iPSCs and human HD iPSCs.
Affiliation: Institute of Bioorganic Chemistry, Polish Academy of Sciences, Noskowskiego 12/14, Poznań 61-704, Poland.
No MeSH data available.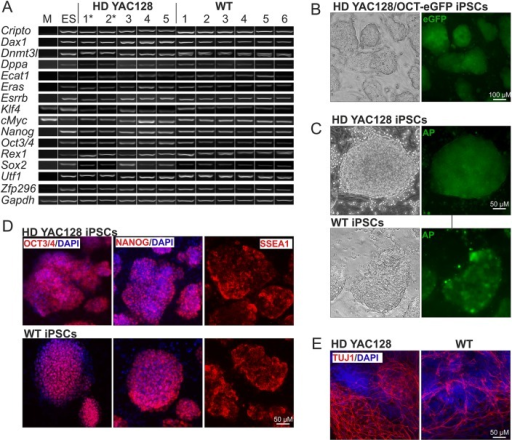 © Copyright Policy - open-access
License
getmorefigures.php?uid=PMC4582098&req=5
Mentions: We generated HD iPSC lines by reprogramming adult skin fibroblasts isolated from YAC128 (Slow et al., 2003), YAC128/Oct-eGFP and wild-type (WT) mice. The fibroblasts were reprogrammed using a piggyBac transposon-based system (Yusa et al., 2009, 2011) that drove the expression of five reprogramming factors (OCT3/4, SOX2, KLF4, cMYC and LIN28), which we adapted for use with adult fibroblasts (supplementary material Fig. S1A). We established more than 50 lines of primary iPSCs containing the genome-integrated reprogramming cassette. For the seamless excision of the reprogramming cassette, the selected clones were electroporated with the piggyBac transposase construct and negatively selected through incubation with the thymidine-kinase substrate fialuridine (FIAU). The surviving colonies were individually harvested and confirmed to be free of the transposon through PCR genotyping (supplementary material Fig. S1B). Five HD and six WT iPSC cell lines were selected for further analysis. The morphology of the selected cell lines was indistinguishable from that of the control mouse ESCs. RT-PCR analysis of the selected cell lines revealed expression of the pluripotency markers Sox2, Klf4, cMyc, Esrrb, Utf1, Nanog, Oct3/4, Cripto, Dnmt3l, Rex1, Ecat1, Eras, Zfp296, Dax1 and Dppa (Fig. 1A). The expression levels of the analyzed markers were comparable to those observed in mouse ESCs. Both HD and WT iPSCs exhibited similar expression levels of OCT3/4 mRNA and protein (supplementary material Fig. S2A,B), and the iPSC lines generated from YAC128/Oct-eGFP cells showed green fluorescence corresponding to Oct-eGFP expression (Fig. 1B). The HD and WT iPSCs also showed similar expression levels of other pluripotency genes (Dax1, Dnmt3l and Rex1; supplementary material Fig. S2A) and of alkaline phosphatase activity, which is another hallmark of pluripotency (Fig. 1C). The HD and WT iPSC colonies both exhibited intense nuclear immunostaining for OCT3/4 and NANOG, and cell-surface immunostaining for SSEA1 (Fig. 1D). To analyze their differentiation potentials, the HD and WT iPSCs were tested using in vitro and in vivo differentiation assays. Following the formation of embryoid bodies, the cells readily differentiated into neuronal lineage cells, showing long neuronal processes that were positive for TUJ1 expression (Fig. 1E). Cells of lineages originating from the other germ layers were also present, e.g. beating cardiomyocytes (data not shown). Upon injection into SCID and FVB/J mice, our iPSCs formed teratomas in which we detected tissues originating from all three germ layers (supplementary material Fig. S3).Fig. 1.