Bottom Line: Recent studies have analyzed the operation of auditory sensory cells and the processing of sound in the fly's brain.Neuronal responses to sound have been characterized, and novel classes of auditory neurons have been defined; transient receptor potential (TRP) channels were implicated in auditory transduction, and genetic and environmental causes of auditory dysfunctions have been identified.This review discusses the implications of these recent advances on our understanding of how hearing happens in the fly.
Affiliation: Ear Institute, University College London, 332 Gray's Inn Rd, London WC1X 8EE, UK. Electronic address: joerg.albert@ucl.ac.uk.
No MeSH data available.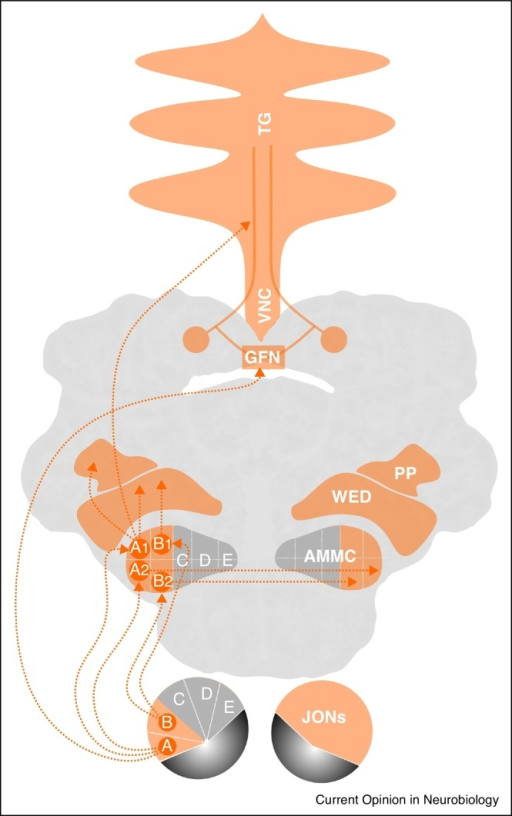 © Copyright Policy - CC BY
License
getmorefigures.php?uid=PMC4582067&req=5
Mentions: JONs of classes A–E target different zones in the AMMC where they synapse onto different second-order neurons (Figure 3). Five classes of interneurons were identified that receive input from the auditory JONs of classes A and B [8••,41,42••]: firstly, the GFN, which conveys auditory information to the thoracic ganglia and the inferior ventrolateral protocerebrum (IVLP; also referred to as wedge or WED [43]); secondly, the AMMC-A1 and thirdly, the AMMC-B1 neurons, which connect the JONs of classes A and B to the IVLP/WED, respectively; fourthly, the AMMC-A2 and lastly, AMMC-B2 neurons, which seem to connect the respective AMMC-zones between both hemispheres. A recent large-scale anatomical screen [44••] confirmed these projection patterns and reported distinct groups of candidate auditory projection neurons (aPNs), which either, firstly, arborize within AMMC zone A sending projections to the posterior protocerebrum (PP) or, secondly, arborize within AMMC zone A sending projections to the ventral nerve cord (VNC) or, thirdly, arborize within AMMC zones A and B sending projections to the VNC or, lastly, arborize within AMMC zone B sending bilateral projections to the IVLP/WED. The same screen also identified classes of candidate auditory local neurons (aLNs) that arborize within either, firstly, AMMC zone A, secondly, AMMC zone B or thirdly, AMMC zone A and B. Only two classes of interneurons, aPN1 (AMMC-B1 from Ref. [8••]) and aLN(al), both of which receive their dendritic inputs exclusively from AMMC zone B, were found to be necessary for behavioral responses to courtship songs in both females and males. Class D JONs, which might also contribute to hearing, were found to target AMMC-D1 neurons as well as local interneurons that are confined to the AMMC [10]. The AMMC-D1 neurons arborize within the AMMC and send projections into the thoracic ganglia [10].