Vaccine Science Diplomacy: Expanding Capacity to Prevent Emerging and Neglected Tropical Diseases Arising from Islamic State (IS)--Held Territories.
Affiliation: United States Science Envoy Program, Department of State, Washington, D. C., United States of America; Sabin Vaccine Institute and Texas Children's Hospital Center for Vaccine Development, National School of Tropical Medicine, Baylor College of Medicine, Houston, Texas, United States of America; Department of Biology, Baylor University, Waco, Texas, United States of America; James A. Baker III Institute of Public Policy, Rice University, Houston, Texas, United States of America.
War and the ensuing health system breakdowns in the Islamic State (IS)–occupied Syria and Iraq significantly increase the risk of a new wave of infectious disease epidemics in the Middle East and North Africa (MENA)... Proactive engagement to enable health system capacity and resilience—including expanding immunization programs and building biotechnology capacity for vaccines that specifically target diseases in the region—would help minimize the impact if and when outbreaks occur... The latest example is the collapsed health systems of post-conflict Liberia and Sierra Leone that were unable to cope with an Ebola epidemic that infected more than 20,000 people and caused approximately 10,000 deaths by the early part of 2015... A comparable situation associated with poverty and conflict may now be unfolding in the MENA... Anticipatory action plans could include expansion of public health emergency preparedness through the United States—launched Global Health Security Agenda (GHSA) in partnership with the World Health Organization (WHO), the Food and Agriculture Organization (FAO), and the World Organisation for Animal Health (OIE)... Launched in February 2014, the GHSA has an overarching mission to prevent and reduce the likelihood of infectious disease outbreaks by detecting threats early and providing for rapid and multisectoral responses... Given the urgent need to develop and possibly stockpile new vaccines for the major NTDs emerging out of MENA, there are opportunities for "vaccine science diplomacy," analogous to events of the post-Sputnik era of the Cold War, when an American—Soviet collaboration led to final development and testing of the Sabin polio vaccine... As a potential alternative, there are approximately a half-dozen international non-profit vaccine product development partnerships (PDPs), which use industry practices to develop new vaccines for HIV/AIDS, tuberculosis, malaria, and NTDs... Morocco ranks 129 out of 187 in terms of its human development index and is categorized by the United Nations Development Programme as a medium development country... Despite a significant level of extreme poverty, the country was one of the first to achieve the elimination of trachoma, a major NTD... As a consequence, the MENA region is highly vulnerable to regional neglected and emerging infections, including MERS, schistosomiasis, leishmaniasis, scabies, and other NTDs, which may not be targeted by multinational pharmaceutical companies... Thus, in addition to the key role of US and international PDPs described here, the US government could also enhance vaccine development activities in the GHSA by incorporating and augmenting resources and talent through its Departments of State (e.g., Office of Global Health Diplomacy and US Agency for International Development), Health and Human Services (e.g., National Institutes of Health and Office of Global Affairs), and Defense (e.g., Walter Reed Army Institute of Research), among others... Collaboration, both regionally and with the broader international community, to enhance capacity in the MENA to develop vaccines is an important means to develop sustainable health system structures to support health resilience... Collaboration between the US and the international community on vaccines is already a key element of the GHSA; we should maintain momentum and look for new, willing partners in these efforts.
No MeSH data available.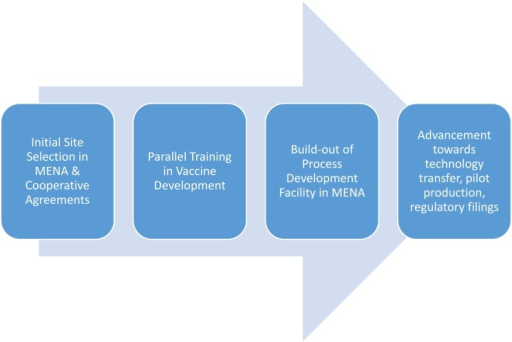 © Copyright Policy
License
getmorefigures.php?uid=PMC4581861&req=5
Mentions: The Kingdom of Saudi Arabia has invested heavily to establish world-class research universities institutions, including some Saudi universities now ranked among the highest in the MENA region according to US News and World Report rankings [29]. These include King Saud University, Alfaisal University, and King Faisal Specialist Hospital and Research Centre, located in Riyadh; and in the Eastern Province, University of Dammam, King Fahd University of Petroleum and Minerals, and Johns Hopkins Aramco Healthcare. King Abdullah University of Science and Technology in Thuwal and King Abdulaziz University in Jeddah are also leading universities, while the University of Jazan near the border with Yemen also has experience in tropical diseases. Such facilities at national universities or institutes could be expanded in order to build early-stage vaccine-development capabilities that match those of the Sabin PDP. An emphasis would be put on process development—developing reproducible processes for pilot-scale manufacture under strict quality control and quality assurance. Success on this front will also depend on advanced training in each step of the vaccine development cycle, both in Houston and in the designated MENA nation (Fig 2). The major deliverables of such vaccine science diplomacy activities would include the development and clinical testing of a vaccine that targets an NTD of national or regional importance. These activities would also expand Saudi Arabia's biotechnology capacity. Such a vaccine development initiative could interface with Arabio, the Gulf's first biopharmaceutical company, with capabilities for final production of diphtheria, tetanus, pertussis, and other vaccines [30]