Structural basis of glycogen branching enzyme deficiency and pharmacologic rescue by rational peptide design.
Bottom Line: Expression of recombinant GBE1-p.Y329S resulted in drastically reduced protein yield and solubility compared with wild type, suggesting this disease allele causes protein misfolding and may be amenable to small molecule stabilization.We demonstrate intracellular transport of this peptide, its binding and stabilization of GBE1-p.Y329S, and 2-fold increased mutant enzymatic activity compared with untreated patient cells.Together, our data provide the rationale and starting point for the screening of small molecule chaperones, which could become novel therapies for this disease.
Affiliation: Structural Genomics Consortium, Nuffield Department of Clinical Medicine, University of Oxford, OX3 7DQ, UK.
No MeSH data available.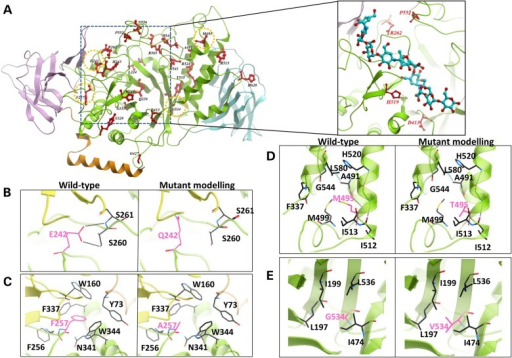 © Copyright Policy - creative-commons
License
getmorefigures.php?uid=PMC4581599&req=5
Mentions: The hGBE1 crystal structure provides a molecular framework to understand the pathogenic mutations causing GSDIV and APBD, as the previously determined bacterial GBE structures have low amino acid conservation in some of the mutated positions. Apart from a few large-scale aberrations (nonsense, frameshift, indels, intronic mutations), which likely result in truncated and non-functional enzyme, there are to date 25 reported GBE1 missense mutations, effecting single amino acid changes at 22 different residues (Supplementary Material, Table S2). These mutation sites are predominantly localized in the catalytic core (Fig. 3A), with a high proportion around exon 12 (n = 6 in exon 12, n = 2 in exon 13, n = 1 in exon 14) (26). There is no apparent correlation among the genotype, amino acid change and its associated disease phenotype. However, inspection of the atomic environment surrounding these residues, some of which are strictly invariant among GBE orthologs (Supplementary Material, Fig. S6), allows us to postulate their molecular effects. They can be classified into 'destabilising' substitutions, which likely disrupt protein structure, and 'catalytic' substitutions, which are located proximal to the active site and may affect oligosaccharide binding or catalysis. The most common type of 'destabilising' mutations is those disrupting H-bond networks (p.Q236H, p.E242Q, p.H243R, p.H319R/Y, p.D413H, p.H545R, p.N556Y, p.H628R; Fig. 3B) and ionic interactions (p.R262C, p.R515C/H, p.R524Q, p.R565Q) within the protein core, whereas disruption of aromatic or hydrophobic interactions are also common (p.F257L, p.Y329S/C, p.Y535C, p.P552L; Fig. 3C). Also within the protein core, mutation of a large buried residue to a small one creates a thermodynamically unfavoured cavity (p.M495T, p.Y329S/C; Fig. 3D), whereas mutation from a small residue to a bulkier one creates steric clashes with the surroundings (p.G353A, A491Y, p.G534V; Fig. 3E). In certain cases, mutation to a proline within an α-helix likely disrupts local secondary structure (e.g. p.L224P), whereas mutation from glycine can lose important backbone flexibility (e.g. p.G427R, likely causing Gln426 from the catalytic domain to clash with Phe45 in the helical segment). The 'catalytic' mutations are more difficult to define in the absence of a sugar bound hGBE1 structure at the active site. However, superimposing hGBE1 with amylase structures reveals Arg262, His319, Asp413 and Pro552 as mutation positions that could line the oligosaccharide access to the active site (Fig. 3A, inset). In particular, the imidazole side-chain of His319 is oriented towards the active site and within 8 Å distance from the −1 site. Its substitution to a charged (p.H319R) or bulky (p.H319Y) amino acid could potentially destabilize oligosaccharide binding.Figure 3.