γδ T Cells and NK Cells - Distinct Pathogenic Roles as Innate-Like Immune Cells in CNS Autoimmunity.
Affiliation: Immune Regulation Research Group, Trinity Biomedical Sciences Institute, School of Biochemistry and Immunology, Trinity College Dublin , Dublin , Ireland.
Experimental autoimmune encephalomyelitis (EAE) is an animal model of MS that has been used to understand the cellular and molecular mechanisms underlying CNS inflammation and autoimmunity... Since the discovery of IL-17-sereting CD4 T cells (Th17 cells) over 10 years ago, these cells have been the main focus of attention as mediators of pathology in MS and EAE... IL-23 was then shown to be essential in driving the induction or the expansion of IL-17-secreting CD4 T cells, which were termed Th17 cells... IL-17-producing Th17 cells proved to have a key role in inflammation and autoimmunity when they were found capable of transferring EAE to naive mice... Since their discovery, Th17 cells have been implicated in the pathogenesis of most common autoimmune diseases, including psoriasis, rheumatoid arthritis (RA), and MS, and in animal models of these diseases... Despite the extensive studies on Th17 cells, the relative roles of Th1 and Th17 cells in the pathogenesis of MS and other autoimmune diseases are still unclear... Vγ4 T cells are also key players in a variety of other autoimmune conditions, such as myocarditis, psoriasis, and CIA... The pathogenic role of γδ T cells in EAE was demonstrated by a reduction in disease severity in TCRδ mice... Furthermore, studies in the relapsing-remitting EAE model showed a significant reduction in clinical severity when mice were treated with a TCRδ depleting antibody immediately before disease onset or during the chronic phase of disease... These discrepancies may reflect differences in the antibodies used, the depletion regimen, and a focus on disease peak... Data from our laboratory suggest that NK cells have a pathogenic role in disease induction; NK cells were found to infiltrate the CNS of mice with EAE before the onset of clinical symptoms, and depletion of these cells at this early time-point led to a significant reduction in disease severity... The pathogenic role of NK cells was attributed to early IFN-γ production, as early depletion of NK cells did not affect the clinical course of EAE in IFN-γ mice... Given the important role of small populations of γδ T cells and NK cells in the pathogenesis of EAE, we propose that a better understanding of the activation and function of these innate-like lymphocytes and their secreted cytokines may lead to new and more selective therapeutic interventions for the treatment of MS.
No MeSH data available.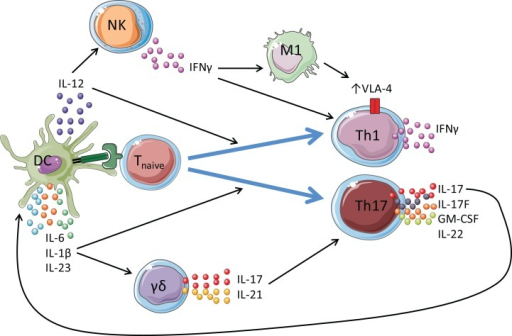 © Copyright Policy
License
getmorefigures.php?uid=PMC4561808&req=5
Mentions: γδ T cells represent around 2–5% of peripheral lymphocytes and are known to play an important role in innate and adaptive immunity at mucosal surfaces. γδ T cells have been described as polyfunctional; they produce an array of cytokines, including IL-17A, IL-17F, IFN-γ, IL-10, IL-22, IL-21, GM-CSF, and TNF-α (28–31). The IL-17-producing γδ T cells share many features with CD4+ Th17 cells, including expression of RORγt, IL-1R1, IL-23R, and CCR6 (32). Although γδ T cells do express a unique T cell receptor (TCR), engagement of this TCR with MHC-antigen complexes is not a prerequisite for their activation. Unlike conventional αβ T cells, cytokine stimulation alone is sufficient for activation of IL-17-secreting γδ T cells, making these cells rapid and potent mediators of inflammation (28). γδ T cells have been shown to be pathogenic in a variety of autoimmune diseases, such as EAE, collagen-induced arthritis (CIA), and most recently in EAU (33–35). Before the discovery of Th17 cells and their signature cytokine IL-17, it was assumed that early IFN-γ derived from γδ T cells was the main pathogenic cytokine driving EAE; this was in part based on the established role of IFN-γ-secreting γδ T cells in enhancing CD4+ and CD8+ T cell responses in anti-tumor immunity (36). However, our studies, supported by recent results from other labs, suggest that the pathogenic function of γδ T cells is mediated by their production of IL-17 and related cytokines, including IL-21 and GM-CSF (28). γδ T cells can secrete IL-17 in response to IL-1, IL-18, and IL-23 without TCR engagement, promoting the induction of Th1 and Th17 cells and amplifying their encephalitogenic function during the development of EAE (28, 37, 38) (Figure 1). Studies from our group have demonstrated that dendritic cells (DCs) can enhance the ability of IL-1- and IL-23-activated γδ T cells to promote IL-17 production by Th17 cells (28). Furthermore, DCs express IL-17R and secrete IL-23 in response to IL-17, which was enhanced by LPS and blocked by anti-IL-17R. These findings suggest that γδ T-cell-derived IL-17 may act in a positive feedback loop involving DC activation leading to enhanced Th17 cell effector function during EAE. In vitro studies have also suggested a pathogenic role for γδ T cells in demyelinating diseases of the CNS, as γδ T cells are indirectly responsible for axonal demyelination through toxic destruction of oligodendrocytes, cells responsible for myelinating axons (39).