From Laboratory Research to a Clinical Trial: Copper Alloy Surfaces Kill Bacteria and Reduce Hospital-Acquired Infections.
Bottom Line: This is a translational science article that discusses copper alloys as antimicrobial environmental surfaces.Bacteria die when they come in contact with copper alloys in laboratory tests.Thus, based on the presented information, the placement of copper alloy components, in the built environment, may have the potential to reduce not only hospital-acquired infections but also patient treatment costs.
Affiliation: Copper Development Association, New York, NY, USA harold.michels@copperalliance.us.
No MeSH data available.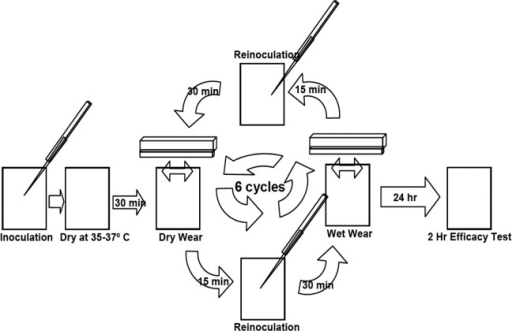 © Copyright Policy - open-access
License 1 - License 2 - License 3


getmorefigures.php?uid=PMC4561453&req=5

Mentions: In contrast, copper alloys hold EPA public health registrations, which permit stating that they kill the specific bacteria tested under three EPA-approved test protocols (Anderson & Michels, 2008). The six specific bacteria evaluated, which are all included in the EPA registration, are S. aureus, Enterobacter aerogenes, E. coli O157: H7, Pseudomonas aeruginosa, MRSA, and VRE. The first test protocol, efficacy as a sanitizer, measures efficacy after 2 hr, which is an arbitrary time. The second test protocol, residual self-sanitizing, which simulated wear, confirms that the surface retains efficacy after repeated dry and wet rubbing, as shown in Figure 3. It is more challenging than the first protocol, but basically reveals no weakness in copper alloys, which have been shown to retain efficacy after decades of use. Typical examples of copper alloys that have shown long-term efficacy are brass doorknobs and railings found in public buildings. The third and last test protocol, continuous reduction, is the most challenging. As can be seen in Table 1, a total of 252 EPA tests were conducted. A greater than 99.9% reduction (>99.9%) of bacteria was realized within 2 hr in all 84 tests conducted under the first protocol, efficacy as a sanitizer. Similarly, >99.9% reduction was also seen on all 84 tests conducted under the second protocol, residual self-sanitizing. In the third protocol, continuous reduction, the most challenging test, 72 of the 84 tests had a >99.9% reduction, while the other 12 attained reductions ranging from 99.3% to 99.9%. This tabulation of the results of tests conducted under EPA-approved Good Laboratory Practices (GLP) protocols illustrates strong efficacy and demonstrates the ability of copper alloys to kill bacteria under conditions designed to simulate the hospital environment. These regulatory tests establish credibility because they were conducted in an independent third-party laboratory, and the results are subjected to EPA evaluation. Furthermore, the second protocol, residual self-sanitizing, where the surface is rubbed by a cloth, and the third protocol, continuous reduction, in which the surface is repeatedly inoculated, are designed to simulate the conditions seen by environmental surfaces in hospitals. Finally, this regulatory approval is necessary for products to be made available to hospitals, which are needed in a translational science project to "carry science from the bench to the bedside."