From Laboratory Research to a Clinical Trial: Copper Alloy Surfaces Kill Bacteria and Reduce Hospital-Acquired Infections.
Bottom Line: This is a translational science article that discusses copper alloys as antimicrobial environmental surfaces.Bacteria die when they come in contact with copper alloys in laboratory tests.Thus, based on the presented information, the placement of copper alloy components, in the built environment, may have the potential to reduce not only hospital-acquired infections but also patient treatment costs.
Affiliation: Copper Development Association, New York, NY, USA harold.michels@copperalliance.us.
No MeSH data available.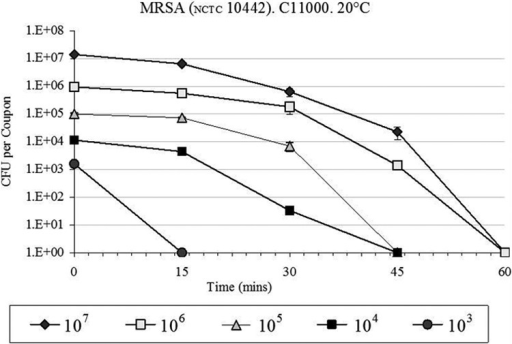 © Copyright Policy - open-access
License 1 - License 2 - License 3


getmorefigures.php?uid=PMC4561453&req=5

Mentions: Staphylococci are ubiquitous and easily transferred between individuals, or to objects where they are subsequently acquired by healthcare workers or patients and readily transferred to others. S. aureus is a component of many people's skin flora. Although anyone can be infected by Staph, some individuals are more susceptible. When these bacteria find a weakness such as an open wound, or when an individual who is immune-compromised is exposed, a deadly infection may occur (Tierno, 2001). Among the antibiotic-resistant bacteria, MRSA is of particular concern. MRSA infections cause about 126,000 hospitalizations each year in the United States (Kuehnert et al., 2005), although many hospitals have successfully reduced the rates in recent years (Jain et al., 2011). Copper's efficacy against MRSA has been demonstrated in several independent studies (Gould et al., 2009; Mehtar, Wiid, & Todorov, 2008; Michels, Noyce, & Keevil, 2009; Noyce, Michels, & Keevil, 2006a; Weaver, Noyce, et al., 2010). Perhaps the most illustrative representation of copper's efficacy against MRSA is shown in Figure 1. In this case, a 99.9% copper alloy (C110) and stainless steel (S304) were inoculated with ∼700,000 colony-forming units per square in. (CFUs/in2), a total of 8 times in a 24-hr period, without any intermittent wiping or cleaning. The concentration of each inoculum is at least one order of magnitude higher than the surface contamination levels measured on noncopper surfaces in the intensive care units (ICUs) of three U.S. hospitals, which ranged from a several hundred to the several thousands of CFUs (Attaway et al., 2012; Schmidt, Attaway, Fairey, et al., 2013; Schmidt, Attaway, Sharpe, et al., 2012). As can be determined from the data used to develop Figure 1, greater than 99% of the MRSA were killed by the copper alloy surface after eight equally sized inocula of ∼7 × (105) CFU/in2 of MRSA at 3 hr intervals over 24 hr. However, the stainless steel coupons continued to not only harbor viable MRSA, but also showed substantial and increasing concentrations of MRSA after each inoculation. This figure illustrates that copper alloys can continue to kill MRSA, even after repeated inoculations, while bacteria resident on the stainless steel continue to survive and grow. It has been reported (Gould et al., 2009) that three of the five clinically important MRSA strains tested on pure copper were killed within 60 min, and the remaining two strains were killed within 80–100 min. Furthermore, these authors (Gould et al., 2009) also reported similar efficacy against community-acquired methicillin-sensitive S. aureus (CA-MSSA). All five tested strains were killed within 80 min. These findings are significant because the number of cases of CA-MSSA continues to increase, as healthcare-associated MRSA has spread to non-healthcare settings in the community. It is important to note that most laboratory efficacy tests utilize very high initial inoculation levels, which are typically greater than one million CFU/in2, in order to clearly demonstrate efficacy. Alloys containing lower levels of copper, including brass and bronze, were tested against MRSA and also exhibited greater than 99.9% kill within 2 hr when challenged with these high inoculation levels (Anderson & Michels, 2008). It has also been shown (Noyce et al., 2006a) that lowering the initial bacterial load to levels closer to those found in the clinical setting resulted in a shorter time to kill MRSA (Figure 2). This has practical significance because in the typical clinical setting, copper alloys kill most of the bacteria in a matter of minutes rather than hours.