Reward Pays the Cost of Noise Reduction in Motor and Cognitive Control.
Bottom Line: Both faster speeds and smaller errors were observed with higher incentives, with the results best fitted by a model including a precision cost.Recent theories consider dopamine to be a key neuromodulator in mediating motivational effects of reward.On this view, the pattern of reduced reward sensitivity in PD patients can specifically be accounted for by a higher cost for controlling noise.
Affiliation: Nuffield Department of Clinical Neurosciences, John Radcliffe Hospital, Oxford OX3 9DU, UK; Department of Experimental Psychology, University of Oxford, Oxford OX1 3UD, UK; Institute of Neurology, University College London, London WC1N 3BG, UK; Institute of Cognitive Neuroscience, University College London, London WC1N 3AR, UK; National Hospital for Neurology and Neurosurgery, Queen Square, London WC1N 3BG, UK. Electronic address: sanjay.manohar@ndcn.ox.ac.uk.
No MeSH data available.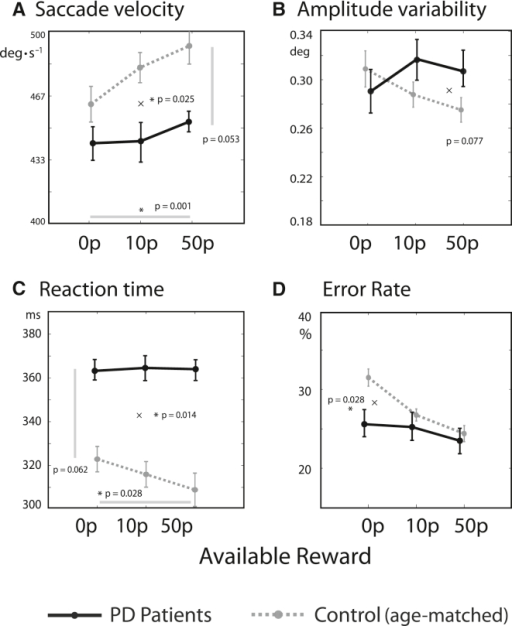 © Copyright Policy - CC BY
License
getmorefigures.php?uid=PMC4557747&req=5
Mentions: To study the effect of dopaminergic dysfunction on motivation by reward, we compared 19 PD patients with 22 age-matched controls (Table S2), performing the same task as above (Figure¬†5). Patients had mild to moderate PD with no or minimal cognitive impairment. To compare patients and controls, we used a mixed-effects linear model, with factors disease and reward. There were no significant main effects of PD: patients had saccade velocities comparable to those of healthy age-matched control participants (Figure¬†7; PD versus control, F(1,80)¬†= 1.18, p¬†> 0.05) and did not make more oculomotor capture errors than controls (mean 24.8% errors in PD compared to 27.7% in controls, F(1,80)¬†= 0.29, p > 0.05). There was a trend toward longer RTs than controls (364¬†¬Ī 98¬†ms [SD], compared to 315¬†¬Ī 66¬†ms for controls, F(1,80)¬†= 3.67, p¬†= 0.063). Critically, patients had shallower reward sensitivity slopes for velocity, RT, and error rate (interaction of disease √ó reward: F(1,80)¬†= 5.19, p¬†= 0.025 for velocity; F(1,80)¬†= 6.32, p¬†= 0.014 for RT; F(1,80)¬†= 4.98, p¬†= 0.028 for error rate), with a similar trend for endpoint variability (F(1,80)¬†= 0.32, p¬†= 0.077). These latter findings are consistent with reduced reward sensitivity in PD, as predicted by the precision-cost model, if the precision cost ŌÉ were increased (Figure¬†4E, compare red and blue lines). An analysis of just the PD group showed that patients increased their velocity significantly in response to reward (significant proportional change in velocity with reward, F(1,37)¬†= 5.39, p¬†= 0.026) and thus did modulate their behavior to some extent, although not to the degree of healthy controls. PD patients were not significantly influenced by reward, however, in terms of endpoint variability, RT, and oculomotor capture (all p > 0.05).