Polarized E-cadherin endocytosis directs actomyosin remodeling during embryonic wound repair.
Bottom Line: We used in vivo time-lapse quantitative microscopy to show that clathrin, dynamin, and the ADP-ribosylation factor 6, three components of the endocytic machinery, accumulate around wounds in Drosophila melanogaster embryos in a process that requires calcium signaling and actomyosin contractility.Blocking endocytosis with pharmacological or genetic approaches disrupted wound repair.Reducing E-cadherin levels in embryos in which endocytosis was blocked rescued actin localization to the wound margin.
Affiliation: Department of Cell and Systems Biology, University of Toronto, Toronto, Ontario M5S 3G5, Canada.
Show MeSH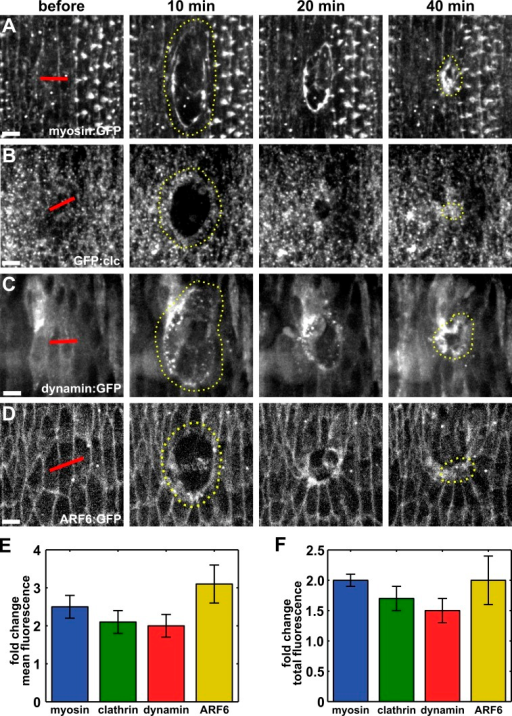 © Copyright Policy - openaccess
License 1 - License 2


getmorefigures.php?uid=PMC4555830&req=5

Mentions: Clathrin-mediated endocytosis has been implicated in the internalization of a wide range of cell surface and transmembrane molecules, including E-cadherin (Troyanovsky et al., 2006; Levayer et al., 2011). Clathrin-mediated endocytosis requires the vesicular coat protein, clathrin (Pearse, 1975), and the GTPase dynamin, which is necessary for scission of vesicles from the cell membrane (Damke et al., 1994). To investigate if endocytosis plays a role in embryonic wound repair, we used spinning-disk confocal microscopy and image analysis to quantify the localization of clathrin and the Drosophila dynamin orthologue Shibire (Chen et al., 1991) around embryonic wounds. We wounded the epidermis of Drosophila embryos ∼12 h after egg deposition (stage 14–15). Wounds were created by ablating two to three cells with an ultraviolet laser in embryos expressing fluorescently tagged versions of myosin, clathrin, or dynamin. Upon wounding, mean myosin fluorescence at the wound margin increased to a maximum of 2.5 ± 0.3-fold with respect to the fluorescence levels in the same region before wounding (Fig. 1, A and E; and Video 1), consistent with previous studies (Kiehart et al., 2000; Wood et al., 2002; Abreu-Blanco et al., 2012). The accumulation of myosin around the wound occurred in parallel with the reorganization of the membrane, as shown by the accumulation of myristoylated:GFP at the wound margin (Fig. S1 A). We found that GFP-fused clathrin light chain (GFP:clc) levels at the wound margin increased by 2.1 ± 0.3-fold relative to local levels before wounding (Fig. 1, B and E). Clathrin-coated vesicles accumulated in a 1.2 ± 0.1-µm-wide band around the wound (Fig. 1 B, 10 min). The accumulation of clathrin at the wound margin persisted for the duration of wound closure (Fig. 1 B and Video 2). Dynamin also accumulated at the wound margin to a maximum level of 2.0 ± 0.3-fold (Fig. 1, C and E; and Video 3). We quantified the change in total fluorescence along the perimeter of the wound and found that over time there was an increase in total protein levels for each marker, demonstrating that dynamin and clathrin accumulate at the wound margin during wound closure (Fig. 1 F). For the cells immediately adjacent to the wound, both clathrin and dynamin were enriched at plasma membranes facing the wound over those in contact with other epithelial cells (Fig. 1, B and C). Furthermore, a cytoplasmic GFP construct did not display a significant enrichment at the wound margin (Fig. S1 B), demonstrating that the accumulation of endocytic proteins around wounds is not an artifact of the loss of fluorescence inside the wound. Together, our results show a polarized accumulation of the endocytic machinery at the wound margin, suggesting that endocytosis plays a role in embryonic wound repair.