RPGR: Its role in photoreceptor physiology, human disease, and future therapies.
Bottom Line: It interacts with a wide variety of ciliary proteins, but its exact function is unknown.Recently, there have been important advances both in our understanding of RPGR function and towards the development of a therapy.This review summarises the existing literature on human RPGR function and dysfunction, and suggests that RPGR plays a role in the function of the ciliary gate, which controls access of both membrane and soluble proteins to the photoreceptor outer segment.
Affiliation: Scottish Centre for Regenerative Medicine, University of Edinburgh, 5 Little France Drive, Edinburgh EH16 4UU, United Kingdom. Electronic address: rolymegaw@ed.ac.uk.
Show MeSH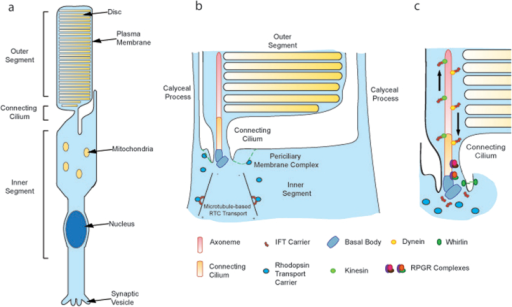 © Copyright Policy - CC BY
License
getmorefigures.php?uid=PMC4553903&req=5
Mentions: RPGR has also been implicated in the trafficking or quality control of membrane proteins moving to/from the OS, since rod and cone opsins are mislocalised to the IS or plasma membrane in a variety of CC transport mutants (e.g. kinesin-2, intraflagellar transport or IFT proteins) and RP/LCA mouse models (Bbs2, Ahi1, Rp1, Rpgrip1, Cep290 mice), including several RPGR disease models. The latter include a naturally occurring Rpgr mutant mouse (rd9; Thompson et al., 2012), two gene targeted mouse models, namely Rpgr KO mice (Hong et al., 2000) and RpgrΔEx4 mice (Brunner et al., 2010), XLPRA1 mutant dogs (Zhang et al., 2002) and two human XLRP carriers with RPGR mutations (Adamian et al., 2006; Aguirre et al., 2002). Transport of opsin-containing vesicles from Golgi to the OS minimally requires a rhodopsin C-terminal targeting motif (VxPx), binding to a dynein motor protein subunit (Tctex-1), vesicle docking at the base of the CC, and (by analogy with protist cilia) loading onto IFT complexes (e.g. complex B subunit Ift20) (Keady et al., 2011). Docking of rhodopsin carrier vesicles probably occurs at the periciliary membrane complex, a specialised apical membrane microdomain directly facing the CC (Fig. 3). Further transport to the CC and nascent discs requires (again by analogy with protists) another IFT complex (e.g. complex A subunit Ift40) and the kinesin-2 motor (Crouse et al., 2014; Keady et al., 2011). Defects in transport between the membrane docking and CC delivery steps should result in rhodopsin accumulation in the OS plasma membrane, as seen in several models (e.g. Spata7−/− mutants). In contrast, mutants that are defective in vesicular transport of opsins (e.g. BBS proteins, TULP1) show accumulation of vesicles near the base of the IS while mutants with absent OS (e.g. Rho−/− mice) show vesicle accumulation at the distal tip of the CC, neither of which were found in Rpgrip1, Spata7 or Rpgr KO mice (Hong et al., 2000; Won et al., 2009). In addition, while opsins were mislocalised prior to the onset of apoptosis, OS disk or shuttling proteins PRPH2, ROM-1 and transducin were all correctly localised in the Spata7 KO mice, arguing for a specific opsin transport defect in these mice with presumed abrogation of the Spata7-RPGRIP1-RPGR protein complex (Eblimit et al., 2015). It has been argued that discrepancies in observing rhodopsin mislocalization in some animal models of inherited retinal degeneration may be attributed to variability in the stages of photoreceptor degeneration at the time of analysis. Indeed, due to the abundance of rhodopsin, its mislocalisation to the inner segment will inevitably occur once outer segment degeneration begins, in which case it would be a secondary consequence rather than a primary cause of disease. However, several RPGR disease models demonstrate opsin mislocalisation prior to any discernible photoreceptor degeneration (Hong et al., 2000; Thompson et al., 2012).