RPGR: Its role in photoreceptor physiology, human disease, and future therapies.
Bottom Line: It interacts with a wide variety of ciliary proteins, but its exact function is unknown.Recently, there have been important advances both in our understanding of RPGR function and towards the development of a therapy.This review summarises the existing literature on human RPGR function and dysfunction, and suggests that RPGR plays a role in the function of the ciliary gate, which controls access of both membrane and soluble proteins to the photoreceptor outer segment.
Affiliation: Scottish Centre for Regenerative Medicine, University of Edinburgh, 5 Little France Drive, Edinburgh EH16 4UU, United Kingdom. Electronic address: rolymegaw@ed.ac.uk.
Show MeSH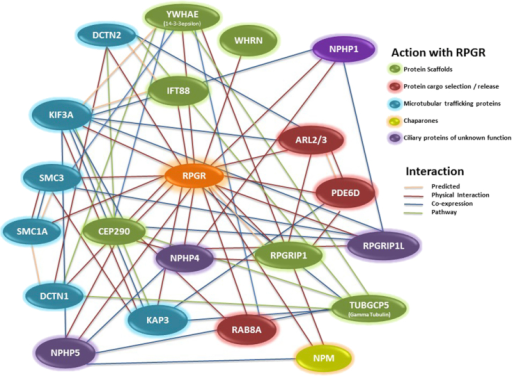 © Copyright Policy - CC BY
License
getmorefigures.php?uid=PMC4553903&req=5
Mentions: A common approach to understanding the function of a protein is to characterise its interactions. Several RPGR-containing protein interactions and complexes have been proposed (Fig. 2). The emerging picture suggests that following its synthesis in the IS, RPGR is retained at the CC by binding to the RPGR interacting protein 1 (RPGRIP1), which was identified by yeast two-hybrid screening (Boylan and Wright, 2000; Roepman et al., 2000; Hong et al., 2001). RPGRIP1 has a coiled coil domain and three C2-like motifs that are found in many transition zone or CC proteins, either targeting these proteins to cell membranes or facilitating their interactions (Remans et al., 2014). The RPGRIP1 C-terminus RPGR interaction domain forms both homodimers and elongated filaments via interactions involving its coiled-coil and C-terminal domains (Zhao et al., 2003). RPGRIP1 is most strongly expressed in the CC of photoreceptors (Mavlyutov et al., 2002; Zhao et al., 2003; Castagnet et al., 2003) but is also present at the centrioles and basal bodies/transition zone of cultured cells (Shu et al., 2005). RPGRIP1 is essential for the localisation of RPGR to the CC (Zhao et al., 2003; Patil et al., 2012a; Li, 2014) and has one major retina-specific isoform, RPGRIP1α1, which has been proposed to have a scaffolding function associated with a proposed "ciliary gate" and entry to the transition zone and fibres of primary cilia or photoreceptor CC (Remans et al., 2014). The transition zone contains Y-shaped fibres linking the axonemal microtubule doublets of the CC with the overlying plasma membrane, representing part of the proposed ciliary gate that restricts protein entry and exit to the OS (Reiter et al., 2012; Sung and Leroux, 2013; Rachel et al., 2012). The localisation of RPGRIP1 to the CC is in turn dependent on another ciliary protein, SPATA7, in which mutations result in rhodopsin mislocalisation to the plasma membrane (8-fold increase), IS (5-fold increase) and outer nuclear layer. SPATA7 mutations cause the severe early-onset retinopathy Leber congenital amaurosis (LCA, type 3) and juvenile RP (Eblimit et al., 2015). Mutations in RPGRIP1 also cause LCA (type 6) (Dryja et al., 2001; Gerber et al., 2001) as well as cone-rod dystrophy (CORD13) (Hameed et al., 2003). A recently generated complete RPGRIP1 KO mouse produces 'naked cilia' which fail to form OS and shows mislocalisation of rod and cone opsins (although contradicted by Patil et al., 2012b) as well as other OS proteins, indicating a role both in disc morphogenesis and OS formation (Won et al., 2009; Patil et al., 2012b). A partial RPGRIP1 knockout mouse showed disorganised OS with elongated discs, partially mislocalised rod and cone opsins and normal CC, but a severe early-onset retinal degeneration also resembling LCA (Zhao et al., 2003).