Activation of Neuropeptide Y Receptors Modulates Retinal Ganglion Cell Physiology and Exerts Neuroprotective Actions In Vitro.
Bottom Line: We found that NPY attenuated the increase in the [Ca2+]i triggered by glutamate mainly via Y1 receptor activation.Using in vitro cultures of rat retinal explants exposed to NMDA, we found that NPY pretreatment prevented NMDA-induced cell death.In conclusion, we found modulatory effects of NPY application that for the first time were detected at the level of RGCs.
Affiliation: Institute for Biomedical Imaging and Life Sciences (IBILI), Faculty of Medicine, University of Coimbra, 3004-548 Coimbra, Portugal CNC.IBILI, University of Coimbra, 3004-548 Coimbra, Portugal.
No MeSH data available.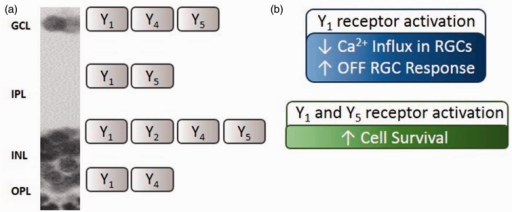 © Copyright Policy - creative-commons
License 1 - License 2 - License 3


getmorefigures.php?uid=PMC4552225&req=5

Mentions: The presence of mRNA encoding NPY and NPY receptors (Y1, Y2, Y4, and Y5) in the rat retina has been demonstrated in previous studies (D'Angelo and Brecha, 2004; Alvaro et al., 2007). We here present evidence that NPY and NPY receptors are specifically present in freshly isolated RGCs (Figure 1). NPY-ir in the retina has been evaluated in different species (Santos-Carvalho et al., 2014). In human retina, NPY-ir was found in a subset of amacrine cells and RGCs, with processes extending mainly in the IPL (Tornqvist and Ehinger, 1988; Straznicky and Hiscock, 1989). In rat retina, NPY-ir was reported to localize to cell bodies of amacrine cells in INL and displaced amacrine cells in GCL, and to colocalize mainly with GABAergic neurons. The corresponding cell processes extend and ramify mainly in strata 1, 3, and 5 of IPL (Oh et al., 2002). We confirmed these observations using retinal slices of adult rats (Figure 1). In particular, we found NPY-ir in a purified culture of RGCs obtained from P3 to P4 pups. Previously, we also suggested the presence of NPY-ir in different retinal cell types in primary cultures (Alvaro et al., 2007). Regarding NPY receptor localization, only a few studies addressed this issue. Y1 receptor-ir was detected in glial cells of diseased human retina and in horizontal and amacrine cells of rat retina (Canto Soler et al., 2002; D'Angelo et al., 2002), and we have previously detected immunoreactivity for Y1 and Y2 receptors in neurons and glial cells in cultured retinal cells (Santos-Carvalho et al., 2013b). Moreover, we and other authors have provided functional evidence for the presence of Y1, Y2, Y4, and Y5 receptors in retinal cells (Bruun et al., 1994; D'Angelo and Brecha, 2004; Milenkovic et al., 2004; Alvaro et al., 2008a; Alvaro et al., 2009; Santos-Carvalho et al., 2013a). Regarding purified RGC cultures, we detected immunoreactivity for NPY and Y1, Y2, Y4, and Y5 receptors in Brn3a-positive RGCs. In retinal sections, Y1-ir was found in INL and strata 2 and 4 of IPL as previously reported (D'Angelo et al., 2002). In addition, we detected Y1-ir RGCs (Figure 8), which is in agreement with the labeling found in purified RGC cultures. We described, for the first time, the localization of Y2 receptor-ir in stratum 1 of IPL and in cell bodies in proximal INL. We also detected for the first time Y4 and Y5 receptor-ir in retinal sections. Y4 receptor-ir was localized to cell bodies of GCL, and proximal and distal INL. The cell bodies in GCL that were immunoreactive for Y4 receptor were both RGC (colocalized with Brn3a) and nonBrn3a-positive cells, likely displaced amacrine cells. Concerning the Y5 receptor, immunoreactivity was detected in Müller cells. The lack of clear immunoreactivity for NPY, and for Y2 and Y5 receptors in RGCs in retinal sections of adult rat, while it could be found in cultured RGCs from P3 to P4 rats, may be explained by decreased expression in adulthood or related with cell culture conditions, which might favor the expression of NPY and NPY receptors. We also found functional active NPY receptors in the inner retina using [35S]GTPγS-binding assay (Figure 2). Binding signal detected in the photoreceptor layer might represent the high amount of G proteins in photoreceptor outer segments, mainly transducin (Arshavsky et al., 2002).Figure 8.