Activation of Neuropeptide Y Receptors Modulates Retinal Ganglion Cell Physiology and Exerts Neuroprotective Actions In Vitro.
Bottom Line: We found that NPY attenuated the increase in the [Ca2+]i triggered by glutamate mainly via Y1 receptor activation.Using in vitro cultures of rat retinal explants exposed to NMDA, we found that NPY pretreatment prevented NMDA-induced cell death.In conclusion, we found modulatory effects of NPY application that for the first time were detected at the level of RGCs.
Affiliation: Institute for Biomedical Imaging and Life Sciences (IBILI), Faculty of Medicine, University of Coimbra, 3004-548 Coimbra, Portugal CNC.IBILI, University of Coimbra, 3004-548 Coimbra, Portugal.
No MeSH data available.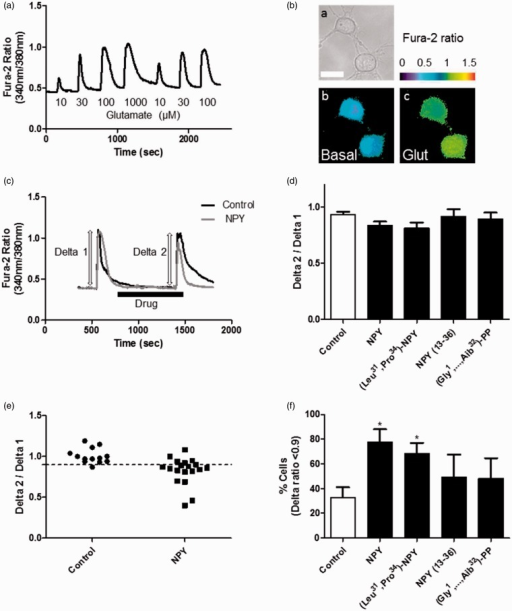 © Copyright Policy - creative-commons
License 1 - License 2 - License 3


getmorefigures.php?uid=PMC4552225&req=5

Mentions: We aimed to evaluate the potential modulatory effect of NPY directly on RGCs. For this purpose, we cultured purified RGCs obtained from retinas of P3 to P4 rat pups and performed intracellular free calcium concentration ([Ca2+]i) measurements using Fura-2 calcium indicator. As previously described (Hartwick et al., 2004), we stimulated RGCs with increasing glutamate concentrations (from 1 to 1000 µM) for 30 s, including also 10 µM glycine (Figure 3(a)). After testing these glutamate concentrations, we used 30 µM glutamate in the following experiments since this concentration induced a submaximal increase in [Ca2+]i that was rapidly reversible. The ratios between emission of Fura-2 when excited by light at 340 nm and 380 nm wavelengths were quantified in cell bodies of RGCs as indicative of [Ca2+]i (Figure 3(b)). In calibration experiments, we converted Fura-2 ratio to [Ca2+]i (see methods section). We obtained basal values of 54 ± 6 nM, while after stimulation with 30 µM glutamate for 30 s, a peak [Ca2+]i of 733 ± 59 nM was found (data not shown). After the first glutamate stimulus, different drugs were applied for 10 min: NPY (1 µM, n = 6 independent RGC cultures), the Y1/Y5 agonist (Leu31, Pro34)−NPY (1 µM, n = 8), the Y2 agonist NPY13–36 (300 nM, n = 5), and the Y5 agonist (Gly1,…Aib32)-PP (1 µM, n = 5), or a drug-free solution (control, n = 10), followed by a second glutamate stimulus coapplied with the drug (Figure 3(c)). The increase above basal Fura-2 ratio was quantified for each stimulus as a Delta value. When evaluating the average [Ca2+]i responses of the cell population analyzed, a small decrease in Delta 2/Delta 1 ratios was found for NPY (0.83 ± 0.04) and (Leu31, Pro34)−NPY (0.81 ± 0.05), compared with control (0.93 ± 0.02) (Figure 3(d)). In fact, a small significant change may be hard to detect in the overall population, as can be observed in scatter plots showing individual RGCs from an independent experiment (Figure 3(e)). Hence, we quantified the percentage of RGCs where the Delta 2/Delta 1 ratio was lower than 0.9 (Figure 3(f)). The application of NPY or (Leu31, Pro34)−NPY for 10 min significantly increased the percentage of cells with Delta 2/Delta 1 ratio below 0.9 (77.7 ± 10.3% or 68.5 ± 8.3%, respectively) compared with control (32.7 ± 8.4%). Since the Y5 receptor agonist alone was not able to affect the RGC response to glutamate, it is likely that the effect of NPY or (Leu31, Pro34) − NPY might occur via Y1 receptor activation.Figure 3.