Structure of silent transcription intervals and noise characteristics of mammalian genes.
Bottom Line: Strikingly, endogenous or synthetic promoters with TATA boxes show simplified two-state promoter cycles.Since transcriptional bursting constrains intrinsic noise depending on the number of promoter steps, this explains why TATA box genes display increased intrinsic noise genome-wide in mammals, as revealed by single-cell RNA-seq.These findings have implications for basic transcription biology and shed light on interpreting single-cell RNA-counting experiments.
Affiliation: The Institute of Bioengineering, School of Life Sciences, Ecole Polytechnique Fédérale de Lausanne, Lausanne, Switzerland.
No MeSH data available.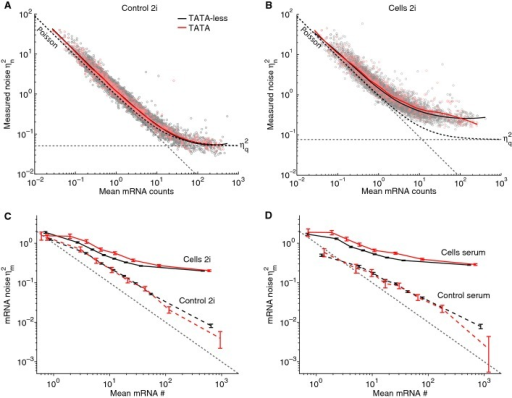 © Copyright Policy - open-access
License
getmorefigures.php?uid=PMC4547851&req=5
Mentions: The grouping of promoters according to N (Figs3 and 4) predicts that TATA box promoters in general should exhibit increased intrinsic mRNA noise due to a simplified promoter cycle (N = 1). In yeast, TATA box promoters are known to exhibit increased noise (Blake et al, 2006; Newman et al, 2006; Hornung et al, 2012), presumably due to distinct nucleosome organization (Raser & O'Shea, 2004; Field et al, 2008; Tirosh & Barkai, 2008). Although similar mechanisms should be expected in higher eukaryotes, the role of TATA boxes on mRNA noise in mammals is less studied (Miller-Jensen et al, 2013). To test our prediction, we analyzed single-cell RNA-seq data from mouse embryonic stem cells (mESCs) (Grün et al, 2014) generated with unique molecular identifiers to reliably count mRNAs. An important parameter required for noise analysis in RNA-seq is the recovery rate q (sensitivity), estimated to be around 10%. Indeed, at low counts, non-biological sampling noise (showing Poisson statistics) dominated in both the split controls and the single cells (Fig7A and B), whereas for large counts, the noise plateau was higher in the cells, reflecting additional promoter and extrinsic noise compared to the controls. However, despite the artificially large noise range (two logs) due to low sensitivity, TATA box-containing promoters (Dreos et al, 2013) as a group showed subtle but increased noise in the cells, which was most visible in the range of 1–100 measured mRNA counts (Fig7B), and absent in the control (Fig7A). Correcting for the sampling noise showed that TATA promoters, on average, exhibited excess in biological noise of 0.1–0.2 in both 2i and serum conditions, across a significant range in expression (Fig7C and D). For the control, we recovered noise that scaled inversely with the mean, although with a slightly higher magnitude than the expected Poisson noise arising from the re-splitting of mRNAs from pooled cells. A parsimonious explanation is that the higher intrinsic noise in the TATA promoters reflects the promoter switching kinetics. Of note, comparing genes on the X (one allele) with genes on autosomal chromosomes (two alleles), where the effective promoter noise from the two alleles is predicted to be lower, showed a similar difference (Appendix Fig S8A and B). Quantitatively, the promoter cycle model predicts that in bulk (taking an average f), the difference in promoter noise between TATA (N = 1, C = 1) and TATA-less promoters (N large, C ∼ 1/2) amounts to f/4 (due to the two alleles). The same quantitative difference is predicted for genes on the autosomal vs. X chromosomes (assuming C ∼ 1/2 for endogenous genes). Gene-specific values of f are not known but estimated between 0.01 and 0.5, based on promoter cycle times in the range of 1–2 h (Fig3) and half-lives in the range of 1–20 h (Sharova et al, 2009), which is at least consistent with the observed difference of 0.1–0.2. Notably, transcript half-lives are not significantly different for TATA and TATA-less promoters (Sharova et al, 2009) (not shown). The common noise plateau for TATA and TATA-less promoters (Fig7C and D), which is also observed for X vs. autosomal genes (Appendix Fig S8A and B), suggested that the promoter noise is negligible at high expression. A plausible explanation could be that C goes to zero at high expression due to constitutive expression (Sanchez et al, 2013). This would imply that extrinsic noise for highly expressed genes in the mESCs averages about 0.25 (CV = 50%) in the 2i conditions and 0.35 (CV = 60%) in serum, consistent with the higher phenotypic heterogeneity in serum. Incidentally, these values were of the same order as the extrinsic noise estimated for our 3T3 clones (Fig5) using a radically different approach.