Cognitive Reserve as a Useful Concept for Early Intervention Research in Multiple Sclerosis.
Affiliation: Kessler Foundation , West Orange, NJ , USA ; Rutgers New Jersey Medical School , Newark, NJ , USA.
More than half of MS patients suffer cognitive decline [for review, see Ref. ] especially memory problems and cognitive inefficiency (e.g., slowed processing speed, difficulty multi-tasking)... The disconnect between disease burden and cognitive status (i.e., differential cognitive decline) is explained in part by the cognitive reserve hypothesis, which posits that enriching life experiences protect against cognitive decline in the face of aging and neurologic disease, likely due to greater capacity and efficiency of neural networks... Support for the cognitive reserve hypothesis has come from evidence that older adults with a history of greater educational or occupational attainment or engagement in cognitively stimulating leisure activities are at reduced risk for dementia... Importantly, the later work showed that cognitive leisure activity (e.g., reading, hobbies) among healthy elders reduced risk for incident dementia in the future, suggesting that consideration of such behaviors in elders may be a useful predictor of future cognitive decline... Note also that engagement in intellectually enriching activities moderates/attenuates the deleterious effect of AD neuropathology on cognitive status in elders... Work by myself and others has extended the cognitive reserve hypothesis to MS [for review, see Ref. ], showing that MS patients with greater education and literacy/vocabulary (estimated with vocabulary) are protected against disease-related cognitive inefficiency and memory problems... We have also shown, however, that cognitive leisure activity (e.g., reading, hobbies) contributes to cognitive status in MS patients independently of lifetime enrichment (estimated with vocabulary), and that engagement in such leisure activities during early adulthood moderates/attenuates the negative effect of disease burden (T2 lesion volume) on current cognitive status in MS patients... Others have also shown a benefit of leisure activity against cognitive impairment in MS... Longitudinal research on reserve against cognitive decline has been more limited; however, Benedict and colleagues have shown that greater intellectual enrichment protects against decline in cognitive efficiency over nearly 5 years, and we have shown that enrichment is protective against decline in cognitive efficiency and memory over 4.5 years... Note that MLBG was unrelated to memory function within our MS samples, and closer inspection of the aging/AD literature suggests that MLBG is protective against cognitive inefficiency rather than episodic memory deficits [for discussion, see Ref.]... For instance, cigarette smoking is particularly damaging for MS patients, and should be strongly discouraged... Also, psychological stress can exacerbate MS, and stress management training has reduced inflammatory MS lesions... Finally, adherence to pharmaceutical treatments is linked to preservation of function, as disease-modifying therapies are effective in reducing cerebral atrophy (preserving brain reserve) in MS patients... Indeed, basic research reports strong support for the role of exercise in stimulating hippocampal neurogenesis and memory [e.g., Ref. ], which is being translated into humans [e.g., Ref., for review, see Ref. ].
No MeSH data available.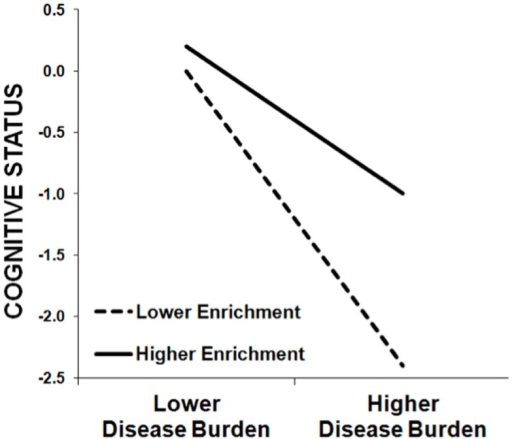 © Copyright Policy
License
getmorefigures.php?uid=PMC4542634&req=5
Mentions: On the one hand, we are not surprised that education predicts cognitive outcomes, as such correlations are observed in healthy persons as well. Importantly, however, the theory of cognitive reserve is not based on this main effect of enrichment; rather, cognitive reserve is instantiated in a moderation/interaction. Higher enrichment moderates/attenuates the negative relationship between a disease-related variable (e.g., lesion volume, cerebral atrophy) and a cognitive outcome (e.g., memory). As such, the negative impact of disease burden on cognition is actually greater in persons with lower enrichment than persons with higher enrichment (see Figure 1). In fact, we have previously demonstrated that the amount of variance in cognitive outcomes accounted for by disease burden (e.g., cerebral atrophy) actually varies based on the educational attainment of the MS sample, with a stronger relationship between disease burden and cognitive outcomes in samples with lower education (28). The theory of cognitive reserve posits that greater intellectual enrichment protects persons with MS from the negative impact of disease burden on cognition, leading to different trajectories of cognitive decline over time [e.g., Ref. (31)].