Analysis of phosphorylation sites on autophagy proteins.
Affiliation: PTN Program, College of Life Science, Peking University, Beijing, 100871, China.
Some Atg proteins, such as Atg1, Atg13, Atg29 and Atg31, have been reported to be phosphorylated (Kamada et al., ; Yeh et al., ; Mao et al., ), but so far there has been no systematic study of the phosphorylation of key autophagy proteins... To analyze the phosphorylation sites of key autophagy proteins, we first purified Atg proteins, including Atg1, Atg3, Atg4, Atg6, Atg8, Atg15, Atg16, Atg17, Atg18, Atg27, Atg29 and Atg31, from yeast that had been grown in nutrient-rich conditions or starved for 1 h to induce autophagy... Through this process, we identified that many Atg proteins, including Atg1, Atg3, Atg4, Atg6, Atg15, Atg16, Atg18, Atg27, Atg29 and Atg31, are phosphorylated... We also generated some mutants in which combinations of different sites are mutated... We found that most single phosphorylation site mutations have no effect on autophagy, except a few sites on Atg1 which have been reported previously (Yeh et al., ), and one site on Atg31 (S174, Table 1)... Phosphorylation of S343, S515, S685 and S769 was only detected under starvation conditions, while phosphorylation of Y332, S351 and S677 was only detected in cells cultured in nutrient-rich medium... When we compared the relative levels of phosphorylated Atg1 peptides under nutrient-rich conditions and starvation conditions, we found that most of the sites identified from the mass spectrometry analysis, including T226, S343, S356, S515, S621, T685 and S769, were phosphorylated at significantly higher levels (ratio of IR in starvation medium/IR in full medium >2) when autophagy occurs (Fig. 1D)... The other predicted kinases suggest new signal pathways which may regulate Atg1 function or autophagy... Atg18 is predicted to be phosphorylated by the mitogen-activated protein kinases (MAPK) Hog1 and Slt2, yeast casein kinase homolog Yck1, and the vacuolar casein kinase I (CKI) Yck3... And Atg31 is predicted to be phosphorylated by Ypk2 and Sch9... In summary, we studied the phosphorylation of key Atg proteins and found that many of them were phosphorylated... Furthermore, we performed site-directed mutagenesis to check whether the phosphorylated sites have an effect on autophagy activity... Although most of the single mutations had no effect, we cannot exclude the possibility that different phosphorylation sites may combine together to play a role in autophagy.
No MeSH data available.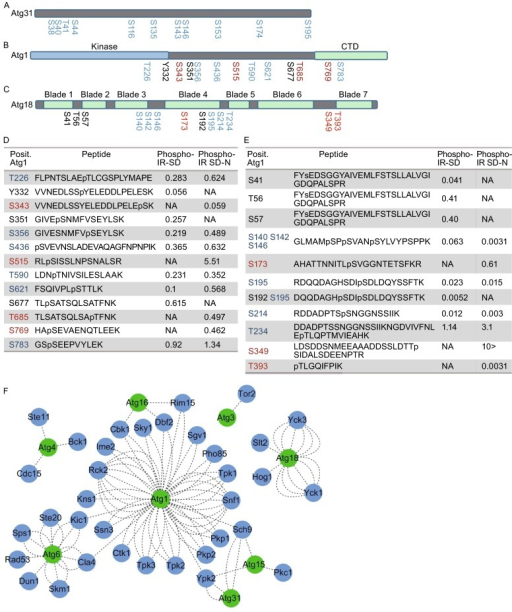 © Copyright Policy - OpenAccess
getmorefigures.php?uid=PMC4537473&req=5
Mentions: We identified 11 phosphorylation sites on Atg31. There was no significant change in the phosphorylation level at those sites when autophagy was induced (Fig. 1A) (ratio of IR in starvation medium/full medium >2 or <0.5). So are the phosphorylation sites on Atg3, Atg4, Atg6, Atg15, Atg16, Atg27 and Atg29, except one site, T177 phosphorylation on Atg3, appeared in starved cells. For other Atg proteins we tested, starvation increased the phosphorylation level. For example, 13 phosphorylation sites were identified on Atg1: T226, Y332, S343, S351, S356, S436, S515, T590, S621, S677, T685, S769 and S783 (Fig. 1B). Of these, T226, Y332, S343, S351, S356, S436 and T685 were different from the Atg1 phosphorylation sites reported before (Yeh et al., 2011). Y332 and T685 were new sites that have never been identified in previous studies of yeast phospho-proteomics. Phosphorylation of S343, S515, S685 and S769 was only detected under starvation conditions, while phosphorylation of Y332, S351 and S677 was only detected in cells cultured in nutrient-rich medium. When we compared the relative levels of phosphorylated Atg1 peptides under nutrient-rich conditions and starvation conditions, we found that most of the sites identified from the mass spectrometry analysis, including T226, S343, S356, S515, S621, T685 and S769, were phosphorylated at significantly higher levels (ratio of IR in starvation medium/IR in full medium >2) when autophagy occurs (Fig. 1D). Similarly, we identified 13 phosphorylation sites on Atg18 including 10 (S41, T56, S57, S140, S142, S146, S192, S195, S214 and T234) that are phosphorylated in fed cells and 9 (S140, S142, S146, S173, S195, S214, T234, S349 and T393) that are phosphorylated after induction of autophagy (Fig. 1C). The level of T234 phosphorylation increased significantly when autophagy was induced and three new phosphorylated sites appeared (S173, S349 and T393; Fig. 1E).Figure 1