Mechanism and Treatment Strategy of Osteoporosis after Transplantation.
Bottom Line: Many factors contribute to the pathogenesis of OP in transplanted patients.Many mechanisms of OP have been deeply approached.Currently, bisphosphonates, which are bone resorption inhibitors drugs, are more commonly used clinically than others.
Affiliation: Center of Organ Transplantation, Second Xiangya Hospital of Central South University, Changsha 410011, China.
ABSTRACT
---
Osteoporosis (OP) has emerged as a frequent and devastating complication of organ solid transplantation process. Bone loss after organ transplant is related to adverse effects of immunosuppressants on bone remodeling and bone quality. Many factors contribute to the pathogenesis of OP in transplanted patients. Many mechanisms of OP have been deeply approached. Drugs for OP can be generally divided into "bone resorption inhibitors" and "bone formation accelerators," the former hindering bone resorption by osteoclasts and the latter increasing bone formation by osteoblasts. Currently, bisphosphonates, which are bone resorption inhibitors drugs, are more commonly used clinically than others. Using the signaling pathway or implantation bone marrow stem cell provides a novel direction for the treatment of OP, especially OP after transplantation. This review addresses the mechanism of OP and its correlation with organ transplantation, lists prevention and management of bone loss in the transplant recipient, and discusses the recipients of different age and gender.

No MeSH data available.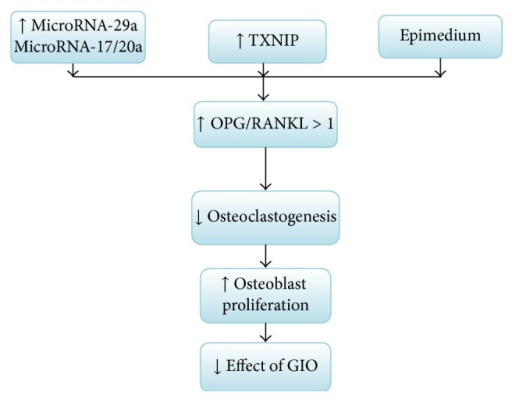 © Copyright Policy - open-access
getmorefigures.php?uid=PMC4530234&req=5
Mentions: In the field of organ transplantation, OP is one of the major complications. The OPG/RANKL system is also involved in the pathogenesis of OP after transplantation. Many immunosuppressants directly or indirectly affect the reconstruction and absorption of bone throughout OPG/RANKL system. GC plays a critical role in the mechanisms of bone loss, such as reduced intestinal calcium absorption and renal calcium wasting and both may lead to a secondary hyperparathyroidism. Indeed, GC induces apoptosis of osteoblasts and osteocytes and prolongs lifespan of osteoclast, resulting in low bone mass and microarchitectural deterioration of bone tissue, which leads to severe OP. In this intricate process, van Staa [18] found that GC stimulates osteoclastogenesis by the regulation of OPG/RANKL, and one research has confirmed that an anti-RANKL antibody can protect the bone from loss in mouse model of GIO [19], revealing that OPG/RANKL is crucial for the induction of GIO. At the early period of posttransplantation, an excessive amount of GC must be administered in order to gain the immunosuppressive effect. With regard to GC excess, some researches confirmed that it was directly associated with osteoblast and osteocyte apoptosis in a transgenic mouse model of cell-targeted disruption of GC signaling [20, 21]. Hence, high-dose GC negatively affects osteoblast and osteocyte function. Several studies [22, 23] indicated that these actions include a decrease in the ratio of OPG/RANKL, which increased bone resorption and reduced bone formation, and also demonstrated that the Wnt signaling pathway may be involved in the GC-induced suppression of OPG. Obviously, the OPG/RANKL ratio controls the absorption of osteoclasts on bone; that is to say, the ratio <1 suggests a RANKL predominant activity and bone resorption, while an OPG/RANKL ratio >1 reveals OPG greater activity, and the bone protection process was predominant [24]. This conclusion has been authenticated in the bone marrow microenvironment after allogeneic hemopoietic stem cell transplantation [25]. Only when GCs bind to glucocorticoid receptors (GR) can they exert their functions [26] and then induce the latter conformational change; thus the activated GR can regulate gene expression in a negative way (transrepression), which causes their anti-inflammatory effect (also called immunosuppressive effect). GCs act primarily via the GR in bone cells to induce bone loss [27, 28]. In GIO model, GR in osteoblasts was sufficient to lead to GC-mediated bone loss, while GR in osteoclasts was insufficient. One study [29] confirmed that osteoclastogenesis could be enhanced in the initial phase of GC exposure. The enhanced osteoclastogenesis can decrease the ratio of OPG/RANKL. With regard to excess GC, it can suppress bone formation through inhibition of osteoblastic gene transcription [21]. Additionally, excess GC, through increased protein degradation and decreased protein synthesis, can also adversely affect muscle function; moreover, the riskiness of fragility fractures steadily increases by muscle weakness [30]. However, fortunately, OB can partly regulate the detrimental effects of GC; a frontier research [31] indicated that gene encoding TXNIP may increase the ratio of OPG/RANKL to disfavor OB-mediated osteoclastogenesis. Meanwhile, Epimedium [32], the Chinese patent medicine, can antagonize the abnormal expressions of OPG and RANKL mRNA in the GIO model; thereby it prevents the progression of GIO. Nevertheless, similar studies have not been reported in the GIO after transplantation. Hence, as will be readily seen, on the one hand, GC has direct and indirect pathway to mediate OP and inhibits bone formation (Figure 1); on the other hand, the protection mechanism of OB may play a considerable role in GIO, even treatment for GIO after organ transplantation (Figure 2).