Generating a Metal-responsive Transcriptional Regulator to Test What Confers Metal Sensing in Cells.
Bottom Line: Unexpectedly, FrmR was found to already bind Co(II), Zn(II), and Cu(I), and moreover metals, as well as formaldehyde, trigger an allosteric response that weakens DNA affinity.Counter-intuitively, the allosteric coupling free energy for Zn(II) is smaller in metal-sensing FrmRE64H compared with nonsensing FrmR.By determining the copies of FrmR and FrmRE64H tetramers per cell, then estimating promoter occupancy as a function of intracellular Zn(II) concentration, we show how a modest tightening of Zn(II) affinity, plus weakened DNA affinity of the apoprotein, conspires to make the relative properties of FrmRE64H (compared with ZntR and Zur) sufficient to sense Zn(II) inside cells.
Affiliation: From the School of Biological and Biomedical Sciences and Department of Chemistry, Durham University, Durham DH1 3LE, United Kingdom.
Show MeSH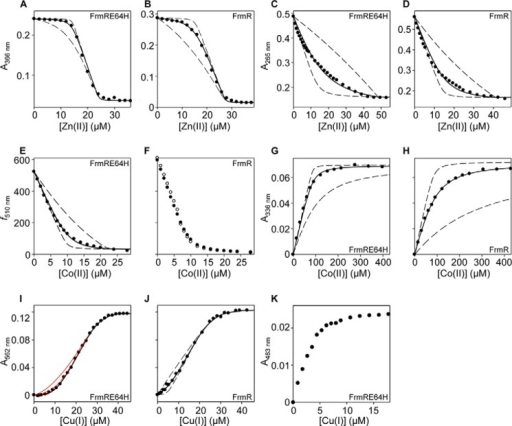 © Copyright Policy - open-access
License
getmorefigures.php?uid=PMC4528141&req=5
Mentions: As the FrmRE64H variant, but not FrmR, responds to Zn(II) and cobalt in cells, it was anticipated that this substitution had succeeded in tightening the affinity for these metals. The chromophores mag fura-2 and quin-2 form 1:1 complexes with Zn(II) and undergo concomitant changes in absorbance upon metal binding, which can be used to monitor competition with proteins and hence to estimate protein KZn(II) (11, 13, 44–48, 51). Titration of 10.1 μm or 12.2 μm mag fura-2 with Zn(II) in the presence of FrmRE64H (18.8 μm, monomer) or FrmR (20.4 μm, monomer), respectively, gave negligible change in absorbance up to 0.5–0.75 eq of Zn(II) per protein monomer, implying competition with the chromophore for metal (Fig. 4, A and B). At these protein concentrations, CsoR/RcnR family members exist as tetramers with four metal-binding sites per tetramer, and with some evidence of negative cooperativity between sites (12, 17, 18, 52). A 1:1 stoichiometry equating to four Zn(II) per tetramer was observed for both FrmRE64H and FrmR (Fig. 3, D and H), but the fourth sites are too weak to compete with mag fura-2 (hence competition is complete after addition of ∼24.2 and ∼27.5 μm Zn(II) (Fig. 4, A and B)). Data were fit to models describing tight binding of 3 m eq of Zn(II)/tetramer, with dashed lines representing simulated curves describing KZn1–3 10-fold tighter or 10-fold weaker than the calculated affinity (Fig. 4, A and B). For both proteins, this suggests KZn1–3 at or approaching the tighter limit of the assay using mag fura-2 (KZn(II)mag fura-2 = 2.0 × 10−8m). Competitions were therefore conducted with 13.4 or 14.1 μm quin-2 (KZn(II)quin-2 = 3.7 × 10−12m) and FrmRE64H (42.7 μm, monomer) or FrmR (39.9 μm, monomer), respectively (Fig. 4, C and D). Again, data were fit to models describing binding of 3 m eq of Zn(II)/tetramer (as expected, the fourth sites did not show competition with quin-2) with dashed lines in Fig. 4, C and D, describing simulated curves for KZn1–3 10-fold tighter or 10-fold weaker than the calculated affinity of the proteins. Mean values of KZn1–3 2.33 (±0.3) × 10−11m and 1.7 (±0.7) × 10−10m for FrmRE64H and FrmR, respectively, are thus within the range of this assay (Fig. 4, C and D, and Table 1).