A New Approach to Produce HIV-1 Envelope Trimers: BOTH CLEAVAGE AND PROPER GLYCOSYLATION ARE ESSENTIAL TO GENERATE AUTHENTIC TRIMERS.
Bottom Line: However, this antibody-based approach may not be as effective for the diverse HIV-1 strains with different epitope signatures.Uncleaved trimers entered aberrant pathways, resulting in hyperglycosylation, nonspecific cross-linking, and conformational heterogeneity.These studies established a broadly applicable HIV-1 trimer production system as well as generating new insights into their assembly and maturation that collectively bear on the HIV-1 vaccine design.
Affiliation: From the Department of Biology, The Catholic University of America, Washington, D. C. 20064.
Show MeSH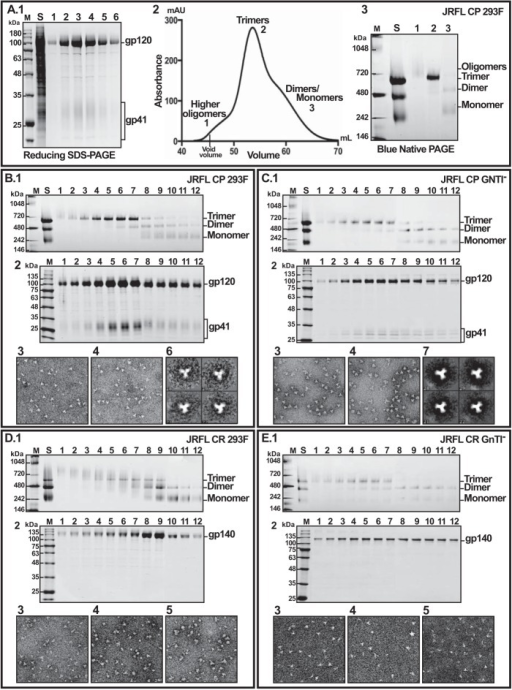 © Copyright Policy - open-access
License
getmorefigures.php?uid=PMC4528139&req=5
Mentions: Strep-Tactin-purified gp140 was ∼95% pure (Fig. 4A.1), but it contained a mixture of trimers and protomers as well as some high Mr species (Fig. 4A.3, lane S). SEC separated these into three major fractions (Fig. 4A.2): (i) a high Mr fraction that eluted immediately after the void volume and migrated as a diffuse band on BN gel (A.3, lane 1); (ii) trimers, which eluted as a relatively sharp peak and migrated as a compact band on BN gel (lane 2); and (iii) two overlapping peaks of protomer dimers and monomers (lane 3). To determine which of the trimers were authentic, cleaved or uncleaved, 293F-produced (complex glycans) or GnTI−-produced (high mannose, no complex glycans) trimers were expressed on a large scale (1–4 liters) and purified by Strep-Tactin capture and SEC. The yields of gp140 were as follows: 293F CR, ∼20 mg/liter; CP, ∼12 mg/liter; GnTI− CR, ∼3 mg/liter; CP, ∼1 mg/liter. Each SEC fraction was then analyzed by SDS-PAGE under reducing conditions to assess purity and cleavage (Fig. 4, B, C, D, and E) (panels 2), BN-PAGE to assess oligomeric state (panels 1), negative EM to assess the shape of the trimer (panels 3–5), and antigenicity to assess conformation (see below). These analyses showed that the trimers were purified to near homogeneity, up to 2–3 mg/liter (CP trimers), as well as establishing the criteria for their authenticity. First, we observed that in the case of JRFL Env, the fraction of gp140 recovered as trimers was 3–5-fold greater with cleaved gp140 than with uncleaved gp140 (compare lanes S and 5–7 of B.1 with D.1). Second, the uncleaved trimers were of poor quality when compared with the cleaved trimers. Unlike the CP trimer fractions that showed a sharp band on the BN gel (B.1, lanes 3–7), the CR trimer fractions contained significant levels of diffused and high Mr species (D.1, lanes 3–7). The latter represented conformationally heterogeneous molecules, as was also evident from their poor reactivity with the conformation-specific BnAb PGT145 (Fig. 5). The reactivity was lowest with fractions containing the highest amount of these species. Third, the protomers of the uncleaved trimers as well as the foldon trimers were nonspecifically cross-linked through disulfide bonds, whereas the cleaved trimers showed much less cross-linking (Fig. 6). Fourth, the uncleaved trimers were more susceptible to nonspecific proteolysis, as evidenced by greater proteolysis of the CR trimers by Proteinase K than the CP trimers (Fig. 7). Finally, negative stain EM showed that the cleaved trimers appeared as three-blade propeller-shaped particles (Fig. 4, B and C, panels 3 and 4; reference-free two-dimensional class averages are shown in panels B.6 and C.7), whereas the CR fractions showed fewer such particles (D and E; panels 3–5), and most were irregularly shaped. Overall, the above results are consistent with the behavior of the uncleaved and cleaved trimers generated by the 2G12 approach (see Table 1) (26).