Modulation of Arabidopsis and monocot root architecture by CLAVATA3/EMBRYO SURROUNDING REGION 26 peptide.
Bottom Line: Using chemically synthesized peptide variants, it was found that CLE26 plays an important role in regulating A. thaliana root architecture and interacts with auxin signalling.In addition, through alanine scanning and in silico structural modelling, key residues in the CLE26 peptide sequence that affect its activity are pinpointed.Finally, some interesting similarities and differences regarding the role of CLE26 in regulating monocot root architecture are presented.
Affiliation: Division of Plant and Crop Sciences, School of Biosciences, University of Nottingham, Leicestershire LE12 5RD, UK.
No MeSH data available.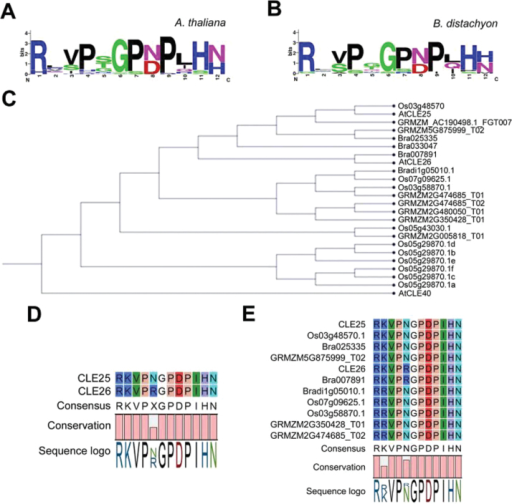 © Copyright Policy - creative-commons
License 1 - License 2


getmorefigures.php?uid=PMC4526925&req=5

Mentions: To explore CLE26 orthologues in monocots, CLE proteins were searched for in Z. mays, O. sativa and B. distachyon. A WebLogo alignment of mature peptide sequences from A. thaliana and B. distachyon indicated that mature CLE sequences are highly conserved, both within and between species (Fig. 7A, B). Phylogenetic analyses and sequence alignments indicated that A. thaliana mature CLE25 and CLE26 peptides are very similar and only differed at position 5 (asparagine and arginine, respectively) (Fig. 7C, D). While the CLE25p sequence appeared to be fully conserved in monocots such as rice and maize, completely conserved CLE26p sequences were not retrieved (Fig. 7C, E). Putative CLE26p-like sequences differed at one or two positions, namely position 2 (arginine instead of lysine) and 5 (asparagine instead of arginine) in B. distachyon, Z. mays and O. sativa (Fig. 7E). According to the blocks substitution matrix 62 (BLOSUM62), these substitutions are conservative amino acid substitutions—the substitution has similar biochemical properties to that of the original—and should, therefore, not strongly affect the bioactivity of the peptide. However, the CLE26p alanine scan showed that the arginine at position 5 was essential for function in A. thaliana, while the lysine at position 2 was not (Fig. 4). Based on these observations, it cannot be ruled out that a non-specific CLE26p effect was observed in wheat and B. distachyon, To investigate this further, a synthetic CLEp derived from a B. distachyon Bradi1g05010-encoded protein (Bd1g05010p), a CLE25p/CLE26p-related CLE peptide, was applied to A. thaliana seedlings. This did not recapitulate the effects observed for the A. thaliana CLE26p (Fig. 6E, F), indeed supporting that this peptide is not active in A. thaliana. In contrast, Bd1g05010p-treated A. thaliana seedlings display a slightly increased primary root length (Fig. 6E), suggesting that Bd1g05010p might act as an antagonistic peptide. Next, Bd1g05010p was applied to B. distachyon and the impact on root architecture was evaluated. Interestingly, Bd1g05010p did not reduce primary root length, but slightly decreased lateral root density (Fig. 6C, D). This is opposite to what was observed with the A. thaliana CLE26p and to what was previously observed for A. thaliana CLE25p (Strabala et al., 2006; Kinoshita et al., 2007). It appears that the change of the conserved amino acid K into R has a strong impact on functionality. While this needs to be explored in more detail, the monocot Bd1g05010p is possibly not a functional orthologue of A. thaliana CLE26p or even CLE25p. This may indicate the presence of another (currently unknown) peptide present in B. distachyon, which, although less similar in primary sequence to A. thaliana CLE26p, is able to form a similar secondary structure, fulfilling the role of CLE26 role in B. distachyon.