Overexpression of the Arabidopsis thaliana signalling peptide TAXIMIN1 affects lateral organ development.
Bottom Line: The first characterization of the secreted cysteine-rich TAXIMIN (TAX) signalling peptides in Arabidopsis is presented here.Nevertheless, TAX1 expression was unchanged in lof1lof2 paraclade junctions and, conversely, LOF gene expression was unchanged in TAX1 overexpressing plants, suggesting TAX1 may act independently.This study identifies TAX1 as the first plant signalling peptide influencing lateral organ separation and implicates the existence of a peptide signal cascade regulating this process in Arabidopsis.
Affiliation: Department of Plant Systems Biology, Flanders Institute for Biotechnology, (VIB), Technologiepark 927, B-9052 Gent, Belgium Department of Plant Biotechnology and Bioinformatics, Ghent University, Technologiepark 927, B-9052 Gent, Belgium Institute for Plant Biotechnology, Department of Genetics, Stellenbosch University, Stellenbosch, 7602, South Africa.
No MeSH data available.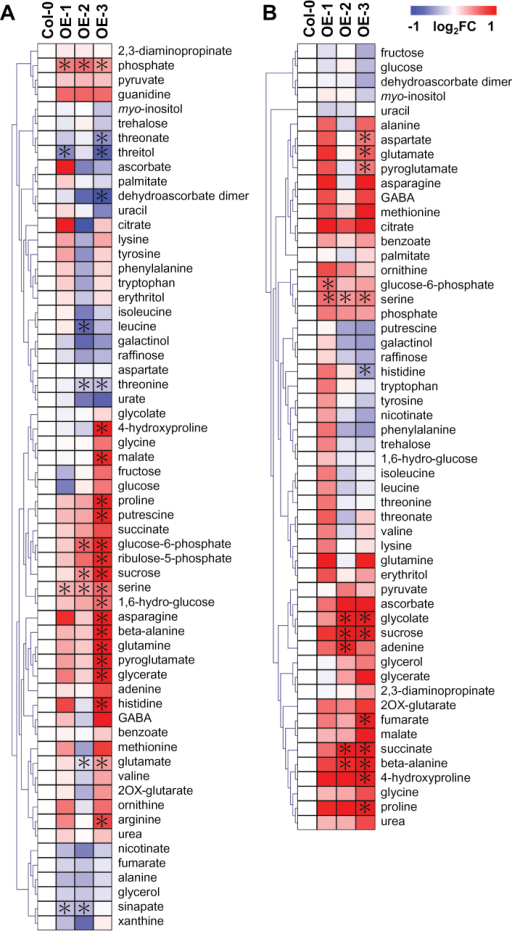 © Copyright Policy - creative-commons
License 1 - License 2


getmorefigures.php?uid=PMC4526920&req=5

Mentions: The results of these analyses are presented in the heat-map of Fig. 6. Four, eight, and 22 of 61 measured metabolites were significantly different in the leaves of weak (OE-1), intermediate (OE-2), and strong (OE-3) TAX1 overexpressing lines, respectively, with only phosphate and serine being altered (enhanced in both instances) in all three lines. That said, sucrose and glucose 6-phosphate were increased in both line OE-2 and line OE-3, whilst threonine was significantly decreased in both lines. Line OE-3 was additionally characterized by increased levels of histidine, putrescine, glucose, 4-hydroxyproline, ribulose 5-phosphate, asparagine, pyroglutamate, glutamine, glycerate, β-alanine, proline, malate, glutamate, and arginine. In contrast, this line displayed decreased levels of dehydroascorbate, threonate, and threitol. In roots, the changes were even less marked, with two, six, and 10 of 61 metabolites significantly different in the weak, intermediate, and strong overexpressing lines, respectively, and only serine being altered (again enhanced) in all three lines. That said, glycolate, succinate, sucrose, and β-alanine were increased in both line OE-2 and line OE-3, whilst hydoxyproline, pyroglutamate, glutamine, proline, aspartate, and fumarate were increased and histidine decreased only in line OE-3.