Maize EMBRYO SAC family peptides interact differentially with pollen tubes and fungal cells.
Bottom Line: Furthermore, peptide fragments were found to bind differently to fungal cells.Mapping of peptide interaction sites identified amino acids differing in pollen tube burst and fungal response reactions.In summary, these findings indicate that residues targeting pollen tube burst in maize are specific to the ES family, while residues targeting fungal growth are conserved within defensins and defensin-like peptides.
Affiliation: Cell Biology and Plant Biochemistry, Biochemie-Zentrum Regensburg, University of Regensburg, 93053 Regensburg, Germany.
No MeSH data available.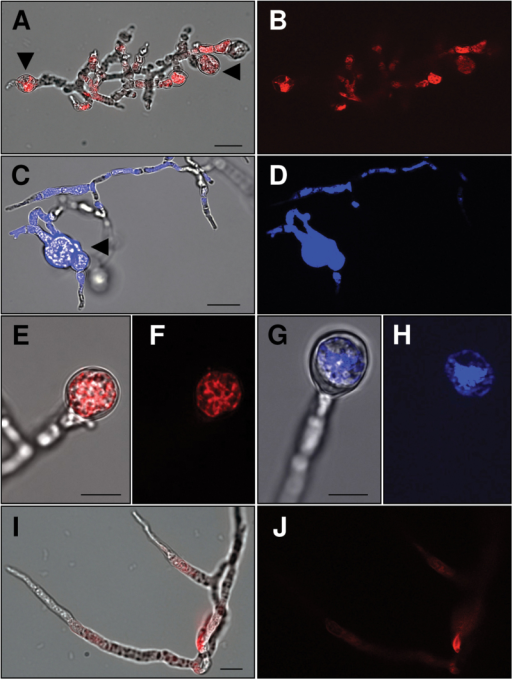 © Copyright Policy - creative-commons
License 1 - License 2


getmorefigures.php?uid=PMC4526917&req=5

Mentions: To detect and visualize the effect and interaction of ES-c and ES-d on germinated Fusarium conidia and developed mycelium, conidia of F. graminearum were inoculated in PGM following the addition of final concentrations of 30–90 μM of labelled peptides Dabcyl-ES-c, TAMRA-ES-d, and Rhodamine-ES4, as well as TAMRA-ES-a as a control at the four different stages according to Woriedh et al. (2011): (i) fresh conidia (0 hours post induction, hpi), (ii) activated conidia (3 hpi), (iii) germinated conidia (6 hpi), and (iv) developed hyphae (24 hpi), respectively. The analysis of localization and binding of Dabcyl-ES-c, TAMRA-ES-d, and Rhodamine-ES4 on germinated conidia and developed mycelium showed a dose- and time-dependent inhibition, as mentioned above. Germinated conidia took up labelled peptides and accumulated them 12 and 24 hpi in swollen and ballooned compacted cells of developed mycelia. In general, Fusarium mycelia appeared compacted, shorter, and thicker, and contained swollen tips (Fig. 5A-H) compared with germinated conidia treated with TAMRA-ES-a, where a weak accumulation of fluorescence was observed (Fig. 5I, J). Here, developed mycelia showed normal hyphal growth of thin and long branched filaments. Observation at earlier time points at 3 and 6h was also conducted: TAMRA-ES-d was localized and bound only at the surface of activated conidia, germinated conidia, and developed mycelia (24 hpi), while Dabcyl-ES-c bound at the surface and accumulated inside activated conidia, germinated conidia, and developed mycelia (Fig. 6A-D and G-J). Furthermore, increasing the concentration to 90 µM resulted in swelling and enlargement of fresh conidia and formation of big vacuoles, which finally fused to a single large vacuole within the cells, forcing conidia to stop germination. Although TAMRA-ES-d bound only at surfaces of vacuolated conidia, Dabcyl-ES-c was detected both at cell surfaces and appeared to be inside the cell in vacuolated conidia (Fig. 6E, F, K, L). Increasing the concentration of ES-c or ES-d to 90 µM in developed mycelia (24 hpi) caused, after 6h, swelling of cells, formation of vacuoles, and subsequent breaking/bursting of cell walls and release of vacuoles (Fig. 6M). In contrast, fresh conidia, germinated conidia, and developed conidia showed normal growth behaviour and lack of fluorescence 3h and 6h after application of the control peptide TAMRA-ES-a at concentrations of 30–90 µM (Supplementary Fig. S4). Application of Rhodamine-ES4 showed inhibition behaviour similar to ES-c and ES-d. At the same time, fluorescence was observed at the cell surface and accumulated inside conidia and mycelia. Furthermore, conidia and mycelia treated with ES-a, ES-c, ES-d, or ES4 were also stained with NBT to detect the production of ROS. NBT reacts with superoxide (O2-) anions to form a dark blue insoluble formazan compound. Conidia and mycelia treated with ES-c, ES-d, or ES4 strongly produced ROS. In addition, swollen and vacuolated conidia and mycelia were formed. Staining of conidia and mycelia treated with ES-a showed weak to no traces of ROS (Fig. 6N-Q).