Physical Mapping and Refinement of the Painted Turtle Genome (Chrysemys picta) Inform Amniote Genome Evolution and Challenge Turtle-Bird Chromosomal Conservation.
Bottom Line: The largest conserved syntenic blocks between birds and turtles exist in four macrochromosomes, whereas rearrangements were evident in these and other chromosomes, disproving that turtles and birds retain fully conserved macrochromosomes for greater than 300 Myr.Bacterial artificial chromosome (BAC) clones were hybridized to 18 of the 25 CPI chromosomes and anchored to a G-banded ideogram.Several CPI sex-determining genes mapped to five chromosomes, and homology was detected between yet other CPI autosomes and the globally nonhomologous sex chromosomes of chicken, other turtles, and squamates, underscoring the independent evolution of vertebrate sex-determining mechanisms.
Affiliation: Department of Ecology, Evolution, and Organismal Biology, Iowa State University.
Show MeSH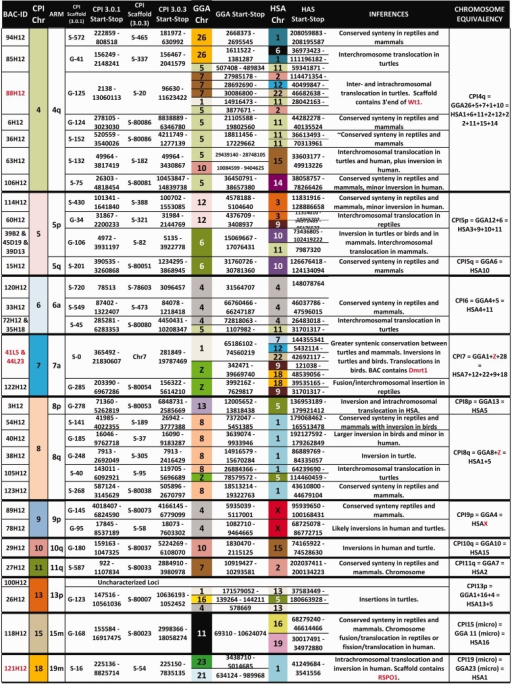 © Copyright Policy - creative-commons
License
getmorefigures.php?uid=PMC4524486&req=5
Mentions: Bioinformatic analyses of the BAC sequences and the CPI genome scaffolds to which they map permitted the first assessment of homology between the painted turtle chromosomes and those of chicken (Gallus gallus [CHICKEN]) and human (Homo sapiens [HUMAN]), as well as a few other reptiles where partial genome or cytogenetic information was available (fig. 4, table 1), specifically the turtle P. sinensis (PELODISCUS), the snake E. quadrivirgata (ELAPHE), and several lizards (Varanus salvator [VARANUS], Leiolepsis reevesii, (LEIOLEPSIS) Po. vitticeps [POGONA]) (Matsuda et al. 2005; Matsubara et al. 2006; Srikulnath et al. 2013; Young et al. 2013). In general, our data challenge the previously reported conservation of macrochromosomes between birds and turtles (Matsuda et al. 2005; Kasai et al. 2012). Specifically, by using a much larger gene data set from our BAC clones and the scaffolds to which they map in the CPI genome (1,425 genes) we identified numerous putative chromosomal rearrangements that passed undetected when using fewer markers in other turtles (e.g., 57 genes in Matsuda et al. [2005]). Additionally, our data set allowed inferences of homologies for over 70% of the turtle chromosome pairs (18 of 25) for the first time, including intermediate sized and microchromosomes. Specifically, we found that CPI and chicken macrochromosomes 1, 2, and 3 represent the highest conserved synteny. However, this is not a fully conserved synteny because they contain regions orthologous to at least four and six chicken chromosomes; this number is a conservative estimate as our BAC coverage is not complete on the CPI genome. Furthermore, CPI-4 contains larger gene block regions that are orthologous to at least five chicken chromosomes compared with the smaller blocks that interrupt the synteny of CPI-1, CPI-2 and CPI-3 and CHICKEN-1, CHICKEN-2 and CHICKEN-3, respectively. The gene blocks identified in CPI-1 to CPI-4 are orthologous to numerous human chromosomes including HUMAN-X (figs. 2 and 4, supplementary table S1, Supplementary Material online). Homology to three chicken chromosomes was also detected in CPI-8 and CPI-13, and homology to two chicken chromosomes was identified in CPI-5, CPI-6, CPI-7, and CPI-18. All these CPI chromosomes exhibited homology to between two and five human macrochromosomes. The contrast of gene blocks among species permitted the detection of interchromosomal translocations and inversions in turtle alone, some only in chicken, and others in both turtle and chicken and thus possibly shared across turtles and archosaurs, although tests in crocodilians are needed to confirm this hypothesis (fig. 4).Fig. 4.