Mitochondrial dynamism and heart disease: changing shape and shaping change.
Bottom Line: Nevertheless, proteins essential to mitochondrial network remodeling are abundant in adult hearts.Recent findings from cardiac-specific ablation of mitochondrial fission and fusion protein genes have revealed unexpected roles for mitochondrial dynamics factors in mitophagic mitochondrial quality control.This overview examines the clinical and experimental evidence for and against a meaningful role for the mitochondrial dynamism-quality control interactome in normal and diseased hearts.
Affiliation: Center for Pharmacogenomics, Department of Internal Medicine, Washington University School of Medicine, St. Louis, MO, USA gdorn@dom.wustl.edu.
No MeSH data available.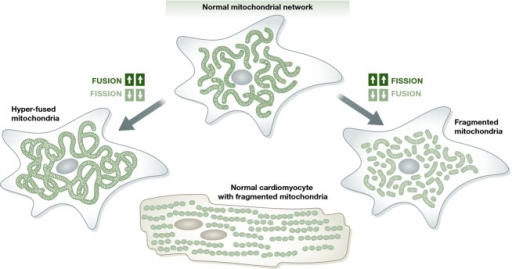 © Copyright Policy - open-access
License
getmorefigures.php?uid=PMC4520653&req=5
Mentions: Before examining the phenotypes obtained after tissue-specific ablation of mitochondrial fusion or fission factors, it may be useful to review lessons learned from cell biology that preceded the in vivo studies. Unlike the ovoid individual mitochondria of cardiomyocytes, many cells have interconnected filamentous mitochondrial networks. These networks undergo structural remodeling via fission-mediated disassembly and fusion-mediated re-assembly. When fission and fusion are at equilibrium, overall mitochondrial size is stable (Fig4). Fibroblasts typically have elongated organelles with a length/width aspect ratio of ∽6 (Song et al, 2015). Increasing mitochondrial fusion and/or inhibiting organelle fission will result in elongated mitochondria and increased network interconnectivity. Under these conditions, mitochondrial networks may even appear continuous throughout the cell (Song et al, 2015). Conversely, inhibiting mitochondrial fusion and/or increasing the rate of organelle fission results in numerous unconnected shorter organelles, commonly referred to as 'fragmented mitochondria' (Chen et al, 2003; Ishihara et al, 2009; Song et al, 2009, 2015). It is generally accepted that increased mitochondrial connectivity produced by shifting the balance of mitochondrial dynamism toward either more fusion or less fission represents a more physiological condition, and that less connectivity or fragmentation provoked by increased fission or impaired fusion is pathological. In other words, mitochondrial fusion is 'good', but mitochondrial fission is 'bad'. The notion that fragmented mitochondria are detrimental probably derives from early observations that mitochondria networks undergo fission-mediated dissolution during apoptosis, linking the process of mitochondrial fission to programmed cell death (Suen et al, 2008). Consistent with this idea, inhibition of Drp1-induced mitochondrial fission using mdivi-1 or other agents can protect against cardiac or brain injury after ischemic damage (Lackner & Nunnari, 2010; Ong et al, 2010; Disatnik et al, 2013; Guo et al, 2013; Sharp et al, 2014). Furthermore, fragmented mitochondria of mitofusin-deficient MEFs appear partially depolarized, reflecting compromised respiratory function, whereas mitochondria of Mfn1 or Mfn2 single MEFs appear fully polarized and only modestly shorter than normal (Chen et al, 2003; Song et al, 2007, 2015). Thus, there appears to be a direct relationship between mitochondrial fusion and mitochondrial health. Indeed, as Mfn1 and Mfn2 can interact both homo- and hetero-typically, overexpressing Mfn1 largely corrects abnormalities caused by the absence of Mfn2, and vice versa, and the modest disturbance in mitochondrial morphometry in single Mfn1 or Mfn2 knockout MEFs (Chen et al, 2003) is likely the consequence of an insufficiency in total mitofusin protein (analogous to haploinsufficiency of two functionally synonymous genes).