Sclerosing Extramedullary Hematopoietic Tumor Mimicking Intra-abdominal Sarcoma.
Affiliation: Department of Pathology, Sifa University Faculty of Medicine, Izmir, Turkey.
Sclerosing extramedullary hematopoietic tumor (SEMHT) is a rare tumor that occurs in patients with chronic myeloproliferative disorders (CMPDs)... EMH is seen in many disorders such as sickle cell anemia, hemoglobinopathies, thalassemia, hereditary spherocytosis, and MF... EMH is most commonly observed in the liver and spleen and is rarely found in the peritoneum, lymph nodes, kidneys, thymus, central nervous system, retroperitoneum, myocardium, uterus, pleura, paraspinal region, or intestines... Lymphoid follicles with prominent germinal centers were observed mostly in the periphery of the mass, and some contained the large cells described above (Fig. 2A, B)... No mitosis or necrosis was found... Glycophorin staining revealed some precursor cells belonging to the erythroid series (Fig. 3B)... We concluded that all these characteristics were related to SEMHT... Detailed investigation of the patient history revealed that she had been diagnosed with MF after a bone marrow biopsy 14 years prior... A liver biopsy had been performed at that time, and EMH was reported... The previous bone marrow biopsy evaluation found hypercellular bone marrow (90%) with a prominent increase in occasional clustering of megakaryocytes... SEMHT is a rare tumor more commonly seen with chronic idiopathic MF rather than CMPDs It is usually located in the abdomen, retroperitoneum, and mesenteric region... It can develop as a result of bone marrow failure due to various causes in a wide range of disorders including MF... A detailed immunohistochemical (IHC) panel is used together with morphological indicators of the degree of differentiation, number of mitoses, and the presence/absence of necrosis in the pathologic evaluation of soft tissue tumors... In this case, there was no necrosis in the background and no mitosis in the large cells, which did not invade the surrounding tissues, vessels, or nerves... All were negative (large cells were negative for CD34, DKA, S-100, CD31, desmin, vimentin, CD117, CD10, ALK), and the diagnosis of SEMHT was made with the help of a detailed medical history and the positivity for CD61 and glycophorin.
No MeSH data available.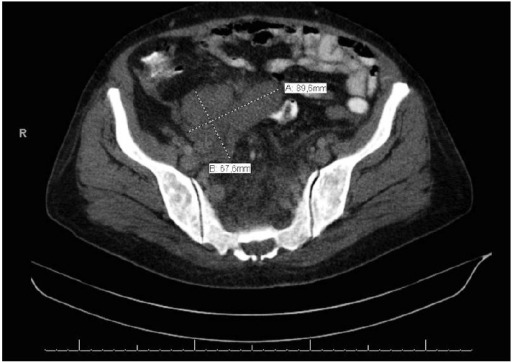 © Copyright Policy
License
getmorefigures.php?uid=PMC4508572&req=5
Mentions: A 57-year-old female patient was examined for the chief complaint of fatigue. She was diagnosed with severe anemia, and a palpable intra-abdominal mass was identified on physical examination. Radiological examinations revealed hepatosplenomegaly and hypodense soft tissue lesions measuring 15×6 cm in size along the medial liver contour at the liver portal hilus level and 9.8×6 cm in size along the right iliac vascular structures in the right lower quadrant (Fig. 1), as well as several enlarged lymph nodes in the paraaortic and paracaval regions (the largest measured 5 cm and was located in the right paracaval region). Intraabdominal free fluid deposition was noted. Radiologically, the soft tissue masses observed along the medial liver contour (15×6 cm) invaded the portal vein, and the characteristics of those along the right iliac vascular structures in the right lower quadrant (~9.8×6 cm) were reported to be consistent with infiltrative sarcomatous lesion or lymphoma (diffuse infiltrative type), and pathologic evaluation was recommended. Whole blood analysis revealed a mildly increased neutrophil count (14,500/μL). Other blood analysis results were as follows: platelets 299×103/μL, erythrocytes 3.91×106/μL, hemoglobin 10.6 g/dL (reference range, 10.80 to 14.90 g/dL), and hematocrit 34.4% (reference range, 35.60% to 45.40%).