Enteric motor pattern generators involve both myogenic and neurogenic mechanisms in the human colon.
Affiliation: Cell Biology, Physiology and Immunology, Universidad Autonoma de Barcelona Barcelona, Spain.
Coordinated motor activity is required to develop the major functions of the colon, which are: 1-absorption of water, electrolytes, bile salts, short-chain fatty acids and other bacterial metabolites, 2-storage of colonic contents and 3-propulsion of fecal material (Christensen, )... Interstitial cells of Cajal (ICCs) generate spontaneous pacemaker currents which are conducted to smooth muscle cells (SMCs) causing rhythmic contractile patterns (Rumessen et al., ; Huizinga et al., )... Septal ICCs described in the human colon (Liu et al., ) might spread this pacemaker activity as previously suggested in the human small intestine (Lee et al., ,)... A similar contractile pattern has been reported in rat and mouse colonic strips when the ICC-SMP is removed (Pluja et al., ; Domenech et al., )... These results demonstrate the presence of a second myogenic pacemaker not dependent on the ICC-SMP or the enteric nervous system... These activation mechanisms are similar to the ones that trigger low-frequency contractions in rat colonic segments... Once initiated, HAPCs cannot be blocked by lignocaine (Hardcastle and Mann, ) and therefore do not need a neural circuitry to develop after activation... This motor pattern has been stated to be the basis of a segmentation-like pattern in the murine small intestine and the rat colon (Huizinga et al., ; Mane and Jimenez, ) and modulation of slow wave amplitude by a second pacemaker of a lower frequency has been proposed to be the underlying mechanism responsible... Curiously enough, in the human colon the frequency of the wax and wane is similar to the frequency of low-frequency contractions... We therefore propose that in the human colon, the low-frequency pacemaker is the basis of the cyclic decrease in the amplitude of slow wave activity... Both in the human colon (Rae et al., ; Gallego et al., ) and laboratory animals (Alberti et al., ; Gallego et al., ), the addition of TTX usually increases the amplitude and frequency of spontaneous contractions in vitro... A similar effect is observed when colonic tissue is incubated with L-NNA or ODQ, a nitric oxide (NO) synthase and a guanylyl cyclase (Gc) inhibitor respectively... In vitro, electrical field stimulation (EFS) of human colonic tissue elicits complex responses including contractions, relaxations and consequent off-contractions... These responses are the result of the simultaneous stimulation of all enteric neuronal pathways... Interstitial cells have been proposed to mediate neurotransmission in the gut due to their proximity to nerve endings, their expression of receptors and signaling pathways for neurotransmitters and the existence of gap junctions with SMCs.
No MeSH data available.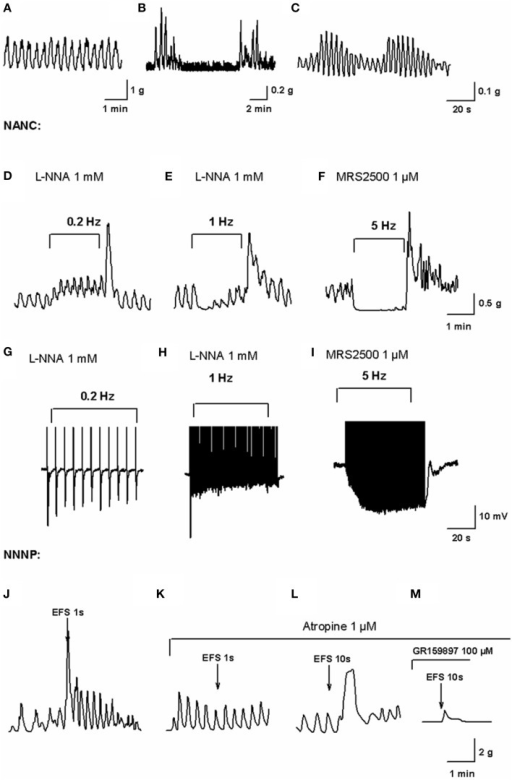 © Copyright Policy
License
getmorefigures.php?uid=PMC4508510&req=5
Mentions: Circularly-oriented strips from the human colon most commonly display low-amplitude contractions at an equivalent frequency to slow waves (Figure 1A). Strips that preserve the submucous plexus exhibit prominent 2–4 c.p.m slow waves that have their greatest amplitude near the ICC-submuscular plexus (ICC-SMP) (Rae et al., 1998). ICC-SMP are therefore responsible for colonic slow waves in the colon of animals (Langton et al., 1989; Pluja et al., 2001) and humans (Rumessen et al., 1993). Septal ICCs described in the human colon (Liu et al., 2012) might spread this pacemaker activity as previously suggested in the human small intestine (Lee et al., 2007a,b). In vivo, rhythmic phasic contractions (RPCs) at a frequency of 2–4 c.p.m are commonly recorded in the human large intestine (Taylor et al., 1975; Latimer et al., 1981; Narducci et al., 1987; Ford et al., 1995) strongly correlating to their frequency in vitro. The classical view states that the main role of RPCs is the turning over and mixing of luminal contents. However, recent studies using high resolution manometry have shown that RPCs can propagate anally or orally over short distances possibly causing propulsion (Dinning et al., 2014).