Coronin-1C Protein and Caveolin Protein Provide Constitutive and Inducible Mechanisms of Rac1 Protein Trafficking.
Bottom Line: We discover that both coronin-1C and caveolin retrieve Rac1 from similar locations at the rear and sides of the cell.Unlike constitutive coronin-1C-mediated trafficking, caveolin-mediated Rac1 endocytosis is induced by engagement of the fibronectin receptor syndecan-4.Although the concept of polarized Rac1 activity in response to chemoattractants has always been apparent, our understanding of the balance between recycling and degradation explains how polarity can be maintained when the chemotactic gradient has faded.
Affiliation: From the School of Biochemistry and.
No MeSH data available.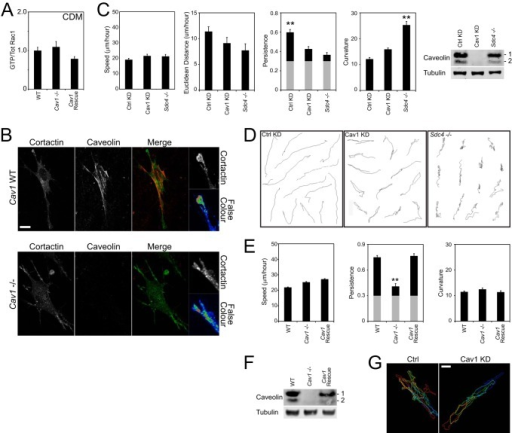 © Copyright Policy - open-access
License
getmorefigures.php?uid=PMC4505459&req=5
Mentions: The effect of caveolin on Rac1 polarization led us to examine the effect on fibroblast migration through a fibrous matrix. It has been reported that caveolin expression affects both the organization of secreted extracellular matrix and the persistence of migration of the individual cells (12, 26), but a more in-depth analysis of migration is required if we are to compare the different mechanisms of Rac1 regulation. We recently demonstrated that preventing Rac1 activation by either knocking down Coro1C or Rac1 itself had no effect on the ability of cells to migrate along a fibronectin fiber but caused cells to "forget" the direction of migration and, therefore, shunt backward and forward (6). At the same time, we demonstrated that mislocalization of active Rac1 by knockdown of the sequestering molecule, RCC2, also induced shunting behavior because of the formation of multiple active Rac1 protrusions. Therefore, we examined the migration of cells lacking caveolin on fibrous matrix generated by wild-type fibroblasts to eliminate contributions from an altered matrix structure. As on 2D fibronectin, caveolin expression had no effect on the proportion of Rac1 that was active in cells on cell-derived matrix (CDM) (Fig. 8A). Cortactin was used as a reporter of a protrusive membrane because autofluorescent components of the CDM compromise the veracity of the FRET analysis. Unlike wild-type cells, where cortactin is focused at the tips of one or two protrusions, cortactin was distributed along the length of a number of membrane extensions in caveolin knockout cells (Fig. 8B). Neither knockdown of caveolin nor knockout of syndecan-4, the Rac1-trigger, had a reproducible effect on migration speed but caused a dramatic reduction in Euclidean distance per hour and linear persistence (Euclidean distance / total distance) of migration, which suggested more random migration (Fig. 8C). However, inspection of the migration paths revealed that the modes of migration were very different. The migration paths of Sdc4−/− MEFs frequently included regions of high curvature and direction change because of constitutively high Rac1 activity that was unaffected by fibronectin engagement (Fig. 8D and Ref. 17). By contrast, Cav1-depleted MEFs have normal average Rac1 activity and respond to fibronectin but fail to localize the signal. Therefore, Cav1-depleted MEFs moved linearly along matrix fibers like a wild-type cell but, because of the absence of a dominant protrusion, shunted backward and forward on the fibers and exhibited reduced persistence, like a Sdc4−/− cell (Fig. 8D and supplemental Movie S3). Linear processive migration, high-curvature migration, and shunting migration were quantified by calculating the curvature of each track as described previously (6). The high-curvature migration of Sdc4−/− resulted in a curvature value that was double that of control MEFs (Fig. 8C). By contrast, the curvature of caveolin-depleted MEFs was only slightly higher than that of control MEFs despite the compromised persistence. The shunting behavior indicated that caveolin-depleted MEFs were still capable of recognizing the fiber and following a linear trajectory, albeit in a non-persistent fashion, and was consistent with the presence of active Rac1 protrusions at either end of the cell. Similar results were obtained with knockout MEFs. Knockout of caveolin 1 had little effect on curvature but lowered persistence and could be rescued by re-expression of exogenous caveolin (Fig. 8, E and F). To ensure that shunting was a protrusion rather than a tail-retraction defect, caveolin was depleted in MEFs stably expressing β1-integrin-GFP, which allowed the cell boundaries to be clearly visualized. Although retraction fibers were seen in both control and knockdown cells, the direction changes of caveolin-depleted cells occurred when a different protrusion achieved dominance and were not due to a detachment defect (Fig. 8G and supplemental Movie S4).