Antibiotic-Induced Alterations of the Murine Gut Microbiota and Subsequent Effects on Colonization Resistance against Clostridium difficile.
Bottom Line: Together, these results indicate that individual bacterial populations do not drive colonization resistance to C. difficile.We found that diverse antibiotic perturbations gave rise to altered communities that varied in their susceptibility to C. difficile colonization.We found that multiple coexisting populations, not one specific population of bacteria, conferred resistance.
Affiliation: Department of Microbiology and Immunology, University of Michigan, Ann Arbor, Michigan, USA.
No MeSH data available.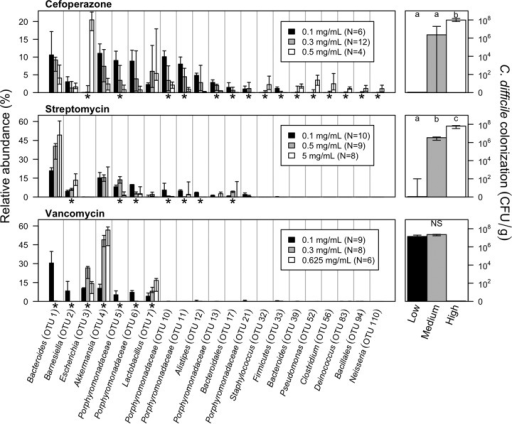 © Copyright Policy - open-access
License
getmorefigures.php?uid=PMC4502226&req=5
Mentions: On the basis of the C. difficile colonization levels in our seven antibiotic treatments, we hypothesized that titrating the dose of antibiotics that the mice received would result in smaller perturbations to the microbiota. Consequently, we expected a greater maintenance of resistance against C. difficile colonization in these titrated treatment groups. In addition to the previous treatments, we treated mice with lower concentrations of cefoperazone, streptomycin, and vancomycin (see Fig. S2 in the supplemental material). These antibiotics were selected because they are thought to target a broad spectrum of bacteria (i.e., cefoperazone), Gram-negative (i.e., streptomycin), and Gram-positive (i.e., vancomycin) bacteria. As expected in all mice receiving titrated doses of cefoperazone, C. difficile colonization levels decreased significantly (P < 0.02; Fig. 2). Titrating the dose of cefoperazone in the animals' drinking water resulted in significant decreases in the relative abundance of an operational taxonomic unit (OTU) associated with the genus Escherichia (OTU 3) and a number of rare OTUs. We also observed increases in the relative abundances of OTUs associated with the family Porphyromonadaceae (OTU 5, 10, 11, 13, and 21; Fig. 2). Reducing the dose of streptomycin significantly reduced the colonization levels (P < 0.01; Fig. 2). Titrating the dose of streptomycin in the drinking water resulted in significant changes in the relative abundance of OTUs associated with the Porphyromonadaceae family (OTUs 2, 5, 6, 10, and 11), Alistipes genus (OTU 12), and Bacteroidales order (OTU 17). In addition to its anti-Gram-positive activity, vancomycin was also selected because although the community was quite different from untreated mice, we observed high levels of C. difficile colonization in only one mouse. We anticipated that lower doses might result in a community structure that would result in colonization. In fact, the 0.3- and 0.1-mg/ml doses of vancomycin resulted in similarly high levels of C. difficile colonization (P = 0.96). Seven OTUs were differentially represented across the three doses of vancomycin. Surprisingly, even though the colonization levels of C. difficile did not differ significantly between the mice receiving 0.1 and 0.3 mg/ml of vancomycin in their drinking water, four of the OTUs that had significantly different relative abundances were found only in mice receiving the lower dose. Three of these four OTUs were affiliated with members of the Porphyromonadaceae (OTUs 2, 5, and 6), and one was affiliated with a member of the genus Bacteroides (OTU 1). Two OTUs affiliated with the Akkermansia (OTU 6) and Lactobacillus (OTU 8) genera increased with increasing dose, and a third OTU affiliated with Escherichia (OTU 4) had a mixed response to the dose level. These results suggest that the context in which specific members of the microbiota are found is important in determining the overall resistance to C. difficile. For example, the relationship between the Bacteroides-affiliated OTU (OTU 1) and C. difficile colonization was positive in streptomycin-treated mice, and it was negative in cefoperazone-treated mice. In addition, cefoperazone- and streptomycin-treated mice had high levels of C. difficile, although the former had significantly higher levels of an Escherichia-affiliated OTU (OTU 3), which were absent in the streptomycin-treated mice. Together, these results suggest that individual populations were not sufficient to consistently predict colonization resistance. In light of such results, resistance is likely a product of the overall composition of the community.