Structure-PPi: a module for the annotation of cancer-related single-nucleotide variants at protein-protein interfaces.
Bottom Line: The 3D repository used, Interactome3D, includes experimental and modeled structures for proteins and protein-protein complexes.Structure-PPi annotates SNVs with features extracted from UniProt, InterPro, APPRIS, dbNSFP and COSMIC databases.We illustrate the usefulness of Structure-PPi with the interpretation of 1 027 122 non-synonymous SNVs from COSMIC and the 1000G Project that provides a collection of ∼172 700 SNVs mapped onto the protein 3D structure of 8726 human proteins (43.2% of the 20 214 SwissProt-curated proteins in UniProtKB release 2014_06) and protein-protein interfaces with potential functional implications.
Affiliation: Structural Biology and BioComputing Programme, Spanish National Cancer Research Centre (CNIO), 28029 Madrid, Spain.
No MeSH data available.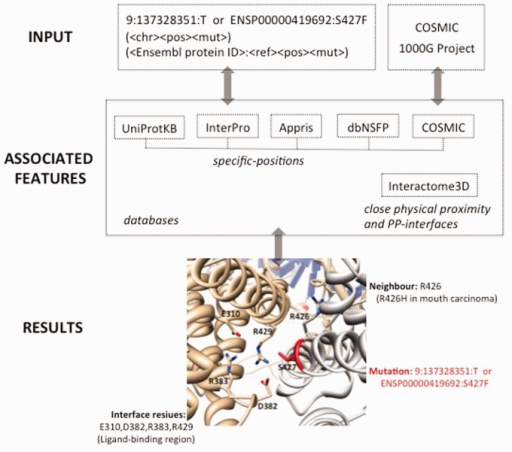 © Copyright Policy - creative-commons
License
getmorefigures.php?uid=PMC4495296&req=5
Mentions: Structure–PPi offers a system to analyze SNV data in their protein 3D structure context. A genomic variant that leads to a substitution in a particular residue of a protein isoform is linked to features associated to that amino acid. Those features include secondary structure, post-translational modification sites, catalytic sites, binding sites residues, Pfam domains, signal peptides, trans-membrane regions, prediction of damaging effects with state-of-the-art methods (i.e. SIFT, Polyphen2, LRT, MutationTaster, MutationAssessor, FATHMM, VEST3, CADD) and somatic mutations extracted from: UniProt (UniProt Consortium, 2013), InterPro (Hunter et al., 2012), APPRIS (Rodriguez et al., 2013), dbNSFP (Liu et al., 2013) and COSMIC (Forbes et al., 2011). Residues in close physical proximity to query SNVs, are extracted from the corresponding 3D structures, including the experimental structures and homology-based models available in the Interactome3D (Mosca et al., 2013) database. The proximity information is used to generate annotations not directly affected by the investigated mutations but that could be disrupted by changes in the close vicinity (defaults 5 Å). Users may submit batches of tens of thousands SNVs to retrieve the available functional annotations for the corresponding SNVs and residues in spatial contact in that protein or the corresponding protein complex (Fig. 1). Figure 1 also shows the study of hotspot position S427 for the ENSP00000419692 protein isoform in bladder cancer. An assessment of Structure–PPi using a validation set (14 pathogenic and 10 neutral) in BRCA1 BRCT domains (Lee et al., 2010) is shown in Supplementary Table S3. Structure–PPi achieves a level of performance similar to that obtained by MetaSVM, a support vector machine algorithm, which incorporate results from state-of-the-art methods (i.e. SIFT, Polyphen2, MutationTaster, Mutation Assessor, FATHMM and LRT) and the maximum frequency observed in the 1000G project (Liu et al., 2013). The results are as follow: MetaSVM (accuracy: 0.83, recall: 1.00, precision: 0.78, MCC: 0.68) and Structure–PPi (accuracy: 0.88, recall: 0.79, precision: 1.00, MCC: 0.78). This assessment reveals that Structure–PPi shows a better precision than MetaSVM, and also a good agreement between predictions and observations. In addition, Supplementary Table S3 shows the utility of Structure–PPi for providing complementary information to the prediction methods. Indeed, this complementary information facilitates discrimination of false-positive results, and also identifies mutations that should be study in more details.Fig. 1.