Pharmacokinetics of Active Components of Yokukansan, a Traditional Japanese Herbal Medicine after a Single Oral Administration to Healthy Japanese Volunteers: A Cross-Over, Randomized Study.
Bottom Line: Further, we determined the pharmacokinetics of GM, HTE, and GA.This information will be useful to elucidate the pharmacological effects of YKS.Japan Pharmaceutical Information Center JAPIC CTI-121811.
Affiliation: Department of Surgery, Kochi Medical School, Kochi University, Kochi, Japan.
ABSTRACT
---
Context: Yokukansan (YKS) is a traditional Japanese herbal medicine called kampo medicine in Japan. Its extract comprises seven crude drugs: Atractylodis lanceae rhizoma, Poria, Cnidii rhizoma, Uncariae uncis cum ramulus, Angelicae radix, Bupleuri radix, and Glycyrrhizae radix. YKS is used to treat neurosis, insomnia, as well as behavioral and psychological symptoms of dementia.
Objective: To confirm the exposure and pharmacokinetics of the active components of YKS in healthy volunteers.
Design, setting, and participants: A randomized, open-label, 3-arm, 3-period, crossover trial was conducted on 21 healthy Japanese volunteers at the Kochi Medical University between May 2012 and November 2012.
Interventions: Single oral administration of YKS (2.5 g, 5.0 g, or 7.5 g/day) during each period.
Main outcome measure: Plasma concentrations of three active compounds in YKS, namely 18β-glycyrrhetinic acid (GA), geissoschizine methyl ether (GM), and hirsuteine (HTE).
Results: The mean maximum plasma concentrations (Cmax) of GM and HTE increased dose-dependently (ranges: 0.650-1.98 ng/mL and 0.138-0.450 ng/mL, respectively). The times to maximum plasma concentration after drug administration (tmax) were 0.500 h for GM and 0.975-1.00 h for HTE. The apparent elimination half-lives (t1/2) were 1.72-1.95 h for GM and 2.47-3.03 h for HTE. These data indicate the rapid absorption and elimination of GM and HTE. On the other hand, the Cmax, tmax, and t1/2 of GA were 57.7-108 ng/mL, 8.00-8.01 h, and 9.39-12.3 h, respectively.
Conclusion: We demonstrated that pharmacologically active components of YKS are detected in humans. Further, we determined the pharmacokinetics of GM, HTE, and GA. This information will be useful to elucidate the pharmacological effects of YKS.
Trial registration: Japan Pharmaceutical Information Center JAPIC CTI-121811.
No MeSH data available.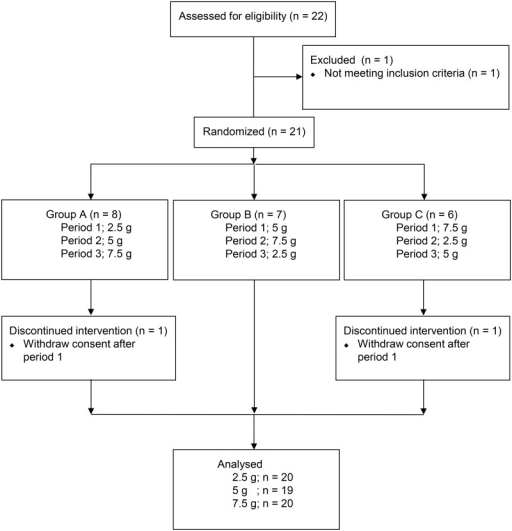 © Copyright Policy
License
getmorefigures.php?uid=PMC4495062&req=5
Mentions: The present study was a randomized, open-label, three-arm, three-period design (Fig 2). The t1/2 of GA was longer than the other two compounds, and the t1/2 was previously reported using rats was approximately 7 h [12, 14]. In terms of the t1/2 of the three compounds measured in this study, a washout period of longer than five half-lives was adopted, and considering the load placed on subjects, it was set at four weeks or longer. Inclusion criteria included healthy Japanese adults between 20 and 45 years of age with a body mass index between 18 and 25 and who were willing and able to comply with the study requirements. Exclusion criteria included a history of significant liver, heart, or vessel disease and consumption of supplements that contained any YKS ingredients or any drug within 3 days to 1 week before the first dose. Other standard exclusion criteria included concerned allergies, pregnant or nursing females, and any alcohol or nicotine use. A sample size was chosen based on feasibility to allow characterization of the safety and PK of GM, HTE, and GA in healthy Japanese volunteers. Subjects allocated screening test were randomized to one of three groups by the central allocation system (allocation ratio 1:1:1). The random sequence was generated by computer in an independent center. The safety endpoint was evaluated in all volunteers. The safety endpoint was deemed to be based on the doctor's determination, after examination or observation, to investigate if a serious adverse event had occurred. Adverse events included death, a life-threatening event, an event requiring hospitalization for treatment or an extended stay in hospital, an event resulting in permanent or temporary disability or dysfunction, an event resulting in a congenital abnormality, or any other serious medical phenomenon. Furthermore, in terms of side effects, no specific conditions were delineated, and all adverse events, in which it is impossible to deny a causal relationship with the drug, were deemed to be side effects. Therefore, at each stage during the 48-h period from the time of YKS administration, the doctor monitored the patient for subjective symptoms, objective findings, swelling, body temperature (axillary), blood pressure (sitting), pulse (sitting). The doctor also conducted a hematological examination to measure the patient's red blood cell, leucocyte, and platelet counts, hemoglobin level, and hematocrit value. A biochemical examination was conducted to determine total protein, blood urea nitrogen, creatinine, uric acid, aspartate aminotransferase, alanine aminotransferase, total bilirubin, alkaline phosphatase, γ-glutamyltranspeptidase albumin, prothrombin time, total cholesterol, C-reactive protein and potassium, in order to determine any abnormalities compared with the subject condition prior to administration. All participants fasted for 12 h before administration and 4 h after administration of the study drug. The subjects were provided with meals that did not comprise any food or drink known to contain GM, HTE, or GL from three days before the start of the study to the day of its completion. Blood samples (8 mL each) were collected from subjects' forearm cutaneous vein via a blood sampling tube that contained heparin at 0 (preadministration), 0.25, 0.5, 1, 2, 3, 4, 8, 10, 12, 14, 24, and 48 h after a single oral administration of YKS (2.5, 5.0, or 7.5 g). The trial participants were only hospitalized overnight on the day they ingested YKS, and they returned home the following day after blood samples were collected at time point of 24 h. The participants returned to the hospital to provide blood samples at time point of 48 h. The blood was immediately centrifuged at 1700 × g for 10 min to obtain the plasma. The plasma samples were stored at −20°C until analysis.