Experience-Dependent, Layer-Specific Development of Divergent Thalamocortical Connectivity.
Bottom Line: Here, we show that, in neonates, the input to layer 6 is as strong as that to layer 4.This strengthening consists of an increase in axon branching and the divergence of connectivity in layer 4 without a change in the strength of individual connections.We propose that experience-driven LTP stabilizes transient TC synapses in layer 4 to increase strength and divergence specifically in layer 4 over layer 6.
Affiliation: Centre for Integrative Physiology, University of Edinburgh, Edinburgh, UK.
No MeSH data available.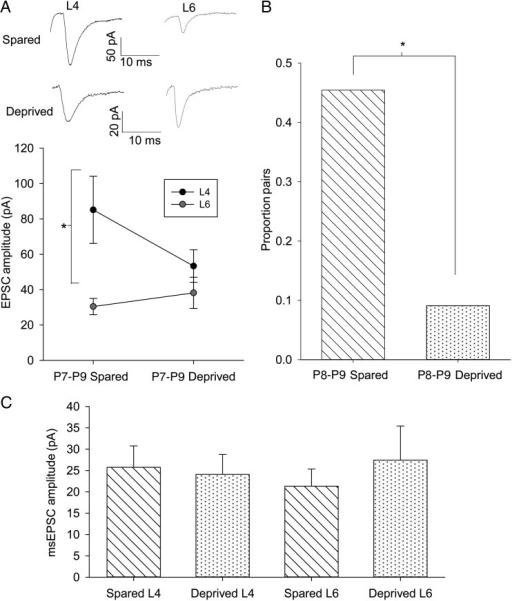 © Copyright Policy - creative-commons
License
getmorefigures.php?uid=PMC4494033&req=5
Mentions: Experience-dependent plasticity plays a crucial role in tuning the specificity of somatosensory input to the cortex (Fox 1992). To determine whether the increase in relative strength of TC-L4 input is part of this experience-dependent plasticity, we produced sensory deprivation by trimming all of the whiskers on one side of the whisker pad on the face daily from P1 to the day of recording (P7–P9). TC slices were prepared from both hemispheres: contralateral (deprived) and ipsilateral (spared) to whisker trimming. First, we determined if whisker trimming prevented the relative increase in TC-L4 input. In recordings from the spared hemisphere of mice aged P7–P9, L4 cells exhibited a substantially larger TC EPSC than simultaneously recorded L6 cells (L4 85 ± 19 pA, L6 30 ± 5 pA, n = 10, P = 0.01, Fig. 6A) confirming our previous results (Fig. 2B,D). In contrast, in the deprived hemisphere, no difference was seen in the TC input strength between L4 and L6 (L4 53 ± 9 pA, L6 38 ± 9 pA, n = 11, P = 0.3, Fig. 6A). This finding suggests that whisker experience is required to drive the developmental increase in the number of L4 cells contacted by TC axons. We further tested this idea using minimal stimulation during simultaneous recordings from L4 cells. In the spared hemispheres, we found that a high proportion of P8–P9 L4 cell pairs are contacted by the same axon similar to our previous data set in control animals at the same age (5/11, 45% pairs; Fig. 6B). However, in deprived hemispheres, the proportion of L4 cell pairs contacted by the same TC axon was much lower and similar to that observed in controls at P3–P5 (1/11, 9% pairs, P = 0.03 vs. spared; Fig. 6B). Importantly, msEPSC amplitudes were not affected by whisker trimming in either layer (L4 EPSCfast spared 25 ± 5 pA, n = 14, L4 deprived 25 ± 4 pA, n = 15, P = 0.9, L6 spared 21 ± 4, n = 7 and L6 deprived 27 ± 8, n = 6, P = 0.5; Fig. 6C). Therefore, these data show that whisker activity during the first postnatal week drives the selective strengthening of the TC input to L4 by promoting the divergence of the TC axons to L4 cells. As a result, the TC input to L6 remains as strong as that to L4 in the absence of whisker experience.Figure 6.