Experience-Dependent, Layer-Specific Development of Divergent Thalamocortical Connectivity.
Bottom Line: Here, we show that, in neonates, the input to layer 6 is as strong as that to layer 4.This strengthening consists of an increase in axon branching and the divergence of connectivity in layer 4 without a change in the strength of individual connections.We propose that experience-driven LTP stabilizes transient TC synapses in layer 4 to increase strength and divergence specifically in layer 4 over layer 6.
Affiliation: Centre for Integrative Physiology, University of Edinburgh, Edinburgh, UK.
No MeSH data available.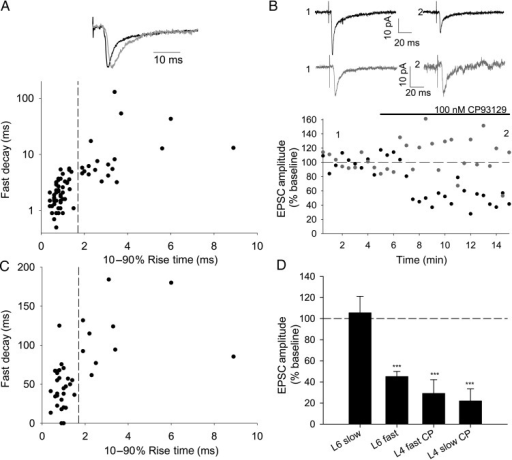 © Copyright Policy - creative-commons
License
getmorefigures.php?uid=PMC4494033&req=5
Mentions: Previously differences in conduction velocity and short-term plasticity (paired-pulse ratio) have been used to distinguish between TC EPSCs and EPSCs evoked by antidromic activation of axons of L6 cells, which project to ventral posteriomedial (VPM) thalamus in rats aged P14–P21 (Beierlein and Connors 2002). In neonatal (P3–P9) mice, however, we found that L6 EPSC latency, which is indicative of conduction velocity, decreased with age and that paired-pulse ratio was highly variable (data not shown). Thus, conduction velocity and paired-pulse ratio are not reliable indicators of TC inputs to L6 in the first postnatal week. In voltage-clamp recordings from L6 cells, we observed EPSCs with both fast (10–90% rise time <1.5 ms and decay τfast < 6 ms; Fig. 1A, black) and, less frequently, slow kinetics (rise time >1.8 ms, τfast > 3 ms; Fig. 1A, gray). 5-hydroxytryptamine 1B (5-HT1B) receptors are highly expressed in VPM cells (and therefore in terminals of TC axons in the cortex), but not in cells in the deep cortical layers in young animals (Bonnin et al. 2006). TC EPSCs in L4 are selectively inhibited by a 5-HT1B agonist in the first postnatal week (Laurent et al. 2002), and presynaptic inhibition by these receptors has been used to distinguish EPSCs of thalamic and cortical origin in the neonatal thalamus (Evrard and Ropert 2009). Therefore, we used CP93129, a 5-HT1B agonist, to define TC inputs to L6. We confirmed that 100 µM CP93129 strongly depresses TC EPSCs in L4 (fast EPSC in CP93129 29 ± 13% baseline, n = 5, P = 0.004; slow EPSC in CP93129 22 ± 12%, n = 5, P = 0.002, Fig. 1D) and also depresses fast EPSCs in L6 (45 ± 5% baseline, n = 29, P = 4 × 10−12; Fig. 1B,D), but has no effect on slow EPSCs in L6 (105 ± 16% baseline, n = 11, P = 0.7; Fig. 1B,D). The selective action of CP93129 on fast EPSCs in L6 cells shows that these fast currents (rise time <1.7 ms) are mediated by TC inputs, whereas slow EPSCs arise from a pharmacologically distinct population of synapses that is likely cortical in origin. This finding is in agreement with previous work, showing that EPSCs with fast kinetics are evoked in L6 by laser scanning photostimulation in VPM thalamus (Bureau et al. 2006). Similar slow EPSCs were observed in L5B, which were also insensitive to CP93129, whereas fast EPSCs in L5B were strongly depressed by 5-HT1B activation (data not shown), so recordings in L5B cells were also restricted to those with fast EPSCs. Slow EPSCs in L4 have been characterized as being of TC origin (Kidd and Isaac 1999) and this is confirmed by their inhibition by CP93129.Figure 1.