A stable microtubule array drives fission yeast polarity reestablishment upon quiescence exit.
Bottom Line: Astonishingly, MTs are also stabilized and rearranged into a novel antiparallel bundle associated with the spindle pole body, named Q-MT bundle.Finally and importantly, we reveal that Q-MT bundle elongation is involved in polarity reestablishment upon quiescence exit and thereby the efficient return to the proliferative state.Our work demonstrates that quiescent S. pombe cells assemble specific cytoskeleton structures that improve the swiftness of the transition back to proliferation.
Affiliation: Université de Bordeaux, Institut de Biochimie et Génétique Cellulaires, 33000 Bordeaux, France Centre National de la Recherche Scientifique, UMR5095 Bordeaux, 33077 Bordeaux, France.
Show MeSH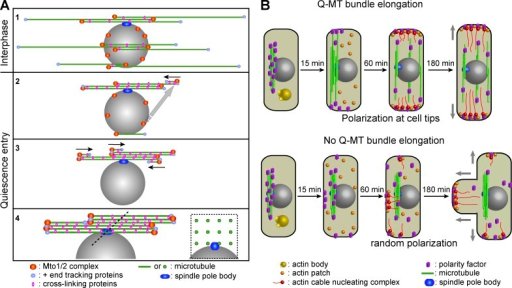 © Copyright Policy - openaccess
License 1 - License 2


getmorefigures.php?uid=PMC4494004&req=5

Mentions: Interphase MT bundles are composed of about four dynamic antiparallel MTs (Drummond and Cross, 2000). The formation of these structures relies on the Mto1/2 complex that recruits and activates the γ-tubulin–containing complex on the cytoplasmic face of the SPB, at nuclear membrane–associated interphase MTOCs, and onto preexisting MTs, thus allowing the nucleation of new MTs (Venkatram et al., 2004, 2005; Janson et al., 2005; Samejima et al., 2005, 2010; Zimmerman and Chang, 2005; Lynch et al., 2014). In the latter case, the newly nucleated MT is pulled toward the minus end of the underneath MT template via the motor activity of the kinesin-14 Klp2, until Ase1, a homodimeric MT bundling protein, acts as a brake (Carazo-Salas et al., 2005; Carazo-Salas and Nurse, 2007; Janson et al., 2007; Braun et al., 2009, 2011). The MT length is regulated by several MT plus end tracking proteins including Mal3 (the EB1 homologue) and Tip1 (the Clip170 homologue), two proteins that favor MT rescue (Beinhauer et al., 1997; Brunner and Nurse, 2000; Busch and Brunner, 2004; Höög et al., 2013), Alp14 (a TOG orthologue) that has a MT polymerase activity (Al-Bassam et al., 2012), and the kinesins-8 Klp5 and Klp6 that promote catastrophe (Unsworth et al., 2008; Tischer et al., 2009; Erent et al., 2012). This complex interplay between diverse MAPs results in a typical interphase MT bundle organization, such as within the bundle the overlapping stable MT minus ends are found near the nucleus whereas the dynamic plus ends are extending toward the cell tips (see model in Fig. 8 A; Drummond and Cross, 2000; Piel and Tran, 2009; Hachet et al., 2012). This dynamic arrangement enables the MT plus ends to produce a balance of pushing forces that position the nucleus at the center of the cell (Tran et al., 2001) and will ultimately lead to a symmetrical cell division (Daga and Chang, 2005).