CCL2-induced chemokine cascade promotes breast cancer metastasis by enhancing retention of metastasis-associated macrophages.
Bottom Line: Adoptive transfer of WT IMs increases the reduced number of lung metastasis foci in Ccl3 deficient mice.Mechanistically, Ccr1 deficiency prevents MAM retention in the lung by reducing MAM-cancer cell interactions.These data suggest that inhibition of CCR1, the distal part of this signaling relay, may have a therapeutic impact in metastatic disease with lower toxicity than blocking upstream targets.
Affiliation: MRC Centre for Reproductive Health, Queen's Medical Research Institute, the University of Edinburgh, Edinburgh EH16 4TJ, Scotland, UK.
Show MeSH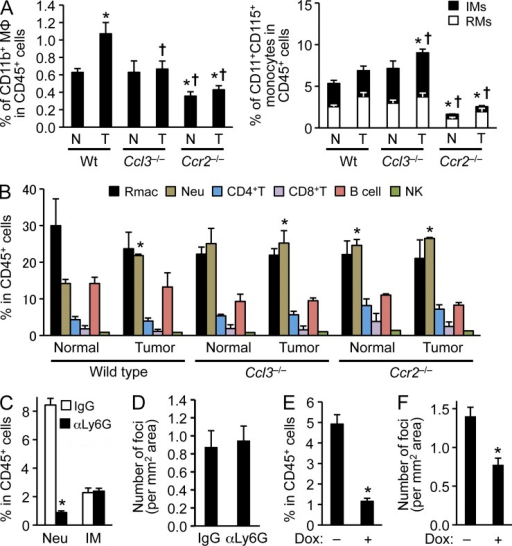 © Copyright Policy - openaccess
License 1 - License 2


getmorefigures.php?uid=PMC4493415&req=5

Mentions: Because mRNA of the CCL3 receptors CCR1 and CCR5 are expressed predominantly by human and mouse macrophages rather than breast cancer cells or endothelial cells (Fig. 4, E–G; see also Fig. 6 H), the MAM-derived CCL3 is likely to act as an autocrine mediator for MAMs rather than increasing cancer cell motility/invasiveness or vascular permeability. In the experimental metastasis model, we have shown that the MAMs (CD11b+) are recruited to the lung as early as 36 h after introduction of cancer cells into circulation. Using an ex vivo imaging system, we have also shown that majority of the i.v. injected cancer cells directly contact with the MAMs and extravasate within 48 h. In this system, macrophage depletion markedly delays the tumor cell extravasation (Qian et al., 2009). We therefore hypothesized that MAM-derived CCL3 may promote metastatic seeding by enhancing the early accumulation of MAMs in tumor cell challenged lungs. To test this hypothesis, we determined the number of CD11b+ macrophages in the lung from WT or Ccl3−/− mice 24 h after tumor injection. Consistent with our previous results (Qian et al., 2009), the number of CD11b+ macrophages was very low in the normal lung of WT mice and was increased by tumor injection by 24 h (Fig. 5 A and Fig. S1). However, such an accumulation did not occur in Ccl3−/− mice (Fig. 5 A), suggesting that CCL3 is required for MAMs to accumulate at the metastasis sites. Although Ccr2 deficiency suppressed MAM accumulation, it also suppressed basal levels of CD11b-positive cells and circulating monocytes (Fig. 5 A), consistent with the role for the CCL2–CCR2 axis regulating monocyte emigration from the BM (Serbina et al., 2008). In contrast, loss of Ccl3 did not alter the steady-state numbers of MAMs or monocytes (Fig. 5 A). Furthermore, Ccl3 deficiency did not reduce the numbers of resident macrophages, neutrophils, or lymphocytes (Fig. 5 B). Although tumor injection increased neutrophil accumulation in the lung of WT mice, this was independent of CCL3. Nevertheless, we investigated whether there is a contribution of neutrophils to metastatic seeding by depleting them via anti-Ly6G antibodies treatments (Fig. 5 C). To deplete neutrophils during metastatic seeding, we treated mice with antibodies 24 and 5 h before, and 16 h after tumor injection, as most i.v. injected cancer cells complete extravasation within 48 h (Qian et al., 2009) and the suppressive effect of a single antibody injection lasts at least 2 d (Cain et al., 2011). We found that the anti-Ly6G depletion of neutrophils did not alter the numbers of lung metastatic foci (Fig. 5 D). In contrast, depletion of the MAM progenitor IMs significantly suppressed lung metastasis of cancer cells (Fig. 5, E and F). To establish this, we used rtTA:tetO-Cre:Csf1rF/F mice treated with doxycycline (Dox), in which loss of functional CSF-1 receptor significantly ablated circulating IMs (Fig. 5 E) and reduced the number of metastatic foci (Fig. 5 F). As a control administration of Dox alone did not affect the number of metastasis foci (Control, 0.41 ± 0.1; Dox treated, 0.52 ± 0.2/mm2 lung area), these results indicate that CCL3 promotes metastatic seeding of cancer cells by promoting the early accumulation of IM/MAMs.