CCL2-induced chemokine cascade promotes breast cancer metastasis by enhancing retention of metastasis-associated macrophages.
Bottom Line: Adoptive transfer of WT IMs increases the reduced number of lung metastasis foci in Ccl3 deficient mice.Mechanistically, Ccr1 deficiency prevents MAM retention in the lung by reducing MAM-cancer cell interactions.These data suggest that inhibition of CCR1, the distal part of this signaling relay, may have a therapeutic impact in metastatic disease with lower toxicity than blocking upstream targets.
Affiliation: MRC Centre for Reproductive Health, Queen's Medical Research Institute, the University of Edinburgh, Edinburgh EH16 4TJ, Scotland, UK.
Show MeSH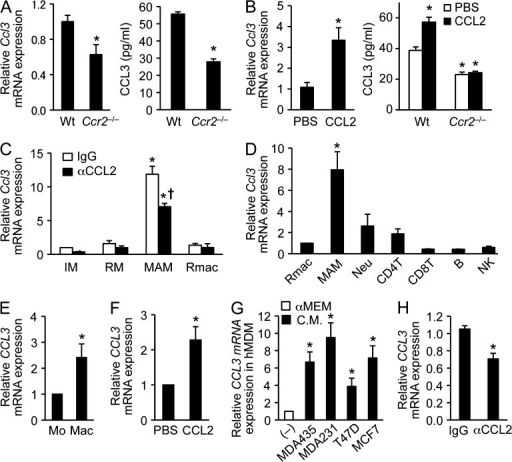 © Copyright Policy - openaccess
License 1 - License 2


getmorefigures.php?uid=PMC4493415&req=5

Mentions: Consistent with the results from the microarray and real-time PCR, we found 40–50% reduction in CCL3 protein secretion from Ccr2-deficient macrophages compared with that from WT macrophages (Fig. 2, A and B). In the WT macrophages, stimulation with recombinant CCL2 significantly increased CCL3 mRNA and protein expression (Fig. 2 B). Because such an increase in CCL3 secretion was not found in Ccr2-deficient macrophages (Fig. 2 B), these results indicate that CCL2 signaling via CCR2 can increase CCL3 secretion from macrophages. Recombinant CCL2 failed to increase CCL3 secretion in Ccr2−/− BMDMs, and thus it is unlikely that any increase in CCL3 secretion is induced by contaminating endotoxin. Indeed, endotoxin contamination is reported as <0.01 ng/ml in our culture conditions and this is much less than is needed to increase CCL3 secretion from alveolar and peritoneal macrophages (Wang et al., 2000). To investigate whether CCL2 promotes Ccl3 expression in MAMs in vivo, we injected anti-CCL2 neutralizing antibody into WT mice having a similar load of lung metastases. After 2 d of antibody treatment, we isolated MAMs (F4/80+CD11b+CD11c–Ly6C–) and resident pulmonary macrophages (F4/80+CD11b–CD11c+Ly6C–) from tumor-bearing lung and inflammatory monocytes (IM; CD115+CD11b+Ly6C+) and resident monocytes (RM; CD115+CD11b+Ly6C–) from peripheral blood (Fig. S1). The treatment with anti-CCL2 antibody significantly suppressed Ccl3 transcript levels in MAMs (Fig. 2 C), indicating that CCL2 can increase CCL3 expression in macrophages at the metastasis sites as well. Interestingly, MAMs expressed 10-fold higher Ccl3 mRNA compared with either circulating IMs or RMs, or resident macrophages in the lung. It is notable that other major leukocyte populations in the tumor-bearing lung expressed low levels of Ccl3 mRNA comparable with resident macrophages, suggesting MAMs are the major source of CCL3 in the metastasis site (Fig. 2 D). Consistent with these data, CCL3 mRNA level in human monocyte-derived macrophages (hMDMs) was significantly higher than freshly isolated monocytes, and this level was increased by recombinant human CCL2 (Fig. 2, E and F). We have reported that CCL3 secretion from cultured macrophages is increased by conditioned medium from mouse mammary tumor cells (Ojalvo et al., 2009). Likewise, conditioned medium from various subtypes of human breast cancer cells increased CCL3 levels in hMDMs (Fig. 2 G). The conditioned medium contained CCL2 (MDA435, 56.5 ± 3.7; MDA231, 37.8 ± 5.2; T47D, 13.0 ± 0.6; MCF7, 59.4 ± 3.5 pg/ml), and the increase in CCL3 by the conditioned medium from MDA231 cells that induced highest amount of CCL3 was suppressed by anti-human CCL2 antibody treatment (67% compared with control IgG treatment; Fig. 2 H). The anti-CCL2 antibody treatment also suppressed CCL3 expression induced by conditioned medium from MDA435 (78% compared with control IgG treatment) but not from T47D and MCF7 cells (unpublished data). Collectively, these results indicate that MAMs secrete high level of CCL3 once they differentiate from IMs, and it is regulated, at least in part, by the CCL2–CCR2 signaling pathway. Our results, however, do not exclude the contribution of other pathways in the regulation of CCL3 synthesis.