Combined heterozygous loss of Ebf1 and Pax5 allows for T-lineage conversion of B cell progenitors.
Bottom Line: Whereas combined reduction of Pax5 and Ebf1 had minimal impact on the development of the earliest CD19(+) progenitors, these cells displayed an increased T cell potential in vivo and in vitro.This report stresses the importance of the levels of transcription factor expression during lymphocyte development, and suggests that Pax5 and Ebf1 collaborate to modulate the transcriptional response to Notch signaling.This provides an insight on how transcription factors like Ebf1 and Pax5 preserve cellular identity during differentiation.
Affiliation: Department of Clinical and Experimental Medicine, Experimental Hematopoiesis Unit, Faculty of Health Sciences, Linköping University, 58183 Linköping, Sweden.
Show MeSH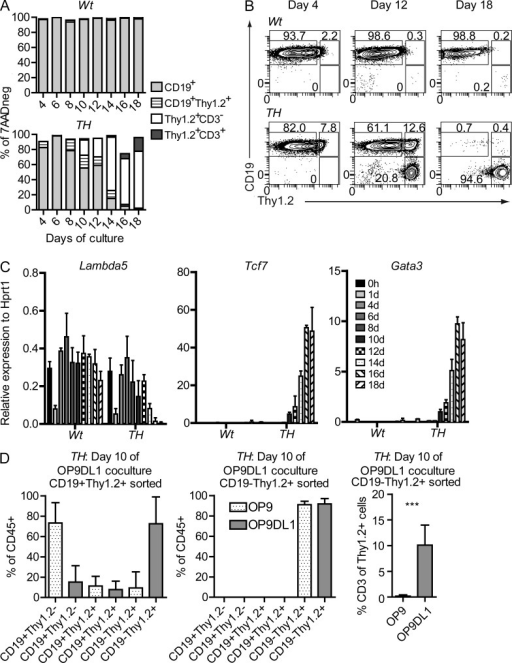 © Copyright Policy - openaccess
License 1 - License 2


getmorefigures.php?uid=PMC4493409&req=5

Mentions: Although the generation of T-lineage cells from Pax5 and Ebf1 deficient B or pro–B cells has been reported to be a result of dedifferentiation (Cobaleda et al., 2007; Nechanitzky et al., 2013), the generation of macrophages from B-lineage cells has been suggested to be a result of direct lineage conversion (Xie et al., 2004). To understand the basic mechanism for the generation of T-lineage cells from Pax5+/−Ebf1+/− pro–B cells, we analyzed the donor derived progenitor compartments in transplanted Rag1−/− mice. However, we did not detect CD45.2+ common lymphoid progenitors (CLPs) or lymphoid-primed multipotent progenitors (LMPPs) in either BM or spleen. Hence, we were unable to detect signs of dedifferentiation of pro–B cells into classical hematopoietic progenitor compartments, arguing against the formation of T-lineage cells involving genuine dedifferentiation into conventional hematopoietic progenitors. To investigate the process in more detail, we sorted Wt and Pax5+/−Ebf1+/− pro–B cells, seeded them on OP9-DL1 cells, and followed the formation of T-lineage cells over time (Fig. 4, A and B). After 4 d of culture, the major part of the cells expressed CD19 but no, or low, levels of Thy1.2. After 8 d of incubation, we noted an increase in Thy1.2 expression generating CD19+Thy1.2+ cells, and after 10 d of incubation, a subpopulation of the cells lost expression of CD19. This subpopulation increased with time and, after 14 d of incubation, this was the dominant population in the cultures. At 16 d after incubation, we observed an increasing population of CD3+ cells. Initiation of normal T cell development has been shown to involve Gata3 and TCF7 (Weber et al., 2011; Banerjee et al., 2013); however, not until 10 d after the initiation of the experiments, at a time when we started to observe CD19− cells (Fig. 4, A and B), did we detect increased expression of Gata3 and Tcf7 in the Pax5+/−Ebf1+/− cells by Q-PCR (Fig. 4 C). This indicates that the expression of these transcription factors is not significantly preceding the development of CD19− cells in this process suggesting that the T cells are generated via a Thy1.2+CD19+ double positive state, indicative of lineage conversion rather than dedifferentiation. To establish links between the functional lineage conversion process and the defined populations, we sorted CD19+Thy1High, as well as CD19−Thy1High cells from a 10-d OP9-DL1 culture of Pax5+/−Ebf1+/− pro–B cells. The cells were then reseeded on either OP9 or OP9-DL1 cells and analyzed for the formation of B- or T-lineage cells after an additional 10 d in culture (Fig. 4 D). This revealed that CD19+Thy1High cells were able to generate CD19+ cells when reseeded on OP9 cells, whereas, if seeded on OP9-DL1 cells, the absolute majority of the CD19+Thy1High cells lost the expression of CD19. CD19−Thy1High cells were unable to generate CD19+ cells even when cultured in the absence of Delta ligand; however, only OP9-DL1 cells supported the formation of CD3-expressing cells (Fig. 4 D). These data support the idea that the conversion process involves the formation of a bivalent state capable of adopting either B-or T-lineage cell fate.