Combined heterozygous loss of Ebf1 and Pax5 allows for T-lineage conversion of B cell progenitors.
Bottom Line: Whereas combined reduction of Pax5 and Ebf1 had minimal impact on the development of the earliest CD19(+) progenitors, these cells displayed an increased T cell potential in vivo and in vitro.This report stresses the importance of the levels of transcription factor expression during lymphocyte development, and suggests that Pax5 and Ebf1 collaborate to modulate the transcriptional response to Notch signaling.This provides an insight on how transcription factors like Ebf1 and Pax5 preserve cellular identity during differentiation.
Affiliation: Department of Clinical and Experimental Medicine, Experimental Hematopoiesis Unit, Faculty of Health Sciences, Linköping University, 58183 Linköping, Sweden.
Show MeSH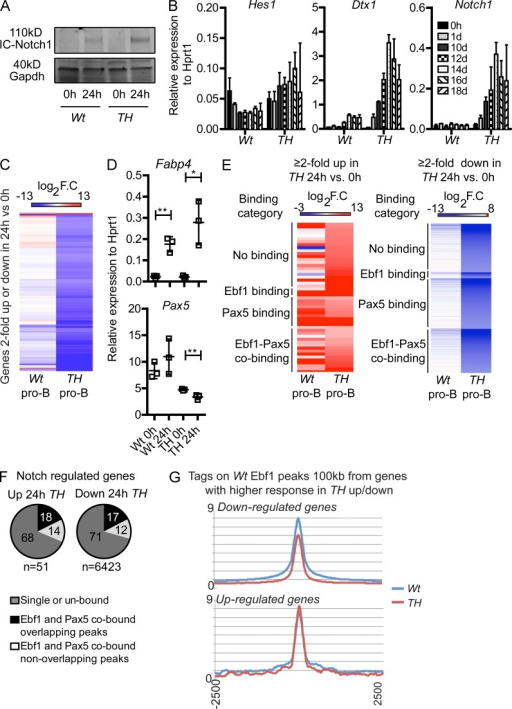 © Copyright Policy - openaccess
License 1 - License 2


getmorefigures.php?uid=PMC4493409&req=5

Mentions: The change of lineage fate in Pax5−/− or Ebf1−/− mice has been attributed to increased expression of Notch1, presumably making the cells more sensitive to Notch ligand in the environment (Souabni et al., 2002; Nechanitzky et al., 2013). However, in contrast to what has been reported from these models of differentiation, we did not detect any significant increase in Notch1 in Pax5+/−Ebf1+/− pro–B cells. Hence, another mechanism of action should be operating in this model system. To investigate the direct cellular response to Notch ligand, we incubated Wt and Pax5+/−Ebf1+/− pro–B cells on OP9-DL1 cells for 24 h and analyzed the formation of intracellular Notch (ICN) in the two cell types (Fig. 5 A). This suggested that both the Wt and the Pax5+/−Ebf1+/− pro–B cells responded with the formation of ICN; however, Q-PCR analysis suggested that the Notch target genes Deltex1 and Notch1 were not induced in the Wt cells as observed in the Pax5+/−Ebf1+/− pro–B cells (Fig. 5 B). To investigate the response to Notch signals in more detail, we analyzed the induction of genes in response to Notch signal by RNA sequencing analysis in Wt and Pax5+/−Ebf1+/− pro–B cells 24 h after seeding onto OP9-DL1 cells (Fig. 5 C). This revealed that whereas both Wt and Pax5+/−Ebf1+/− pro–B cells responded to the Notch signal by up-regulation of known Notch target genes, such as Fosl1, Fabp4, Dll1, and Heyl, only the Pax5+/−Ebf1+/− cells up-regulated the expression of Dtx1 (Fig. 5 B). To verify the RNA seq data, we performed Q-PCR analysis examining the expression of Fabp4 (Fig. 5 D). This verified the RNA seq data, suggesting that both Wt and TH cells responded by induction of Fabp4 transcription (Fig. 5 D), whereas Deltex1 was selectively activated in the Pax5+/−Ebf1+/− cells (Fig. 5 B). This supports the idea that both Wt and Pax5+/−Ebf1+/− cells respond to Notch signals but that the response differs in regard to the activation of target genes. The induction of several genes, including Fabp4, Fosl1, and Dll1 were as strong or stronger than what we observed for Pax5+/−Ebf1+/− cells, arguing against substantial difference in signal strength as an explanation for the difference in Notch response. Our analysis, suggested that Wt cells in total up-regulated 180 genes more than twofold whereas Pax5+/−Ebf1+/− cells up-regulated 51 genes (Fig. 5 C). Extracting information about genes more than twofold down-regulated by Notch signaling in the Wt and Pax5+/−Ebf1+/− cells suggested that although 6,423 genes were down-regulated by Notch signaling in the TH cells, only 245 genes were down-regulated in the Wt cells. K.E.G.G pathway analysis suggested that 46 of the genes down-regulated in the Pax5+/−Ebf1+/− cells belonged to the category B cell receptor-signaling pathway (P = 7.0 × 10−7). Analysis of the data revealed that the down-regulated genes included CD19, CD79α, CD79β, as well as Ebf1 and Pax5 themselves, whereas none of these genes were affected in the Wt cells. This idea was verified by Q-PCR analysis revealing significant down-regulation of Pax5 after Notch activation selectively in the TH cells (Fig. 5 D). Hence, Pax5+/−Ebf1+/− cells respond to Notch signaling by a general down-regulation of the transcriptional program defining the early B-lineage cells in a manner not observed in Wt cells. To investigate if the modulated genes are direct targets of Ebf1 and/or Pax5, we analyzed this in relation to the Rag2−/− pro–B GEO ChIP seq datasets (Revilla-I-Domingo et al., 2012; Vilagos et al., 2012), which revealed that a majority (4,351 out of 6,474) of these differentially regulated genes were directly bound by either one or both of these transcription factors (Fig. 5, E and F). 18% of the genes up-regulated and 17% of those down-regulated displayed overlapping peaks (Fig. 5 F). Performing KEGG pathway analysis of up-regulated genes with combined Ebf1/Pax5 binding revealed that the only significantly ordered group of genes was in the Notch signaling pathway. Performing the same type of analysis on down-regulated genes revealed the B cell receptor signaling pathway as the most significantly affected pathway. To investigate if the differential response to Notch signaling was reflected in differential Ebf1 binding before Notch activation, we investigated the binding of Ebf1 (defined by the total filtered Wt list) in a 100-kb window, to genes with a stronger response (twofold) to Notch stimuli in TH that were either up- or down-regulated in the TH cells as compared with nonstimulated cells. This revealed that whereas Ebf1 binding to genes up-regulated by Notch signaling was not decreased, the binding to genes down-regulated displayed reduced Ebf1 binding, even before Notch activation (Fig. 5 G).